If you read my blog very much, you know that I am a fan of the Mally family's books. It doesn't matter what subject they are addressing, you will always get from their books— ways to improve your walk with the Lord. A few years back I picked up one of their books from a thrift shop. It was in great condition, so I don't think the previous owner read much of it.
And myself?
I put it on the bookshelf and ignored it. And here it is—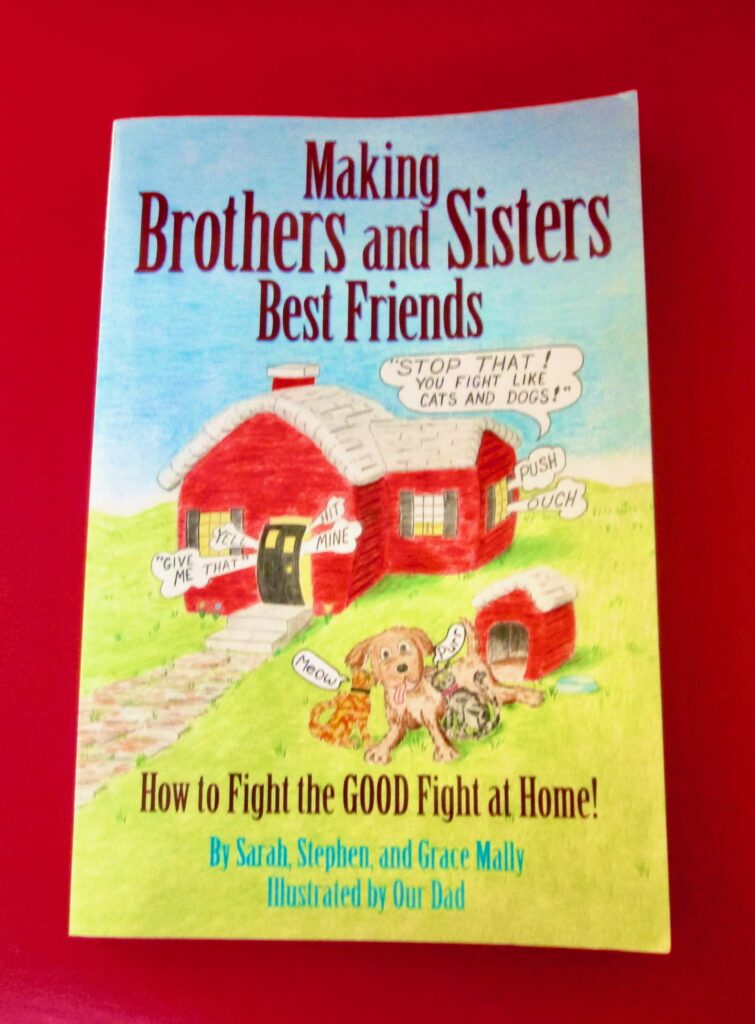 I had other, more important books to read.
I have two brothers. We are all grown up with families of our own. I toyed with the idea of reading the book to gather information to help my grandchildren as they interact with their siblings.
But I still didn't pick it up. Even though I knew their books always overlap to help with spiritual growth and maturity.
Finally last week I took it off the bookshelf and began to read. And I have to say, this book it the best book I've ever read on how to deal with relationships. It can be the relationship of brothers and sisters, marriage, friends, church family, or just people you meet in the workplace or on the street. The tips in this book apply across the board.
Also interesting about the book is that it was written years ago when Sarah was 22 years-old, Stephen was 16, and Grace was 12. If I've done my math correctly, Sarah is now 44. So that would make Stephen 38 and Grace 34. But due to the influence of their father and mother, grandparents, and others, along with application within their family, the book is written with a great deal of maturity in looking at relational conflict.
Now— about humility.
We miss so many important things when we don't practice humility. Like Naaman in the Bible, we're too good to dip ourselves in a muddy river to heal our leprosy. (see 2 Kings 5:1-19) Or too good to read a book that we think doesn't apply to us.
And—
Speaking of HUMILITY…
I want to take a look at chapter 6 from the book which is titled— "Home Survival Kit"
Sarah begins the chapter with a story about her parents misplacing their car. It's a cute story, that you can find on page 131. She segues into asking, "have you ever forgotten an item"? Then states, "There is a key, a 'Number One Key,' to all relationships, that people often forget. Everyone has heard about it. We all know we should do it, but it doesn't come to our mind…. If people would just remember to apply this one key, almost all of their relationship troubles would be solved." (p. 131)
Here is Grace's quiz to help you find the key:
Using me, it is possible to get along with almost anyone.
Many great kings despised me, but the greatest One loved me.
If brothers and sisters demonstrate me daily, their relationships will greatly improve.
The Bible says to be 'clothed' with me (1 Pet. 5:5)
Marriages have been broken because they neglected me.
Whoever receives me will be exalted, and will receive grace. (1 Pet. 5:5-6)
Fights have lasted a lifetime because people rejected me.
By the fear of the Lord and me, are riches, honor and life. (Prov. 22:4
One man refused me and therefore got dangers, terrors, problems, embarrassment, and terrible consequences. (Ex. 5-11)
Churches have been split because they forgot about me.
What am I? (p.132)
Answer: HUMILITY
Sarah says, "The word humility comes from the word 'dirt' (humus). We could think of it, therefore, as 'putting yourself below and underneath'….To the world, this key sounds like absolute foolishness. The world tells us to stand up for our rights and not to let others push us around, but God's ways are opposite to man's ways. It is the one who is humble who exhibits true strength." (p.132)
Here is a paraphrased list of how to apply humility:
Listen instead of talking about yourself
Ask for help and advice
Consider others more important than yourself
Be willing to do things as others suggest
Let others tell their news first
Be willing to say, "I was wrong"
"Ask forgiveness"
Share your own struggles
Be quick to give in
Don't put others down by joking about them
Express gratefulness and thankfulness for others
Be willing to do things others don't want to do
Look for ways to serve others
Submit
Fit into the schedules of others instead of forcing them to fit into yours
Let them have the best available
Let them win an argument
Don't defend yourself when criticized (p.135)
I always love the Mally's books because of the practical applications they give.
Stephen has a section in each chapter and his perspective is always hilarious. But on p. 138 he gives serious and practical tips on evaluating the symptoms of pride:
Not wanting to ask forgiveness
Always having to stand up for our rights
Always defending ourselves
Wanting everyone to think well of us
Insisting on doing something our own way
Thinking that we are more important than other people
Needing to prove that we were right
Not wanting to admit that someone else knew something that we didn't
Not being able to accept criticism
Being happy when someone else fails
Being glad when we are better than others (p.138)
Another fun part of Stephen's sections are his "Definitions".
Examples:
Public Opinion — What people think people think.
Mistakes —Something made only by others; we only make unavoidable errors.
Argument — When two people are trying to get in the last word first.
Key Ring — A device that enables you to lose several keys at the same time. (p. 139)
I highly recommend this book for everyone because it has a wealth of information to help improve any relationship. It also has the practical tips to apply for gaining spiritual maturity in Christ. And as all their books do—they reference many scriptures to help you apply the Bible to your life.
This book served as a lesson in humility in more ways than one for me, because I learned— don't ignore a book, especially if you like other books written by the same authors. Investigate. You may find a wealth of information you would have overlooked just because you think it doesn't apply to you. Be willing to dip in muddy waters. It may be healing for you:)
Do you have a favorite book that you avoided reading and when you finally picked it up, it became your favorite of all time? Please comment below:)