So— Christmas is past, and a New Year approaches.
I find myself facing each New Year with surprise that I made it through the last year and that God has left me on this earth to once more attempt to find His Will and Path for my life.
As many of you do, at this time of year I search for a theme, word, verse—
all of the above
—to inspire me for a new season of life. As I reflect on all that is precious to me— God, Jesus' sacrifice, family, and friends—find their way to the center of my heart. With age, I am finding myself thinking less and less about material things and more about what is truly important.
In recent years, I have learned to start with a new Bible each year. This past year I have been reading through a KJV reference Bible. I started it April 2022 and will be finished soon, as the only parts I have left to read are from half of Isaiah through Malachi.
I already have a new Bible in my Amazon cart, ready to check out. It is a Thomas Nelson KJV Study Bible. There is a big difference in a Reference Bible versus a Study Bible… with what you can learn from each. I am excited to finish up and start fresh. And, it is a must for me, as I mark up my Bible extensively with definitions, prayers, and highlighting passages that speak to me.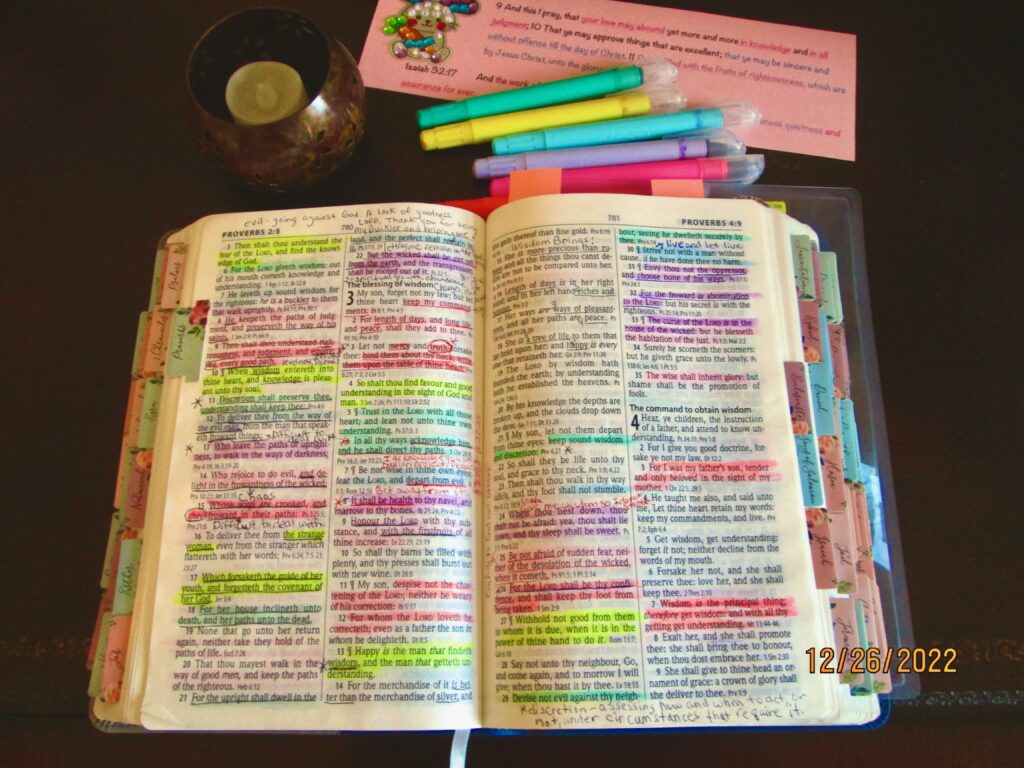 As I reflected on what I wanted for the coming year, I ran across these verses and they spoke to me.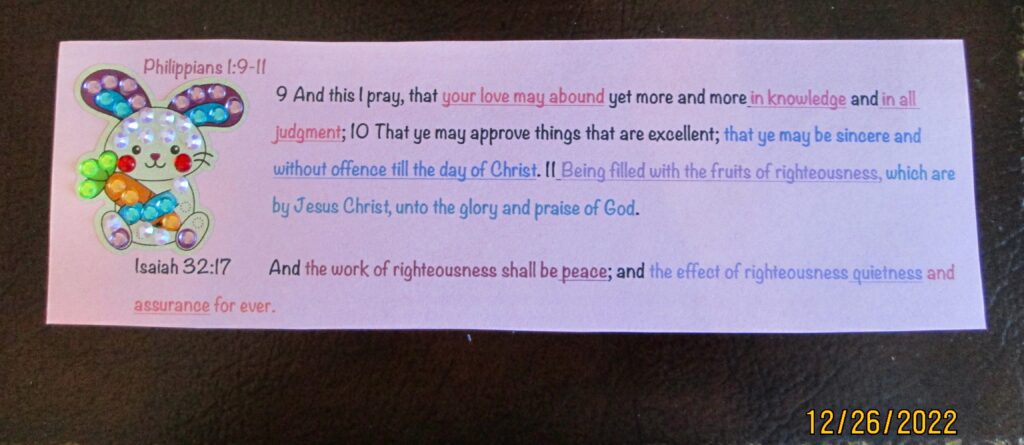 I turned the verses into a very large bookmark for my new Bible with the help of a sticker my granddaughter made for me as a Christmas present. She painstakingly attached little sticky jewels to a bunny. It only adds to my pleasure in reading my Bible each day as I mark my place with the bookmark and think about the love that went into the giving of a gift with all that she had available to her—so sweet 💝.
My oldest grandson, painstakingly traced and colored numerous pictures, colored them, then placed tape over all of them because he noticed the colors rubbed off easily and he didn't want me and my husband to get our hands dirty as we held his gifts to us. I can only imagine the time it took for him to do all of that and the sacrifice of love to us as he gave his time to work on this gift.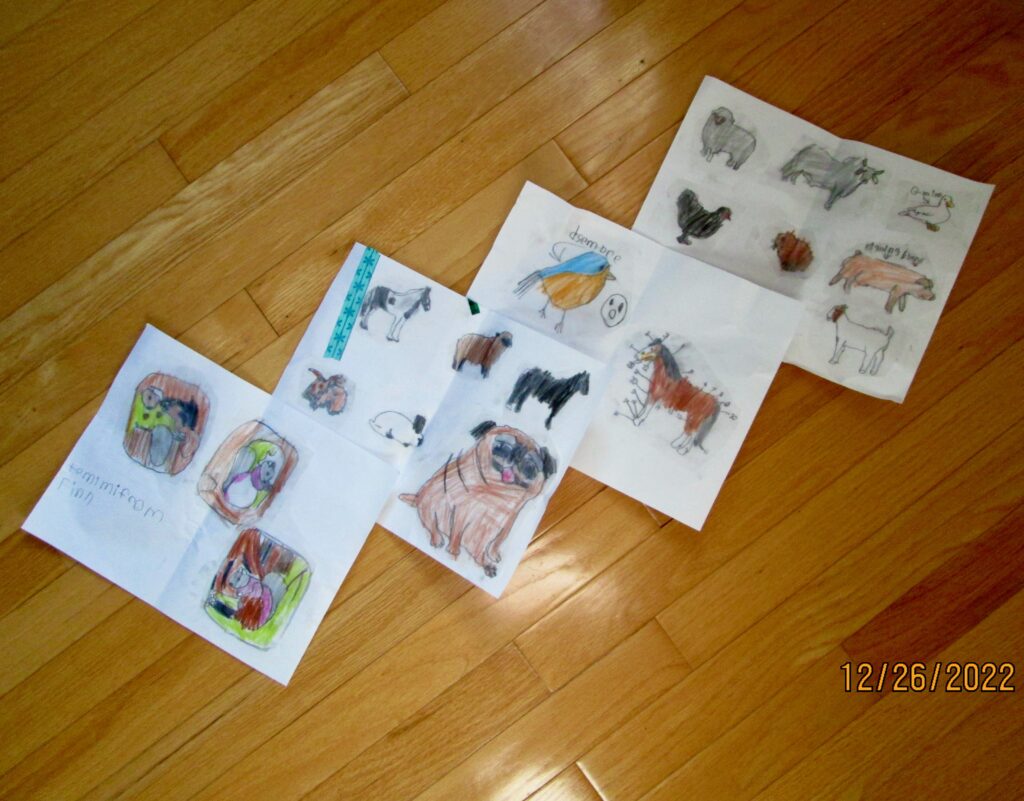 Such treasures are above price!
And then my children all went in together and created a gift for me and my husband that they knew would mean the world to me. (*When I refer to "my children" they include not only my biological children, but their spouses as well.)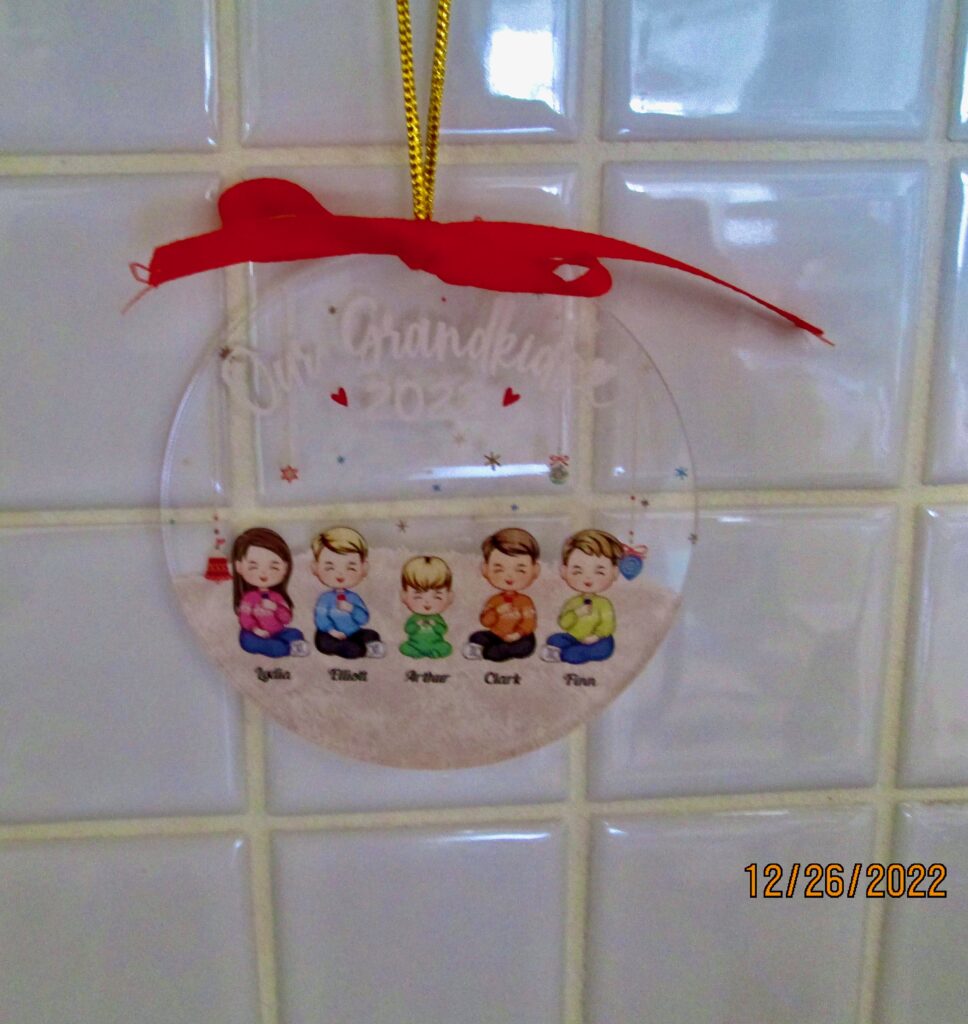 It is an ornament with all my grandchildren. I hung it from a command hook near my coffee maker so I could enjoy it every day and think about all these sweet hearts that radiate from my children and grandchildren. The grandchildren constantly tell me and my husband they love us. One grandson just left the hospital last week. He was severely sick with RSV and we were so afraid for him, but God spared his life and one of the first things I heard him say not long after they arrived to celebrate Christmas together was, "I love you Gunny". (All the grandchildren call my husband, Gunny.)
There is not a gift that can compare to what the LORD has blessed me with through His death on the cross and salvation, and giving me these sweet family members and sweet friends.
And so–
in the verses above, you see my theme for the year:
That MY love may abound
That I may acquire knowledge and judgment
That I may be without offense to God or man until I am taken home to be with Christ, or He returns
That I will be filled with the fruits of God's righteousness
And that His Righteousness will work out peace in my life
That I will live a quiet life
And rest in the assurance of His love toward me
Have you picked out a verse, a word, a theme for your upcoming year? If so, I would love to hear them. Please share in the comments below. 📠
Have a Happy New Year and may the LORD bless you all abundantly! 🎉 💝