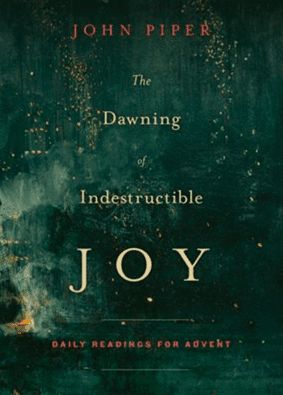 Until this year I have not really paid much attention to Advent. I would hear people talking about it, and I knew it had something to do with Christmas, but other than that, it just didn't draw my interest.
This year a friend sent me a John Piper book, The Dawning of Indestructible JOY Daily Readings for Advent. My husband and I began reading this booklet during our morning Bible time together. John Piper shares the definition of advent to mean "coming."
Of course, I had to google because that definition didn't answer all my questions. The internet agrees that the first day of Advent is the first day of a new Liturgical (or church) calendar. It begins on the fourth Sunday before Christmas and leads to preparation for the nativity of Jesus and His Second Coming. Tradition uses candles, usually four red ones with a fifth white one in the center of a circular wreath that represents eternal life. Sometimes the candles are purple and pink surrounding the white one. The purple candles lit on the first three Sundays represent repentance. The pink one represents joy or rejoicing when a shift comes right before the birth of Jesus. One candle is lit on each Sunday with the final white candle being lit on Christmas Day.
The four traditional advent themes are Hope, Peace, Love, and Joy. As the fifth candle is lit, it reminds us that Jesus is the light of the world and if we follow Him, we will never walk in darkness.
In the daily readings, John Piper encourages us to prepare our hearts for Christ, to draw near to Him, to trust Him for blessings, and to enjoy all His promises.
Celebration of Advent focuses our minds on the nativity and preparing our hearts for Jesus' Second Coming.
I love the promises contained in Revelation 21:1-7. It shows us what our future holds when we know the Baby that was born in a manger over 2000 years ago. This is what gives us hope, love, peace and joy.
"Then I saw a new heaven and a new earth, for the old heaven and the old earth had disappeared. And the sea was also gone. And I saw the holy city, the new Jerusalem, coming down from God out of heaven like a bride beautifully dressed for her husband. I heard a loud shout from the throne, saying, 'Look, God's home is now among his people! He will live with them, and they will be his people. God himself will be with them. He will wipe every tear from their eyes, and there will be no more death or sorrow or crying or pain. All these things are gone forever.' And the one sitting on the throne said, 'Look, I am making everything new!' And then he said to me, 'Write this down, for what I tell you is trustworthy and true.' And he also said, 'It is finished! I am the Alpha and the Omega—the Beginning and the End.' To all who are thirsty I will give freely from the springs of the water of life. All who are victorious will inherit all these blessings, and I will be their God, and they will be my children." (NLT)
MERRY CHRISTMAS!