Do you ever have times in your life when you are looking for just a little encouragement? Maybe you need to complete a difficult task, or deal with life issues, or fix relationships.
This week I was thinking about this and stumbled across a Helen Keller biography in the children's section of the Library. These are always quick reads but packed with information. And who better to get encouragement from than someone who had so much going against her.
If you are discouraged about your life, take a look at the accomplishments of someone who was deaf and blind from 18 months on. She had one little glimpse into the world of hearing and seeing— and then it was all taken away.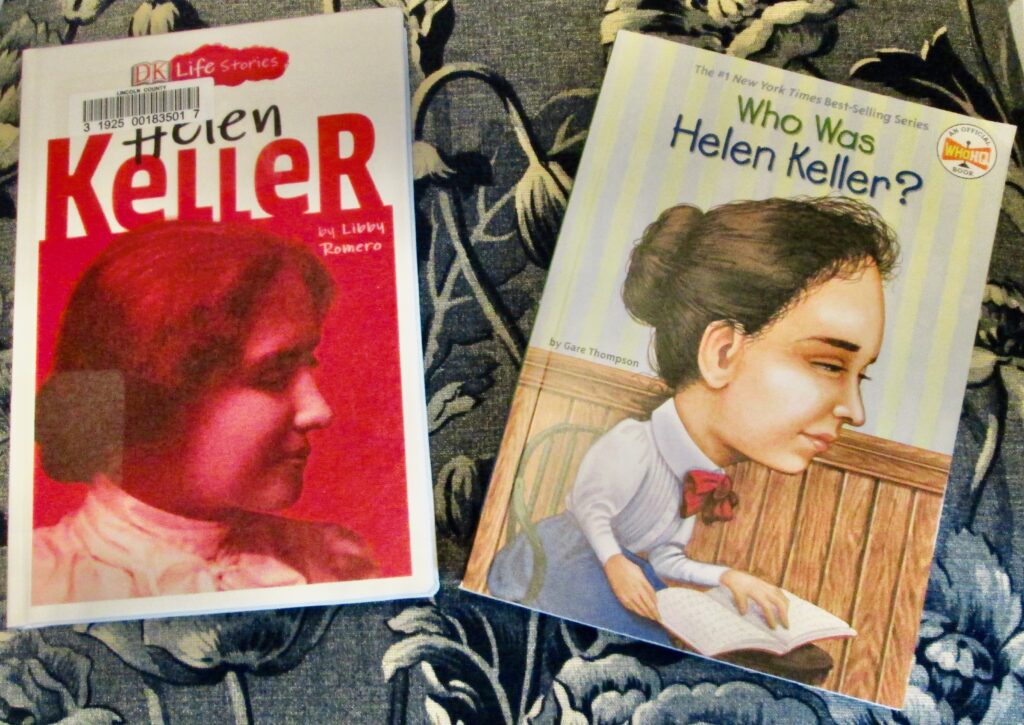 By one year of age most children are saying words like "mama", "dada", and "uh-oh!" They understand the meaning of "no". By 18 months of age, Helen had been able to say a few words which probably included these words in some form. Another word she had learned to say was "wah-wah"— for water. Knowing this small vocabulary would help her later as her teacher Anne Sullivan worked to bring her out of her world of darkness, into the light.
In her own words, in her autobiography, The Story of My Life Helen wrote:
"We walked down the path to the well-house, attracted by the fragrance of the honeysuckle with which it was covered. Someone was drawing water and my teacher placed my hand under the spout. As the cool stream gushed over one hand, she spelled into the other the word water, first slowly and then rapidly. I stood still, my whole attention fixed upon the motions of her fingers."
"Suddenly I felt a misty consciousness as of something forgotten—a thrill of returning thought; and somehow the mystery of language was revealed to me. I knew the that "w-a-t-e-r" meant the wonderful cool something that was flowing over my hand. That living word awakened my soul, gave it light, hope, joy and set it free!" (From: https://archive.gci.org/articles/the-miracle-workers/)
Through the work and generosity of others, Anne Sullivan was able to take Helen to places we rarely think of going. What better way to receive an education than to encounter it hands on by going to places where history was made? They traveled to Washington D.C. and visited Alexander Graham Bell and President Grover Cleveland. They visited with friends in Cape Cod, Massachusetts and Helen played in the ocean. They took a trip to Niagara Falls and later went to Chicago, Illinois where they examined exhibits at the World's Fair. Helen was allowed to touch the exhibits and explored Viking ships, bronze statues, and held diamonds.
After these trips, Helen returned to her studies of arithmetic, literature, French, Latin, and began to work on speaking. She later learned to speak German and read lips by touch.
(See: DK Life Stories Helen Keller by Libby Romero pp. 60-65)
Helen eventually graduated from Radcliffe, Harvard's partner school for female students. She wrote the autobiography of her life and wrote articles for the Ladies' Home Journal magazine. In the early 1900's Helen starred in a silent film, Deliverance, which was based on her life. This later led her and Anne to star in a Vaudeville act in New York City. Helen became a spokesperson for the American Foundation for the Blind. She won an Oscar for Helen Keller in Her Story, a documentary about her life.
Helen was born June 27th, 1880. She passed away on June 1, just before her 88th birthday in 1968. Can you imagine the changes that she experienced through this time period? Wagons to cars. Radios to TVs. Telegraphs to telephones. (See Time Line on pp. 112-115 in DK Life Stories Helen Keller)
Helen's life took many turns and twists. Sometimes she and Anne Sullivan had money to survive on. Other times they went through periods with very little money, misunderstandings from others, and deep stress.
Of all the accomplishments of Helen Keller, the highest one has to be that she became a devout Christian—
"Later in life, looking back on her years of silence and darkness, she wrote, 'I always knew [God] was there. I just did not know his name.'" (see: https://archive.gci.org/articles/the-miracle-workers/)
Below are some famous quotes from Helen Keller (see: https://annawoofenden.com/2013/03/17/helen-keller-a-woman-of-faith-and-action/)
"I am only one; but still I am one. I cannot do everything, but still I can do something; I will not refuse to do something I can do." ― Helen Keller
"Although the world is full of suffering, it is full also of the overcoming of it." ―Helen Keller
"Happiness does not come from without, it comes from within" ― Helen Keller
"Death is no more than passing from one room into another. But there's a difference for me, you know. Because in that other room I shall be able to see." ―Helen Keller
"Character cannot be developed in ease and quiet. Only through experience of trial and suffering can the soul be strengthened, vision cleared, ambition inspired, and success achieved." ―Helen Keller
"Love should not be viewed as a detached effect of the soul, or an organ, or a faculty, or a function. Love involves the whole body of conscious thought—intention, purpose, endeavor, motives, and impulses—often suppressed, but always latent, ready at any moment to embody itself in act. It takes on face, hands, and feet through the faculties and organs; it works and talks, and will not be checked by any external circumstance once it begins to move toward an objective. Love, the all-important doctrine, is not a vague, aimless emotion, but the desire for good united with wisdom and fulfilled in right action." –Helen Keller
"The best and most beautiful things in the world cannot be seen or even touched. They must be felt with the heart" ―Helen Keller
How does one learn to understand these deep concepts when they cannot see facial expressions, hear tones, or understand innuendo.
What more should we be able to accomplish by being able to see and hear? Helen Keller leaves us without excuse. Having a relationship with Jesus Christ and access to His wisdom, leaves us without excuse.
"If any of you lack wisdom, let him ask of God, that giveth to all men liberally, and upbraideth not [to charge with something wrong or disgraceful; to reproach]; and it shall be given him." James 1:5
Is there anything that you are working on that you can use the life of Helen Keller to inspire you? Comment below:)