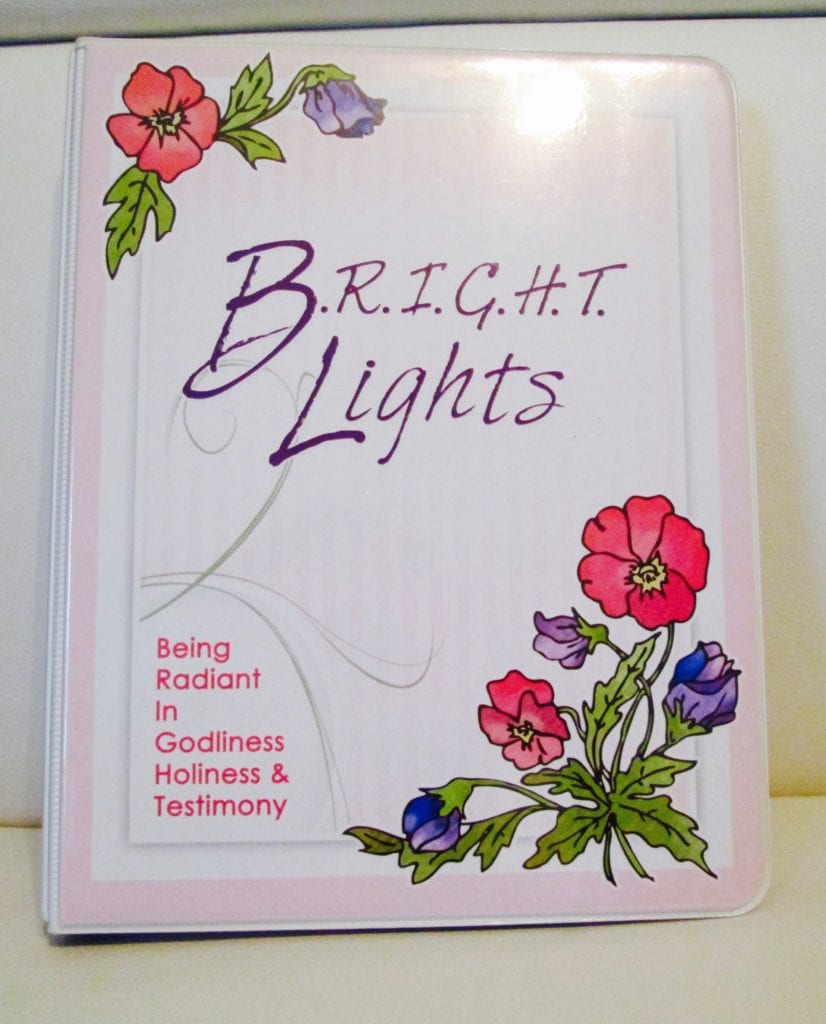 Lately, I have been revisiting some materials and books that I bought years ago, which have great application for teaching us and our children how to live in a changing world. Hebrews 10:25 tells us that we should be encouraging one another as we "see the day approaching." And, we don't want to be like the Pharisees and Sadducees in Matthew 16:3, who could interpret weather signs but couldn't "interpret the signs of the time!" We should, also, want to work on being "set apart as holy, useful to the master of the house, ready for every good work." 2 Timothy 2:21 ESV
In 2002, Sarah Mally (Hancock) started a ministry called Bright Lights which stands for "Being Radiant In Godliness Holiness & Testimony". It was designed as a tool to help young ladies come along side their mothers and work through a set of lessons to disciple them as they grow and mature spiritually in their relationship with God. In Sarah's words, it covers "many fundamental areas such as developing a close relationship with your parents, contentment, discernment, accepting the way God designed you, how to develop a ministry, controlling your words, choosing wise friends, and many other practical topics".
This ministry has grown and Bright Lights groups are now established in America and other countries. You can purchase a Discipleship Package, or a Leaders Training Kit from https://tomorrowsforefathers.com/ .
Years ago I purchased a set of lessons for myself to learn the disciplines I should walk in to become stronger in my Christian walk. As I've said in other blogposts, I never received this kind of teaching as a teenager, but it is never too late to grow in Christ. I have shared these lessons with my daughter. I have taught the concepts in middle grade Sunday school and life groups.
I have found you can take the lessons and use them to open up a path to help keep young ladies from making mistakes in their youth, to establish boundaries for purity, modesty, and wholesome relationships with others. The lessons can be applied to girls, boys, women, men… anyone of any age… to help develop a more disciplined walk with God.
One of the first topics of discussion in the series is the importance of Daily Bible Reading. Sarah says, "No believer can expect to grow spiritually or be successful in his Christian walk without reading God's Word for himself each day." Sarah then adds tips on how to establish a plan for reading. She shares the disciplines and benefits of rising early (see Mark 1:35) of giving (see Matt. 6:1-4) and of prayer (see James 5:16). There are worksheets throughout the lessons to help establish patterns.
My favorite disciplines that are taught in these lessons include: Being Strong for the Lord in Your Youth, Gaining a Clear Conscience, Accepting God's Design for You, Truthfulness, Contentment, Sensitivity, Self-Control, Discernment, Polluting Influences, Purity, Courage to Stand Alone, Preparing to Be a Wife and Mother, Diligence, Wisdom, How to Receive a Rebuke, How to Make a Wise Comment, What Should I Wear?, Inner Beauty, and Joyfulness. There are so many other lessons… a wealth of teaching is supplied through this wonderful series.
Now, here is the most exciting news of all!! Sarah and her family have online conferences coming up in June and July. The first conference is titled Strong in the Lord and is recommended for girls ages 8-14 and their moms (or grandmas). The cost to attend is only $25.00.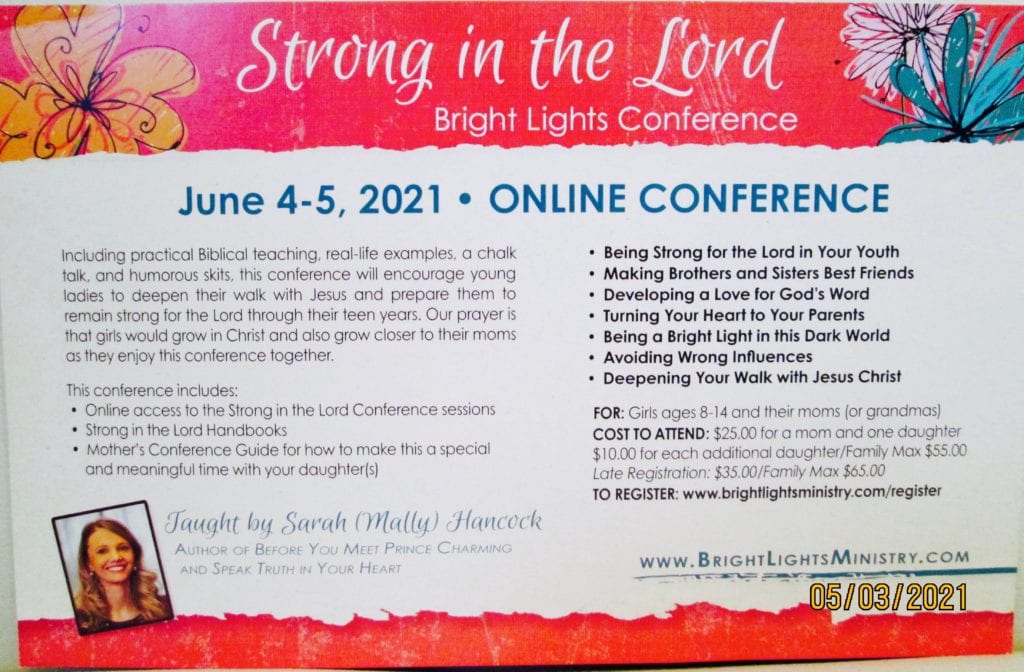 The second online conference is July 9-10, and is titled Radiant Purity. It is advertised for girls ages 12-22+ and their moms. It is $25.00, also.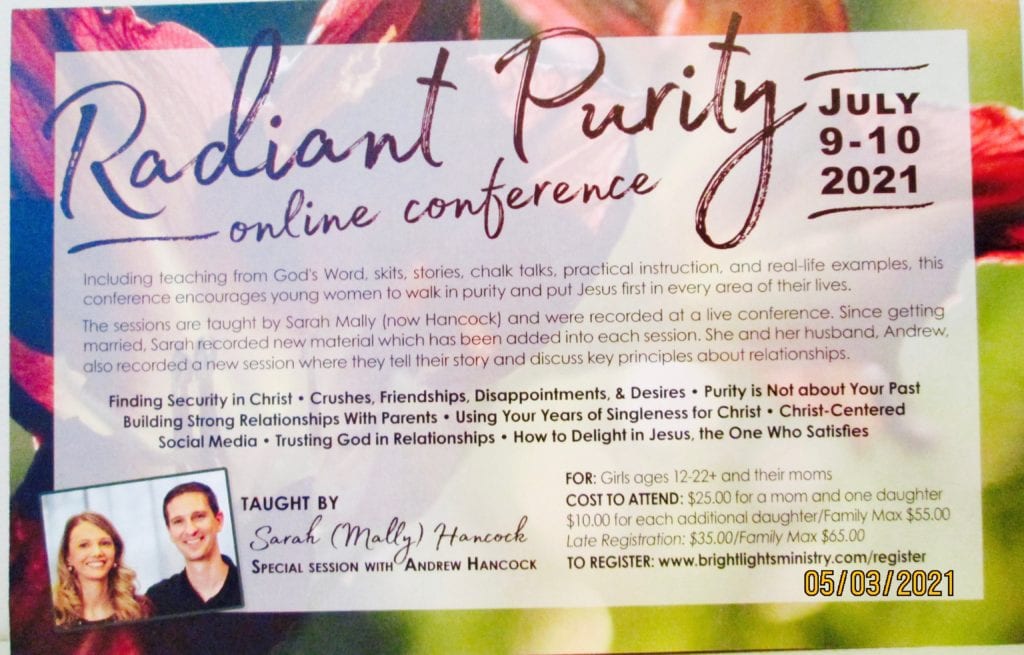 I am so jealous of anyone who can attend these conferences. I, and my daughter have aged out, although I am very sure the content would still be useful to us. Anything that points Christians to a stronger walk with God, at any stage of life, is a plus in my book.
So… today, I encourage you to take a step toward God and enroll in these conferences. Order a set of the Bright Light lessons for your daughters. If you have aged out as I have, order the Bright Lights lessons and go over them to improve your walk with God and to share the content with your sons. It is never too late, and I am sure that Sarah would not mind if her resources are put to good use in anyone's life that wants more insight on improving their walk with the Lord.