I don't know what it is about January, but I get very angsty this time of year. I feel overwhelmed, and anxious, and need to do something major to calm my soul, which usually involves a deep cleaning and organizing. I can't work on any other projects in my life until I have created utter chaos in my house. I tear it up and then try to put it back together again— better.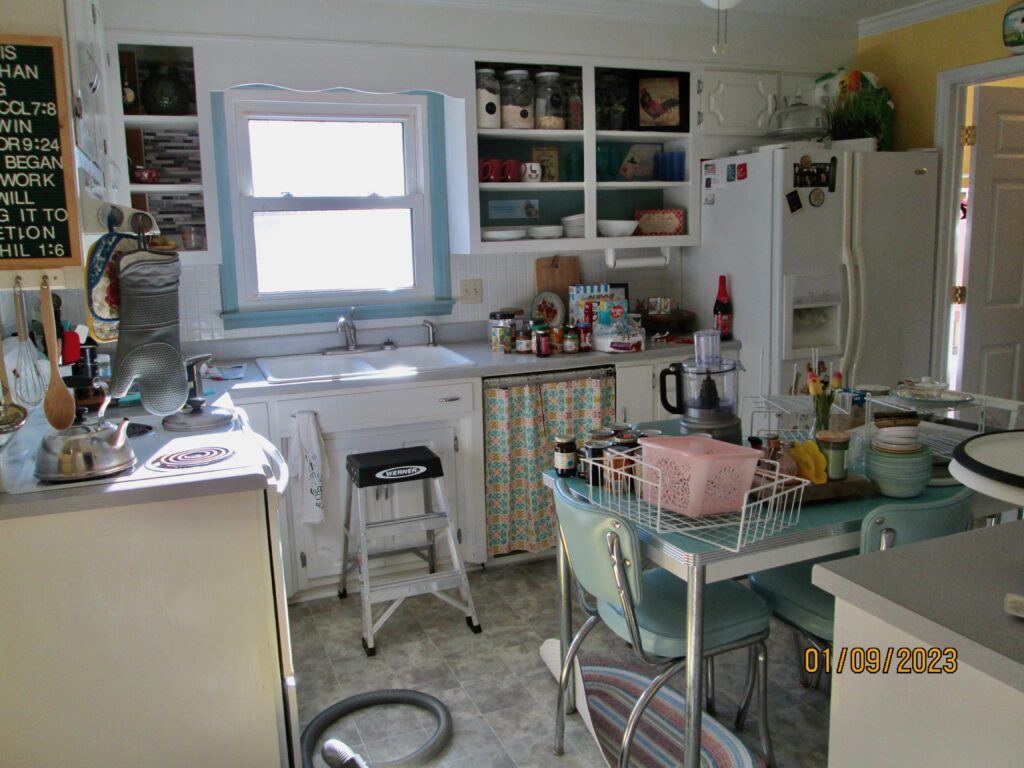 As I look at the chaos in my kitchen today, Laura's words from Little Town On The Prairie pop in my head and resonate deeply— "She had not known how hard it would be…. It was amazing, too, how dirty they all got, while cleaning a house that had seemed quite clean. The harder they worked, the dirtier everything became." (Little Town On The Prairie by Laura Ingalls Wilder p. 116)
It all started rather benignly. I had some leftover chalk paint and had been watching YouTube videos of French Country Kitchens. The color (Duck Egg) was perfect to turn my kitchen— French Country. But, I needed some art or statues and my budget is tight. So I ended up on Pixabay searching for free art to put in frames I had in storage.
I had very little paint so I painted the backs of two shelves and then decided to paint the window frame to add more color.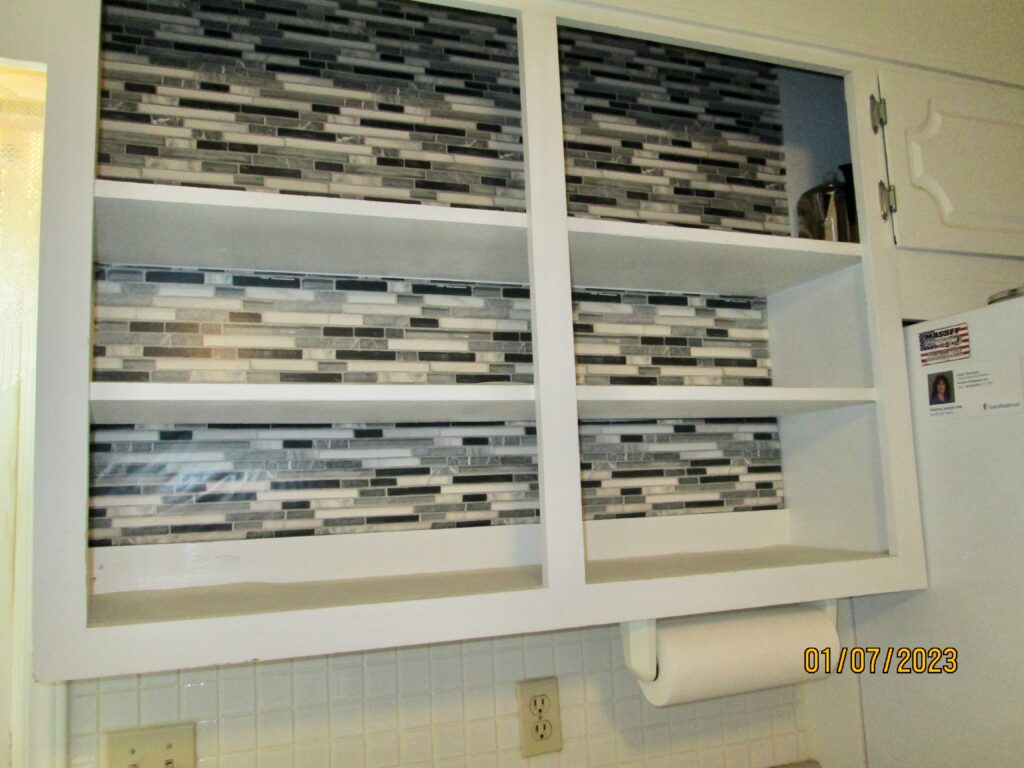 This was before. Just FYI the "tile" is not real. It's contact paper. I always have to do everything on a budget. I probably applied the contact paper last January. 😂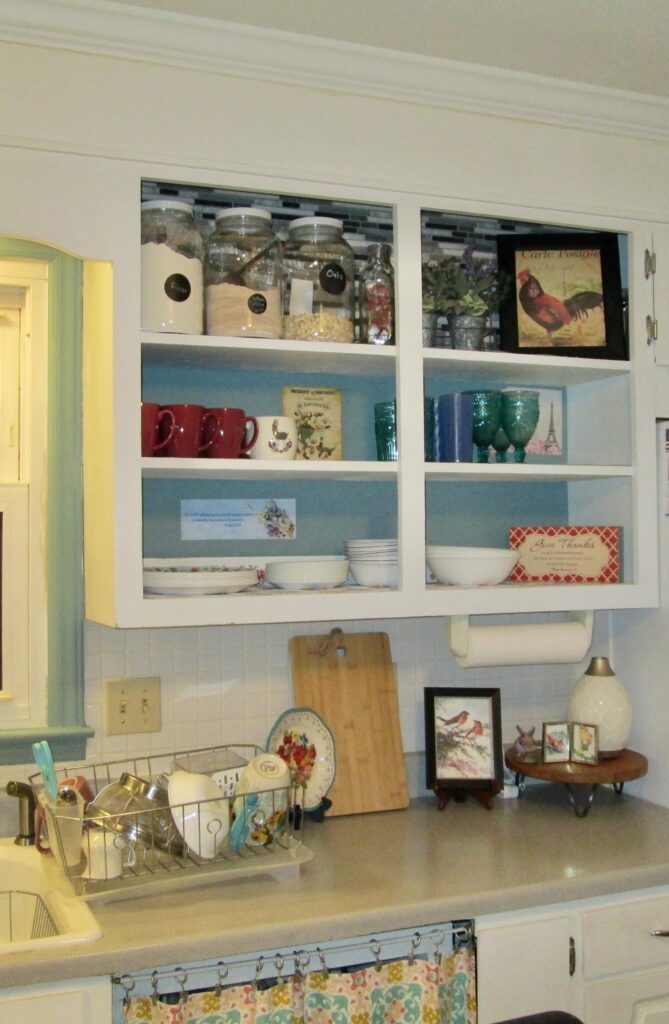 Here is the after. I liked the contact paper somewhat, so I left the upper area (I also needed to stretch what little paint I had.) The Rooster picture, winter birds, tiny squirrel, and little girl with a baby chick, all came from Pixabay. I decoupaged some other Pixabay pictures on the backs of the wall. I used one picture to incorporate a scripture verse.
"The LORD will keep your going out and your coming in from this time forth and forevermore." Psalm 121:8
(Please LORD do that. AMEN)
I added more Pixabay art to the other side of the kitchen, brought in a lamp that looked French from a bedroom, added some flowers, and put my homemade granola in a glass jar instead of tupperware.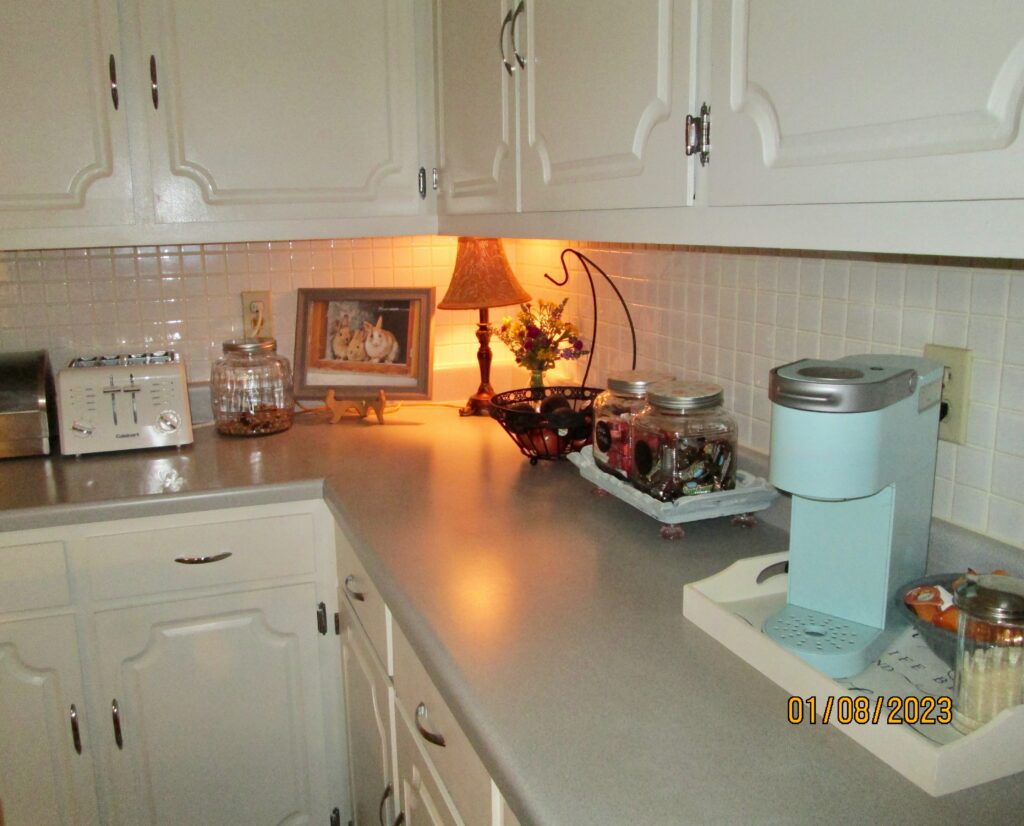 Then, today, I began to organize my pantry. How come it never looks like pinterest or YouTube? It looks just as messy organized as it does unorganized.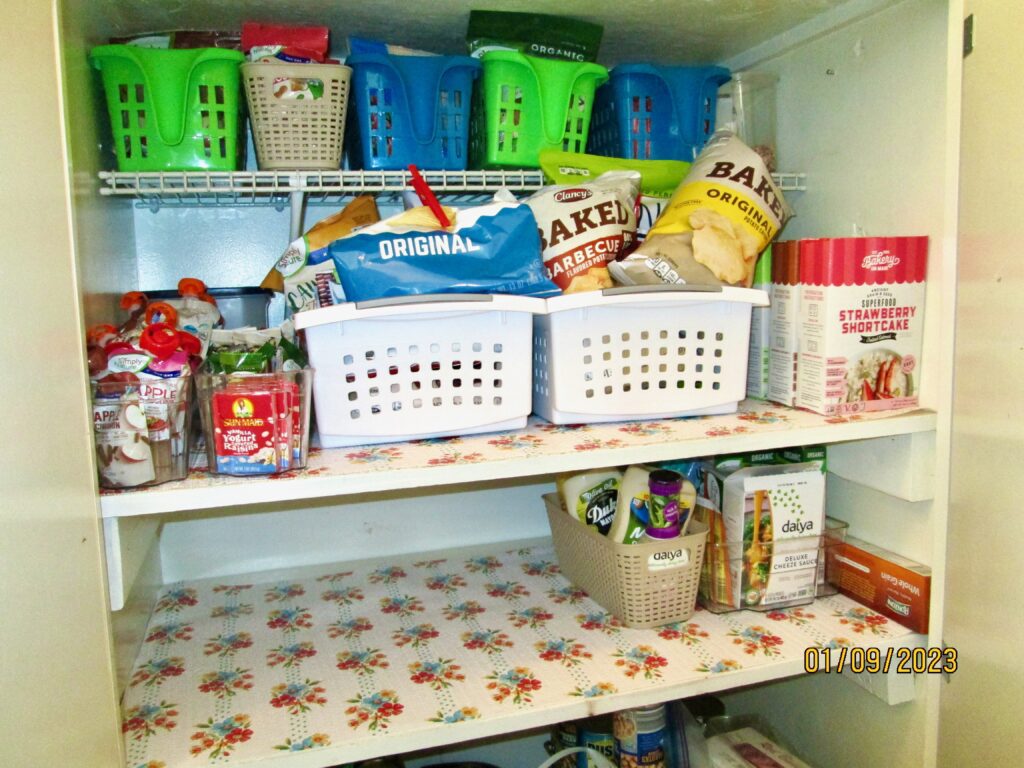 Still working on it.
Now let me just say— when you're dealing with a January blast of angst, your husband comes down with Covid, your kitchen is a mess and full of paint smudges—it is not the time to be reading the book of Jeremiah.
There are 52 longgg — chapters in Jeremiah. I feel I have been reading for weeks and have only just reached chapter 50. Three more and then I get to read Lamentations 😳.
I can't stop, I will have read the entire Bible since April if I can finish from Jeremiah through Malachi. And then I get to start on a brand new Bible.
And believe me.
I'll be starting in the Gospels where there is hope.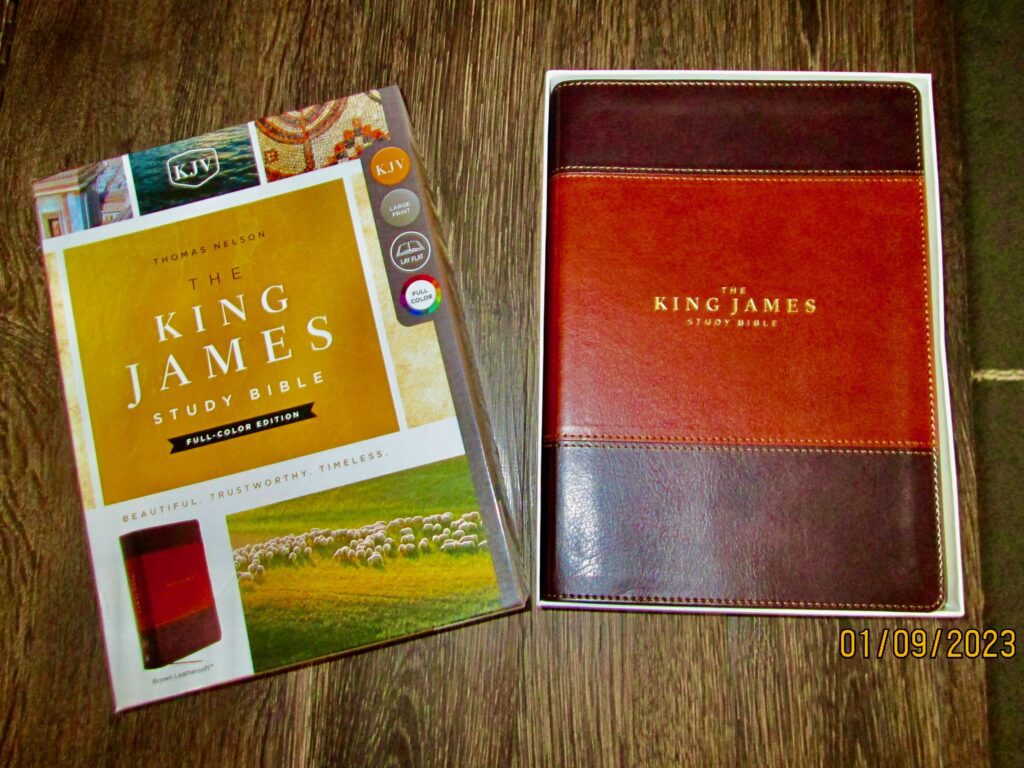 Poor Jeremiah. How did he bear it all? The people were evil and crazy. They told Jeremiah, give us a word from God. Should we go to Egypt to escape the Babylonian King? We will do whatever God tells us to do.
Jeremiah tells them what God says— if they stay where they are God will protect them, but if they flee to Egypt, they will die of sword, famine, and disease as God pours his wrath out on them. Hummm. I think I'd stay away from Egypt.
But no, those crazies not only go to Egypt, but they also burn incense to their false god, the "queen of heaven". When all the destruction breaks loose they believe it is because they were unfaithful to her. (Read Jeremiah 42-45 for the complete story.)
And to top it off, they force Jeremiah and his scribe Baruch to go to Egypt with them. Poor Jeremiah, no one ever listens to him. They ask him to consult God. But do they listen??? NO!!!
Jeremiah is a very depressing book to read in January. Besides Jeremiah and Baruch, only a very few did anything right throughout the whole book.
One of those was Ebed-melech, an Ethiopian Eunuch in the King's house. King Zedekiah had put Jeremiah's life in the hands of some wicked princes who let him down on a rope into a dungeon full of mire where Jeremiah sank. They would give him no food and he would die in the mire.
Ebed-melech told the King what they had done and asked to rescue Jeremiah. Ebed-melech tied old rotten rags together and made a rope. He took thirty men with him and told Jeremiah to put the rope under his armholes. They pulled Jeremiah out with rotten rags and saved his life. Because Ebed-melech trusted the Lord and did the right thing, he was rewarded with safety for the future. (You can read his story in Jeremiah 38-39)
Then there were the Rechabites, a family whose father had commanded them to never drink wine. God had Jeremiah tempt them with wine, but they stayed firm. They are used as a lesson of obediance. (Read their story in Jeremiah 35.)
As depressing as the book of Jeremiah is — chapter 17 gave them, and us, a total example of how to make things go right for anyone.
"Blessed is the man that trusteth in the LORD, and whose hope the LORD is. For he shall be as a tree planted by the waters, and that spreadeth out her roots by the river, and shall not see when heat cometh, but her leaf shall be green; and shall not be careful in the year of drought, neither shall cease from yielding fruit. The heart is deceitful above all things, and desperately wicked: who can know it? I the LORD search the heart, I try the reins, even to give every man according to his ways, and according to the fruit of his doings." (Jeremiah 17:7-10)
So…
Put your trust in God
Hope in the LORD
Let your roots go deep as they are watered by God's word
Yield fruit
Guide your heart to full submission to God
God gives according to what you do and the kind of fruit you produce
Okay… so I did learn something from Jeremiah, but it is still depressing. Maybe I'll read a Psalm and then go clean up the mess in my kitchen.
What are you reading or doing on these cold and cloudy January days? Do you suffer from January angst? Comment below if you feel like it— I would love to know I'm not alone:)