My daughter and many other homeschoolers have started to revisit the McGuffey readers for teaching reading, spelling, and wisdom from the past. Today, I am looking at The Original McGuffey's Eclectic Second Reader.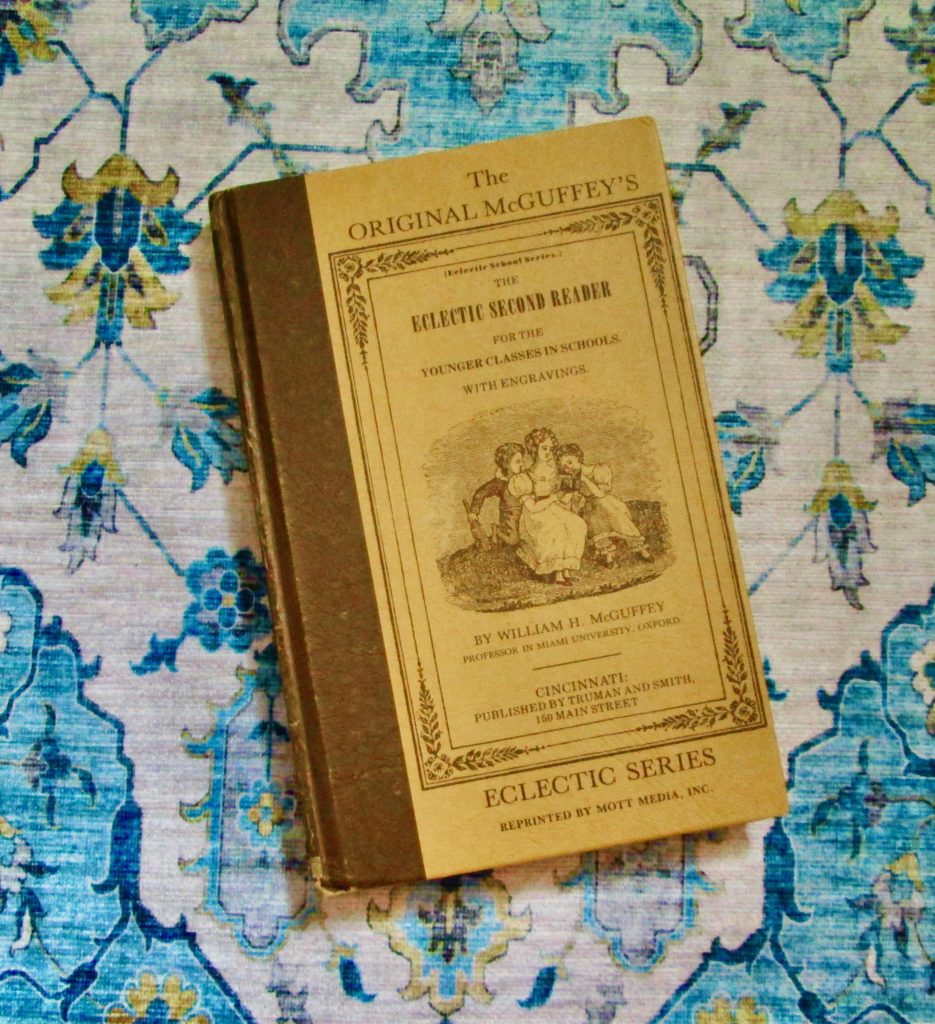 The publish date is 1836, and I would first like to start with William H. McGuffey's suggestions to teachers at the end of the table of contents. He says, "The first object of the intelligent teacher, is to awaken the attention of his pupil. This can be accomplished in no other way so well as by asking him questions." At the end of each lesson, he has supplied a list of questions to ask.
I'm sure his wisdom in asking questions came from the original Great Teacher, because that is exactly how Jesus taught… by asking questions.
Here is a very incomplete list of some of the lesson titles in the book that caught my attention:
The Quarrelsome Roosters
True Courage
The Reindeer and the Rabbit
The boy and the Bear
The Lord's Prayer
The Ten Commandments
About Profane Language
The Good Boy whose Parents are Poor
The Boys who did Mischief for Fun
The Idle Boy Reformed
You can tell that not only do young readers learn to read, spell, and comprehend these stories, they learn application of Biblical principles and life lessons.
The book is interspersed with positive stories to show what is good and right, and negative stories that show what happens when people do bad things. I'm sharing one short story from the book to give an example of the format below:
LESSON LXX Robbing Birds' Nests.
A little boy who had discovered a bird's nest in a thicket was much pleased at finding such a prize. Tearing it from the place where the careful birds had placed it, he hurried away with it, rejoicing at his good fortune.
As he walked towards home, he met his sisters, who when they saw the nest, explained to their brother how curiously it was formed. Moss, hair, and wool, were combined together, and these were lined with feathers by the industrious and tender parents, to provide for the warmth and safety of their young.
"Do you think," said his sister, "that any little boy has skill enough to make so wonderful a thing?" There had the mother sat for days, brooding over her eggs, before the warmth called the little creatures into life.
"Now, as a reward of all her care, she finds her house and her little ones snatched away from her. Who can describe her distress when she returns to feed her helpless little ones and spread over them her sheltering wings! How will she complain, in a mournful song, or the injustice and cruelty of the boy who has robbed her of all that was dear to her!"
While the little boy looked at the nest and the young birds, and heard these remarks of his sisters, his heart was touched—he yielded to the sweet impulse of humanity. He turned around. His steps were pleasant, for he was going to amend his fault.
He replaced the nest in the best way he could, where he had found it, and enjoyed more satisfaction from this act of humanity, than any amusement could ever give.
I hope all my readers will try to remember this story, and when they are tempted to rob birds' nests think how much better they will feel to let them alone. (See pages 188-190)
Here are a few of the comprehension questions that follow the story:
Who was it that found a bird's nest?
Who met him as he was carrying it away?
What did they say to him?
Wasn't this true, and a very affecting appeal to his better feelings? (see p. 190)
The lesson ends with spelling words.
If you are a homeschooler and need resources to go with some of the McGuffey readers you may be using, my daughter has developed flashcards and guides to these stories and has them on her Etsy shop. You can find them here: https://www.etsy.com/shop/CedarBranchPress
When you think back on your schooling, do these type lessons appeal to you?