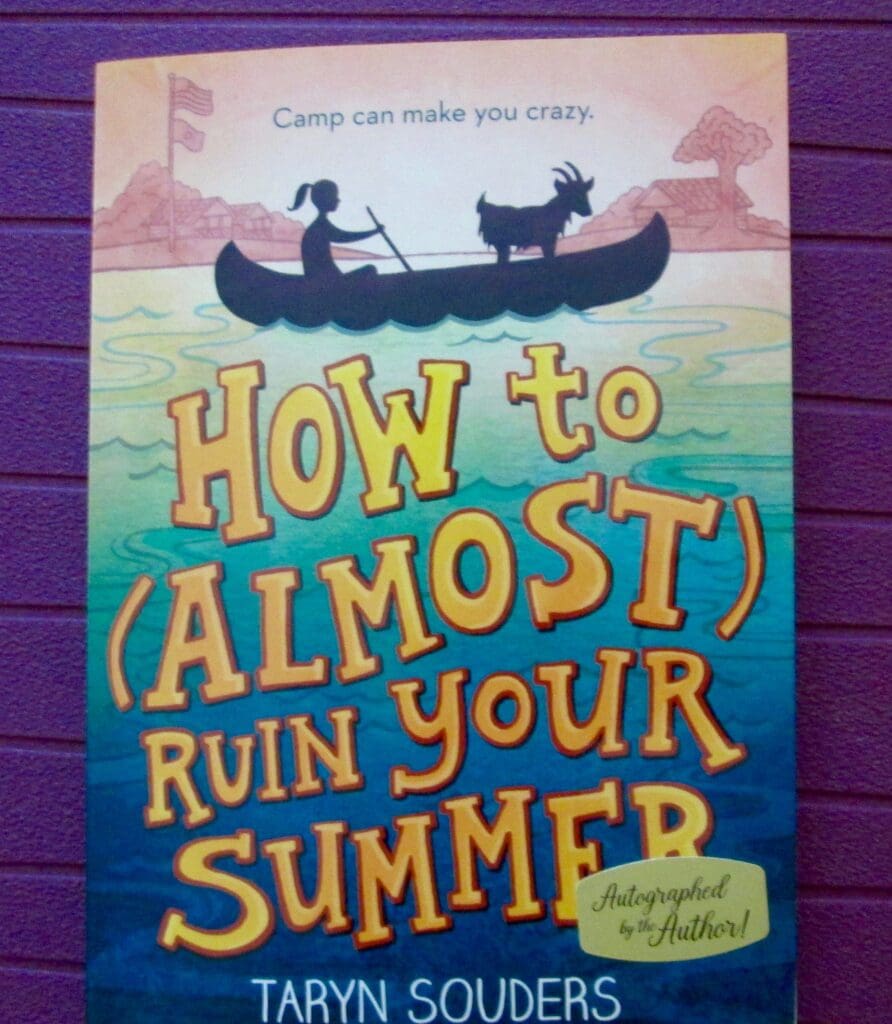 Taryn Souders has written a hilarious book that is perfect for summer reading, How to (Almost) Ruin Your Summer. I sent a copy to my eighty-six year-old mother who is homebound most of the time. Every time I reference this book or mention a goat, she starts laughing.
My mother enjoyed the book. I enjoyed the book and laughed my way through it. However, it is written for 8-12 year olds and is a great summer read for that age group.
The heroine of the story, Chloe McCorkle, has made plans to take babysitting classes at her local library with her two best friends. She plans to spend the summer babysitting to make money for a new bike.
When her parents decide to take an Alaskan cruise, Chloe is shipped off to a summer camp for two weeks. The first week is spent trying out different career paths such as veterinarian, cake decorating, and science. The second week, each camper chooses their favorite area to work in and spends the rest of their time learning skills associated with that path.
Chloe hates dealing with animals and sets her sights on the cake decorating class. When she is thwarted by the camp diva (Victoria) who just happens to be her cabin captain and in charge of handing out the daily cabin chores, her trouble begins. Chloe becomes friends with Pauline (a.k.a. Pogo) and the two of them work together to make it through their two weeks dealing with Victoria.
Victoria intervenes, and instead of getting to take the cake decorating class, Chloe ends up in charge of a head-butting goat who escapes from his pen every chance he gets. There is trouble around every corner and you will find yourself cheering for Chloe and Pogo, and groaning when things go south for them.
I love one thing that Taryn Souders has done in this book that really keeps you reading. The things that you expect to happen never do. As Chloe changes from one strategy to another, due to unforeseen circumstances, she never gets what she is going for even by the end of the book. But, what she does get is an interesting set of twists, turns, and changes to her plans, much like real life.
This book is such an exciting read because of the continual surprising outcomes to the situations Chloe gets herself into. It is a great book to read as a family on summer vacation, to read as a middle grader, and is such an intriguing and funny story, it can hold the interests of those much older than the middle grade category that it falls into.
I hope that you will buy the book and enjoy a great summer read at camp, family vacation, or at home.