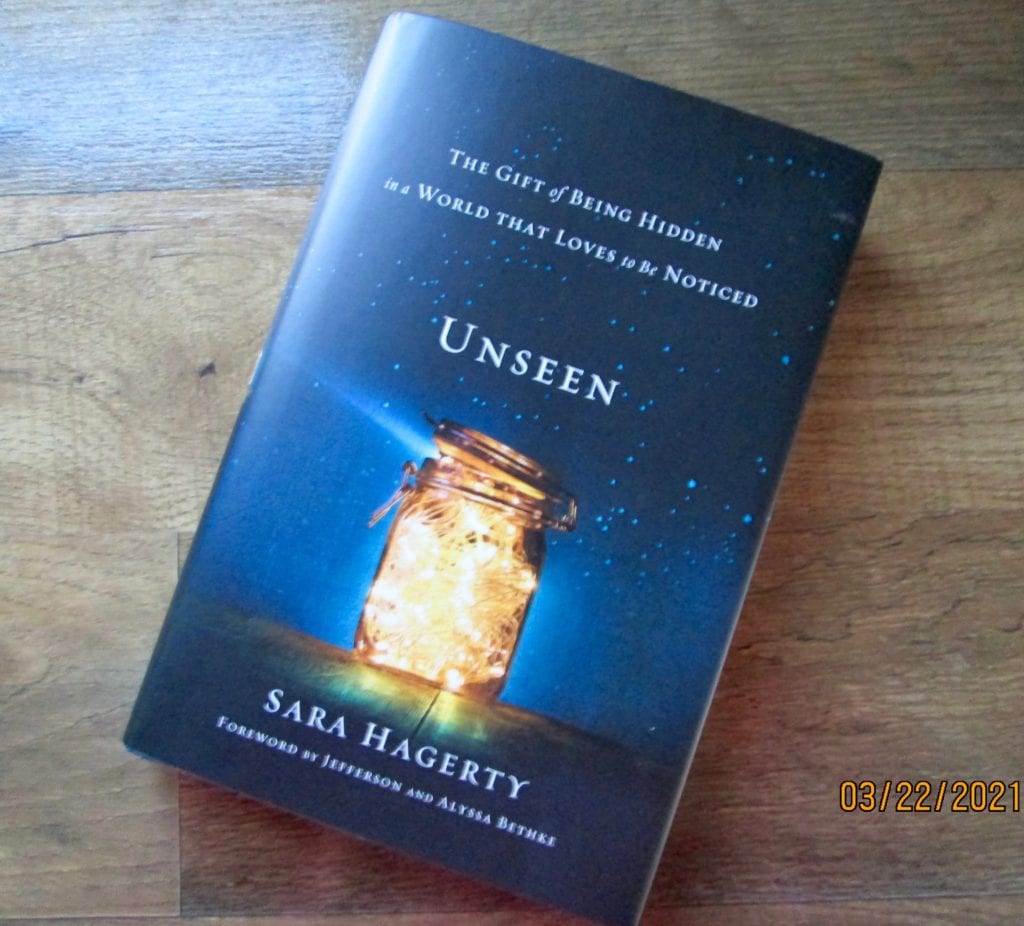 Do you struggle with no one seeing you? Not being able to make a difference in this world? No one understanding you, getting you? Then you will welcome a different way of looking at how you relate to God, and your world, as you read this book.
In the foreword of the book, written by Jeff and Alyssa Bethke, they propose a challenging question for us… "What if we can find joy and affirmation in the hidden, the quiet, and the mundane?" Because that's exactly where Jesus says it's at." (p.12)
I don't know about you but all of my life as a Christian, there has been a deep desire to serve. I have been in churches that have shamed me for not serving, and yet, I couldn't find the place where I actually fit. There were churches where I fit and I was serving within my gifts, then someone else came along that wanted to serve in that area, and I am not the type to fight for position. I quietly leave. You know… don't stir up discord among the brethren. (Proverbs 6:16-19)
And once again, I am at a place in my life where I am looking to serve and not finding my place. Maybe I'm striving too hard. Maybe I will just be serving outside the church and not inside the church. And, as Sara shares her story on page 22, maybe, like her, I need to stop working so hard to get God's attention, because I already have it.
I love Sara's take that we are sometimes purposefully placed in hiding by God to help us be trained to become passionate lovers of Him. She says, these passionate God lovers, that are hidden in Him, are "cleaning toilets, punching time cards, changing bedpans, fielding criticism, battling fatigue. With the opportunity to find Him in the midst of it all…. God loves to hide us. Behind circumstances and callings and misjudgments and scorn from even the dearest of friends, He hides us." (p. 32)
"Hidden servanthood is drudgery when we're intent on praise from others." (p. 51) But, "God doesn't banish us to this hidden place. He invites us. And finding God in the secret can teach a heart to sing." (pp. 32-33) "How we respond when we are hidden by God is everything." (p. 51)
But then, it's actually "God who gives us this craving to be known, to realize that we do matter…. We were built to count…." (p. 40)
The important thing to remember is… "When we crave most the eyes of others—their opinions and accolades—we break our gaze with the only eyes that will ever truly see us." (p. 42)
Sara reminds us that "every one of us is fractured" in some way. Our brokenness has taught us to scramble for security in how we perform, rather than to find it with a sigh of relief in the stability of God's arms. (See page 43 on how Sara learned this from observing her adopted children.)
Sara discusses the winters in her life. She says, "Winter gives birth to spring…." (p. 55) And adds, "my plans often need dormancy. They need a winter—sometime many winters—to rest….so that when He breathes the warmth of new plans into me, I actually want them. And so I want Him more than I want the plans themselves." (p. 56) She also points out that sometimes we have to ask God for the "strength to be unnoticed." (p.57)
"God has created each of us for greatness…. But the sweetest greatness starts with being rooted, being made and nurtured in secret, being seen by God alone." (p. 67) Sara says, "My very desire for greatness was something that came from God…." But, "the path to greatness lies in hiddenness….We forget that it's in the interruptions, the waiting seasons, the disappointments that we grow best….This is where you become great—on the inside." (p. 68-69)
"Greatness begins underground. In secret. I have to sink my roots deep in the knowledge of God's love…. Our growing root system reaches and creeps and drinks, deeply, of a greatness that the world can't measure, a greatness that even some within the Christian community might not recognize or understand." (pp. 72-73)
Sara points out that God likes us in our weakness because "My strength is made perfect in [your] weakness" (2 Cor. 12:9) (p. 74)
Another truth that Sara pointed out, that I loved to think about… is about judging others and being critical. Sara speaks of praying for a woman she had made some initial judgements about "to win over my critical thoughts." She says that one of judgment's lies is that somehow we are responsible for correcting the behavior we see in another. (p. 82)
This wonderful book is filled with so much wisdom that I will share part 2 with you next week. Otherwise, I will be writing a book myself to share all the learning points from Sara's book. I highly recommend this book for anyone, late teen on up, to gain perspective on how we are made to be loved by God and hidden in him.