February might be considered the month of love as we approach Valentine's day. We see red and pink hearts , beautiful bouquets, and candy in heart shaped boxes.
Hearts everywhere.
Thinking about love and giving your heart to another person often starts at an early age. You see young children blush, when someone else tells on them for liking a boy or girl. Sometimes they speak of having girlfriends or boyfriends in kindergarten and first grade.
And that is why, today, I would like to share an important resource for these young children as they start to consider so early in life— the person they will marry. It is important to teach them to see the character qualities God wants for the person they marry, as well as the character qualities they need to develop as they grow and come to the age of marrying.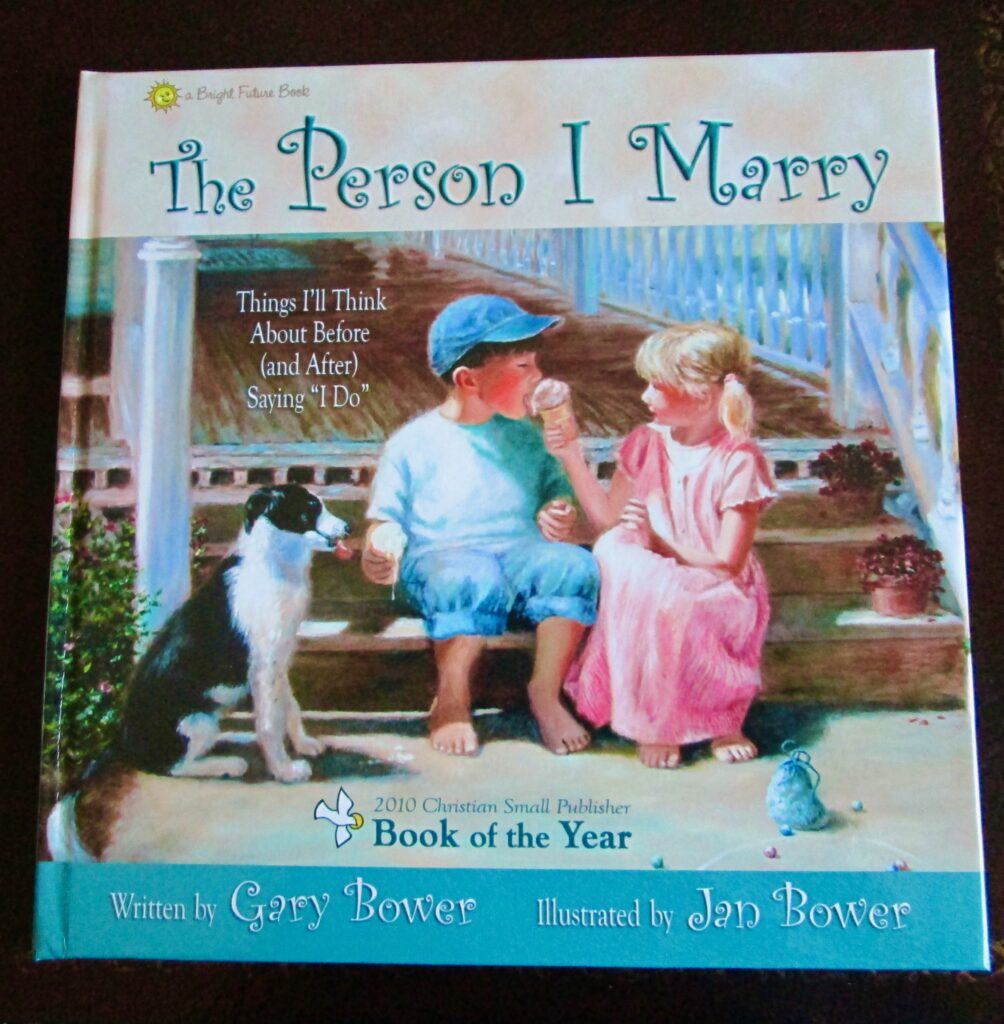 The Person I Marry is written and illustrated by a husband and wife team, Gary and Jan Bower. It is written in verse and addresses the questions young children might have as they think about weddings and marriage.
All the pictures in the book are cute, sweet, and amazing in detail. The rhymes are full of wisdom and scattered throughout the pages are words that you should be looking for in someone else, as well as striving to obtain in your own spiritual growth. At the end of the book the fact that some people won't marry is addressed, but the book is still relevant for everyone as you seek to grow in relationship to Christ— and become more like Christ.
On pages 28 and 29 the fact that we are number two in a marriage is addressed:
"Though it may sound a little strange,— in every season, every change,— this person must be someone who— will cherish me as Number Two. Oh, I'll be deeply loved, of course,— but I can't be my partner's source.— When everything is said and done,— God must be our Number One."
To make any marriage work, God has to be allowed to be at the top, leading.
Some of the character qualities that are listed in the background of each page that we should always be looking for or working on are:
Kind
Gracious
Generous
Thoughtful
Willing to Listen
Totally Honest
Ethically Solid
Not Sneaky
Aware that we need God's Grace
Hungry for God's Word
Growing in Faith
Eager to Serve the Lord
A True Believer (These were randomly chosen—as they are scattered throughout the book. There are many more that are not listed here.)
I would recommend this resource for a study in character development and discernment. I would recommend you do it as a family. The pages are so immersed with wisdom, I think it would be interesting to look at only a few pages each night at bedtime, and then have a time of discussion on them.
I ordered my books from Tomorrow's Forefathers Inc. Click to follow the link. It is currently $12.00.
If you noticed I said books — as in plural. I am currently working on a Family Valentine's gift for each of my children's families.
I currently have a plastic tub from Dollar Tree that I am filling up. Each family will receive The Person I Marry book, a prayer calendar from the Daily Grace Company, a little garden statue from Dollar Tree, candy, and a Pray Pray Pray cup. My daughter-in-law always uses that cup when she comes over to our home and loves it.
I had gotten the cup at Walmart in Southport, N.C. when I went on a writing retreat. I found that you could order them online at Walmart. You just need to put in your search Thyme & Table Pray Pray Pray cup. If you want one, please hurry. The site said there were only five left and I ordered two of those.
Here is what I have so far as I'm waiting on some of my orders.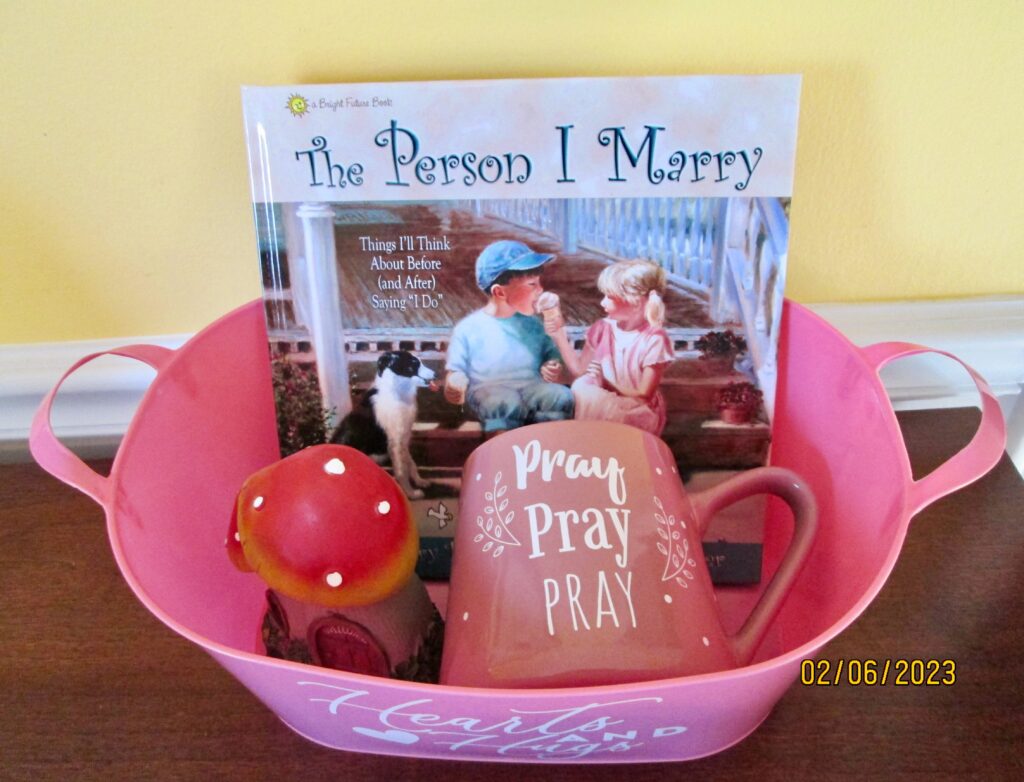 I hope you will investigate The Person I Marry book and feel led to order it for your children, grandchildren, or even yourself if you want to work on your marriage. If you are single— use it to study up on character qualities that can deepen your relationship with God.
Are you planning any special gifts for someone this Valentine's Day? If so, please comment below.