How to Hear God's Voice When You Read the Bible
by Tyler Gaulden
Book Review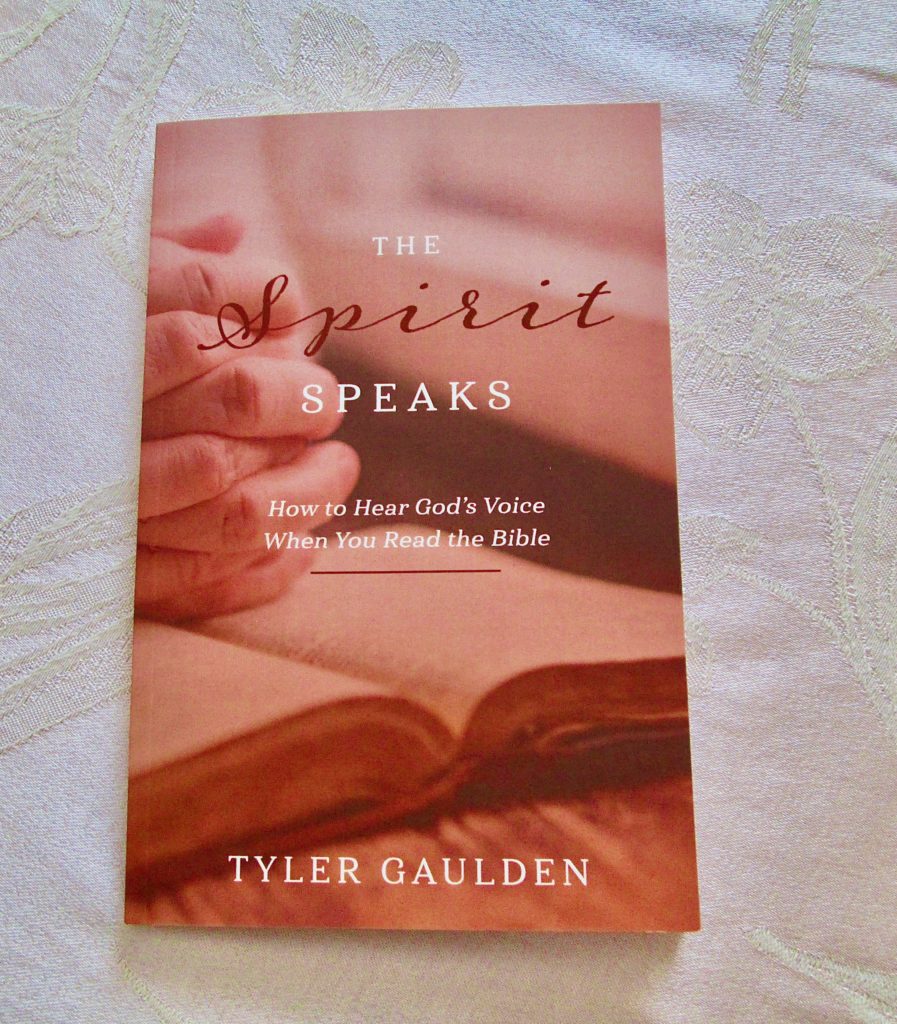 We recently had revival at our church. One of the pastors that spoke was Tyler Gaulden. He had these small books for sale, and I purchased one. After I began to read it, I decided I wanted to get some for my children's families and for friends. I could only find them for sale on kindle. It was first published in 2021, so I'm hoping that eventually there will be other resources for them.
It is a quick read with chapters titled:
Why Do We Struggle
The Flashlight of God
Specific Time
Comprehensive Reading
What POPS?
Ponder What You've Read
Tyler points out that we struggle because we are distracted by the world and Satan. But, there is a remedy, and that is walking in the Spirit. He says, "We will begin to listen to the new nature. We will begin hearing His voice." Then we begin to crave it. (pp. 13-14)
Tyler then goes into the Hebrew letters from specific scripture and how they are written. The letters themselves make a picture for us to see God and Jesus and the gospel through them. When the Hebrews were captured and mixed in with the Babylonian culture, their language became mixed and they lost their ability to understand how God communicated with them. Then a gap developed in the "generations of people that have really, truly, honestly, and wholeheartedly sought the Lord…". (pp. 20-21) Parents stopped teaching their kids how to study God's word and to pray.
Chapter Two entitled "The Flashlight of God" begins with this verse: "Thy Word is a lamp unto my feet, and a light unto my path." Psalm 119:105 (p.23)
A Flashlight!
God's Word is the light!
Tyler asks these questions on page 24:
Do you pray about everything?
Do you ask God the small details of your life?
Have you asked God to guide you in the right job?
Have you asked God to guide you in the right marriage?
Have you asked God to guide you to the right church?
Have you asked God the small details about your house, about your family, about vacation plans?
Tyler ends that section with, "God wants to guide you in every small decision." Then he shows an illustration of God doing just that in 2 Samuel 5:23-24 when dealing with David and a battle with the Philistines. David asked questions. God gave answers.
Beginning on page 42, Tyler points out that… "Comprehensive reading is when you start at the beginning and you progressively, slowly, and completely go through that passage. You don't just let your Bible randomly fall open at the beginning of your devotions, take your finger, and point blindly at a verse, read that and presume that's God speaking." Comprehensive reading gives you an overall view of a section, chapter, or book.
Tyler goes on to explain how comprehensive reading gives you the assurance that you're not just randomly picking verses that you want to hear from God. In your daily reading, when the next passage just happens to be an answer to something you are struggling with. AND It showed up on the day you needed it in your daily reading plan. Then you know it was orchestrated by God.
Tyler gives an example of this from the scriptures. In Jesus' day the custom was that on the Sabbath day, every young man who was over the age of twelve and had their bar mitzvah went to the synagogue. A scroll would be taken from the ark by a Priest and be read by an adult male. They read comprehensively. They always began reading where they left off. In Luke 4:16-19 Jesus was following that tradition. He stood up to read and the scroll was at Isaiah. And Jesus read, "The Spirit of the Lord is upon me, because he hath anointed me to preach the gospel to the poor; he hath sent me to heal the brokenhearted, to preach deliverance to the captives, and recovering of sight to the blind, to set at liberty them that are bruised, to preach the acceptable year of the Lord." (see page 44-45)
Does that give you cold chills or what? To know that on that very day, hour, minute in history… God ordained that Jesus would stand up and read about Himself. Nothing in the history of the world could have stopped that, because God is in control of it all.
The next chapter titled "What Pops" relates the story of a near run in with Tyler and a copperhead snake. Lucky for him, he had a flashlight to light up his path. Tyler says if you walk into a dark room and turn on a flashlight, and "if you saw a snake in the light, would you keep looking and say, 'What else is in this room?' or would you address what popped out at you? That's the way you hear the voice of God." (p. 52)
This is what happened to Peter after the rooster had crowed and he remembered Jesus' words.
Tyler gives a great illustration of understanding when something pops. He says… "How do you know what pops? Well, when you're reading a passage of Scripture and the story you're reading no longer is about the story you're reading, but you see yourself in it, that's how you know what pops. When you are reading about David and Goliath, but you think about the proverbial giant in front of you, and you read in 1 Samuel 17:46, 'This day will the Lord deliver thee into mine hand…' and immediately, it pops off the page and into your heart, and you sense that feeling of courage and strength… it has 'POPPED!' That's the Lord speaking to you." (pp.53-54)
Tyler Gaulden has bee the pastor of Church Street Baptist Church located in Greensboro, North Carolina ,since 2013. He has a weekly TV broadcast entitled, Unspeakable Joy, which you can find on YouTube and Apple Podcast channels.
In reviewing this book today, I am hoping that parents may find and read the book in depth, put it into practice in their lives, and teach their children and grandchildren, "How to Hear God's Voice." Our children need this so badly now with the way the world is headed. We needed it as children ourselves, but our parents didn't know how to pass this down to us. Now we have resources, like this book. And, we have God's Word readily available. It's a good time to study, learn, and put it into practice. There may come a day in the near future where we don't have Bibles like we do now.
Is there one thing that God has been showing you lately through His Word, that you would be comfortable to share in the comments below?