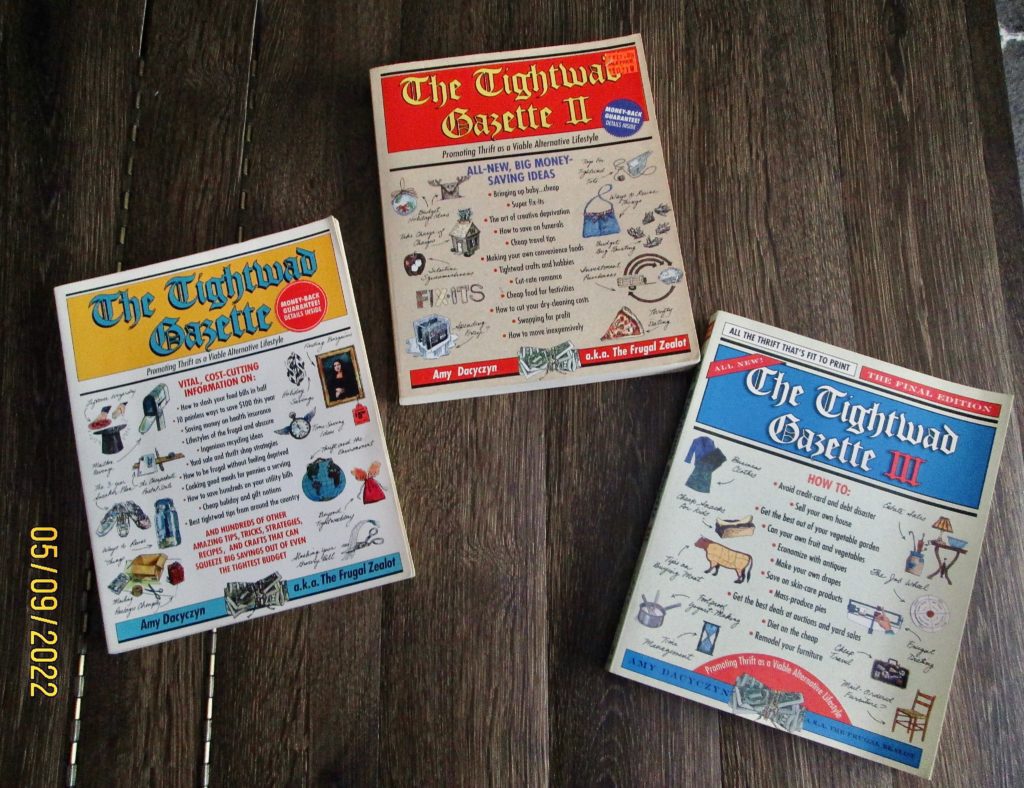 I've been writing blogposts about heavy things lately and decided to lighten the mood today with a review of The Tightwad Gazette.
The Tightwad Gazette started as a newsletter and was later published in book form in 1993. At the time of publication I had worked in nursing for fourteen years and had taken a break to stay home with our two children to home school them. We dropped down from two pretty good sized salaries to one.
While my children studied beside me, I absorbed the information from The Tightwad Gazette and put it into practice. If memory serves me right, we had about $50,000 in debt at that time, which we paid off in five years using the principles from the newsletters and later books.
We, however, could not learn the lesson of the value of being debt free and later, around 2004, after I went back to work, once more accrued a frightful amount of debt and had to go through the hard process of paying it off, again.
Finally the lessons took, and we have now been debt free since about 2011 and would never want to go back. The weird thing is—we always had debt when I worked and was able to get out of debt when I didn't. The lesson from that is— it is much cheaper to eat at home, not buy uniforms, not run out gas, not pay for childcare, and not to spend money to reward yourself with vacations and pleasures to make up for working so hard.
The subtitle of The Tightwad Gazette is Promoting Thrift as a Viable Alternative Lifestyle. That says it all. Choosing thrift.
The Tightwad Gazette is a compilation of ways to be thrifty. It gives ideas for saving on clothes, food, vacations, buying homes, decorating, and activities with your children. The author, Amy Dacyczyn (pronounced Decision) has a humorous and practical approach to writing and to saving money. Since it was all written many years ago, sometimes the ideas seem outdated or something that you may not choose to do, like dumpster diving, but Amy gives so many great ideas, that you can pick and choose what you would like to do to save money.
Amy writes from experience since she accomplished her goal to buy a rural pre-1900 New England farmhouse on one income in 1989. In book one, Amy says, "Over the years our average income has been less than $30,000 (including my husband's Navy salary and all allowances, plus my spotty free-lance income). In less than seven years we saved $49,000, made significant purchases (vehicles, appliances, furniture) of $38,000, and were completely debt-free! That is an annual savings/investment rate of over $12,500 per year, or 43% of our gross income." (See p.4 of The Tightwad Gazette I)
The first book gives an introduction to Amy and how the books began. It is divided up into frugal ideas for each season and has always been my favorite. But you can also get a copy of all three books in one volume. The libraries still have these on the shelves if you don't want to purchase individual copies or the full volume of all three.
We are in a season of inflation and learning how to be thrifty like our parents and grandparents used to do is a great goal to put into place now.
On page 11 of the first book Amy has a great article entitled, Everything You Already Know. She says, "Telling you how to save money is like telling you how to lose weight. Everybody knows how to lose weight. You need to eat fewer calories than your body uses. To save money you need to spend fewer dollars than you earn. In both cases you need to adjust your rate of consumption to your rate of work…. Telling you to earn more instead of saving more is like saying 'Don't eat less, exercise more.'" (p. 11)
There are many other great articles such as, You And The Financial Edge, on page 15. How close to the edge of spending do you allow yourself to go. What feels safe to you?
There are excerpts interspersed in the books where people wrote in and asked questions or gave their own frugal ideas. These are balanced out with recipes (all the recipes that I have tried always turned out great with just a few ingredients), party ideas, baby care, bulk buying ideas, cheap home repairs, gift making, how to compare prices, simple sewing patterns, gardening ideas and so much more.
I highly recommend these books for people that want to take a new look at how to save money and get out of debt in hard times. If something seems outdated to you, skip it. The recipes and general saving principles never go out of style.
What are some ways you are being thrifty these days? Please comment below:)