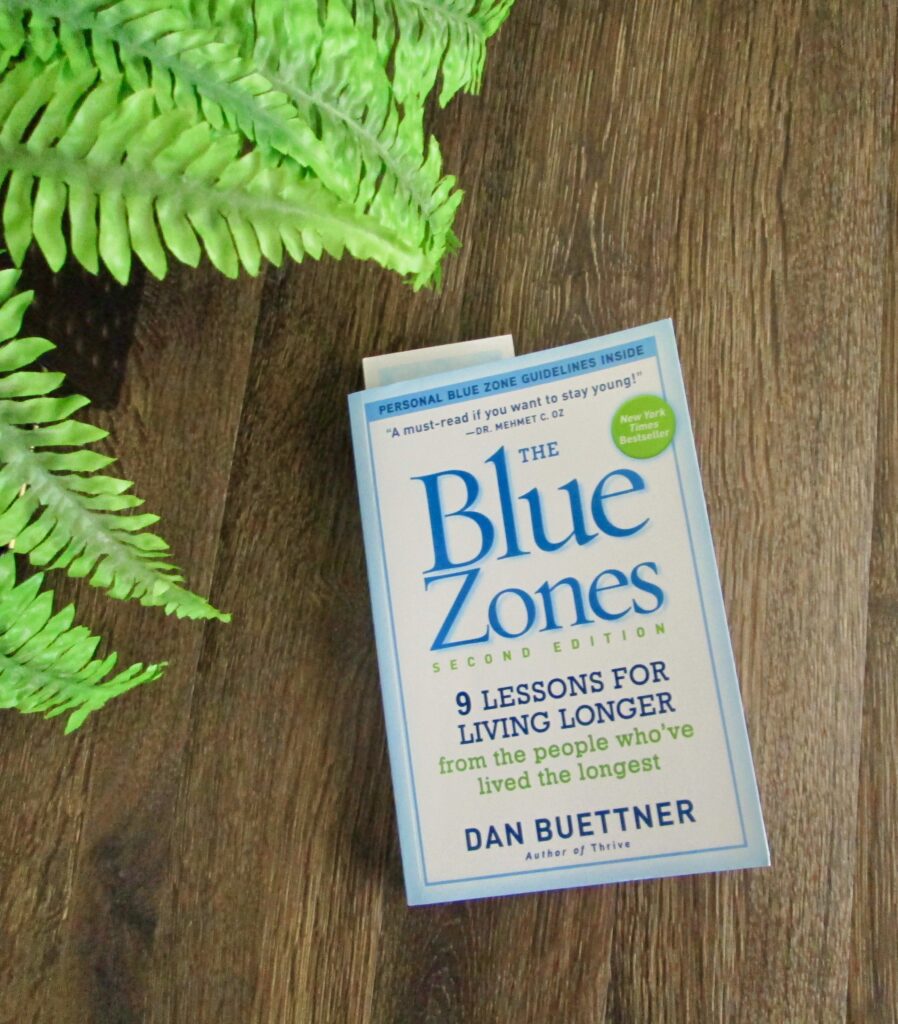 This week we're taking a look at our third Blue Zone from the book, The Blue Zones 9 Lessons For Living Longer from the people who've lived the longest, by Dan Buettner.. And, guess what?? It is in America. Yay!
The chapter begins with a look at a feisty, tiny, woman born September 29, 1904 who is traveling in her Cadillac Seville down the San Bernardino Freeway and speeding because she is late for a volunteer commitment. She has already walked a mile, lifted weights, and eaten a breakfast of oatmeal.
Marge is being interviewed as she drives and says "'I don't know why God gave me the privilege of living so long,' she said, pointing to herself. 'But look what he did!'" (p. 123)
She lives in a Seventh-Day Adventist community about 60 miles east of Los Angeles. The Seventh-Day Adventist faith "endorses healthy living…. As a group they currently lead the nation in longest life expectancy." (p.124)
The volunteer commitments that Marge was working on that day included delivering recyclable bottles to a woman on welfare who could redeem them for the deposits and delivering magazines to a senior activity center where the residents were several decades younger than Marge. "'The old folks here like to read them and cut out the pictures for crafts,' Marge explained. Old folks?" (I loved this quote and had to include it:) pp. 124-125)
The Seventh-Day Adventist faith "discourages smoking, alcohol consumption, or eating foods deemed to be unclean in the Bible, such as pork….the religion discourages the consumption of meat in general, as well as rich foods, caffeinated drinks, and even 'stimulation' condiments and spices." (p.125)
This group of people have been healthy for so long there was an actual study called the Adventist Healthy Study-1 (AHS-1) of nearly 34,000 California Adventists, over the age of 25, from 1974-1988. The study showed that the Adventists did a number of things that protected them from heart disease and certain cancers. (pp. 128-129)
They learned "that the non-vegetarian Adventist had about twice the risk of heart disease as a vegetarian Adventist… particularly men but also younger and middle-aged women." (p.129) The researchers contributed this to the high level of saturated fat in meat. At the time the nutritionists were telling people to stay away from all fatty foods, but "the Adventists who consumed nuts at least five times a week had about half the risk of heart disease of those who didn't. " (p. 130)
Since the study was published in 1992 it has been confirmed that nuts contribute to a healthy heart. (p.130)
Fruits and vegetables were noted for reducing cancers. The study showed, "women who consumed tomatoes at least three or four times a week reduced their chances of getting ovarian cancer by 70 percent…." (p.131) The same effect happened for men to reduce prostate cancer.
As for colon cancer, "Adventists who ate meat had a 65 percent increased risk of (colon cancer) compared to the vegetarian Adventists. And Adventists who ate more legumes like peas and beans had a 30 to 40 percent reduction in colon cancer." (p.131)
The vegetarian versus meat eaters also showed reduced rates of pancreatic cancer and bladder cancer for the vegetarians. Lung cancer was lower due to non-smoking and combined with two or more servings of fruit per day created "70 percent fewer lung cancers than those non-smokers who ate fruit only once or twice a week." (p. 131)
The AHS-1 data also showed "that men who drank five or six glasses of water a day had a substantial reduction in the risk of a fatal heart attack" — 60 or 70 percent less. (p.132)
A morning with Marge Jetton—
Marge was up by 4:30 am and did her devotions by reading a song in a hymn book and the Bible. She says, "…who is my friend?….If you don't have Him, you're out of luck." (p.141)
She then power walked her independent-living center hallway six times that worked out to a mile.
Each time she circled the dining room she drank a glass of water (six glasses).
She put on her make-up, made her bed, tidied her room and went to breakfast.
Her daughter had sent waffles made of soy and garbanzo beans but she mostly eats oatmeal and has a fruit and vegetable salad later in the day.
After breakfast she returned to her room to reflect on "the Lord and his blessings" and more exercise.
She rides an exercise bicycle six to eight miles a day (except for the Sabbath).
Next on the list was lifting five-pound weights
Then she checks her plot of earth in the community garden and is delighted to find a ripe ear of corn and ripe tomatoes (pp.141-147)
This group of people include a heart-surgeon still doing surgery in his 90's, a music teacher who continues to teach born in 1908, a lady born in 1906 who rents out rooms for patients undergoing radiation treatments, and a 94 year old doctor made famous by his five-day anti-smoking plan. (pp. 161-163)
Keeping up with Loma Linda— What you need to incorporate for long life:
Keep the 24-hour Sabbath which provides a break and time for family, God, and nature.
Maintain a healthy body mass index which lowers blood pressure, cholesterol, and reduces cardiovascular disease.
Get regular, moderate exercise which reduces heart disease and certain cancers.
Spend time with like-minded friends.
Snack on nuts. Nut eaters live about two years longer than those who don't eat nuts.
Give back. Find a sense of purpose in volunteering.
Eat meat in moderation— the Adventists recommend small portions of meat served as side dishes and not the main course if you choose to eat meat.
Eat an early and light dinner which prevents flooding the body with calories during the inactive parts of the day. It also promotes better sleep.
Eat more plants and fruits.
Drink plenty of water. (pp. 164-165)
We have two more Blue Zones to look at before we begin to make preparation for Thanksgiving dinners. If you are including some heathy Blue Zone type recipes in your family gatherings this year, please share in the comments below.