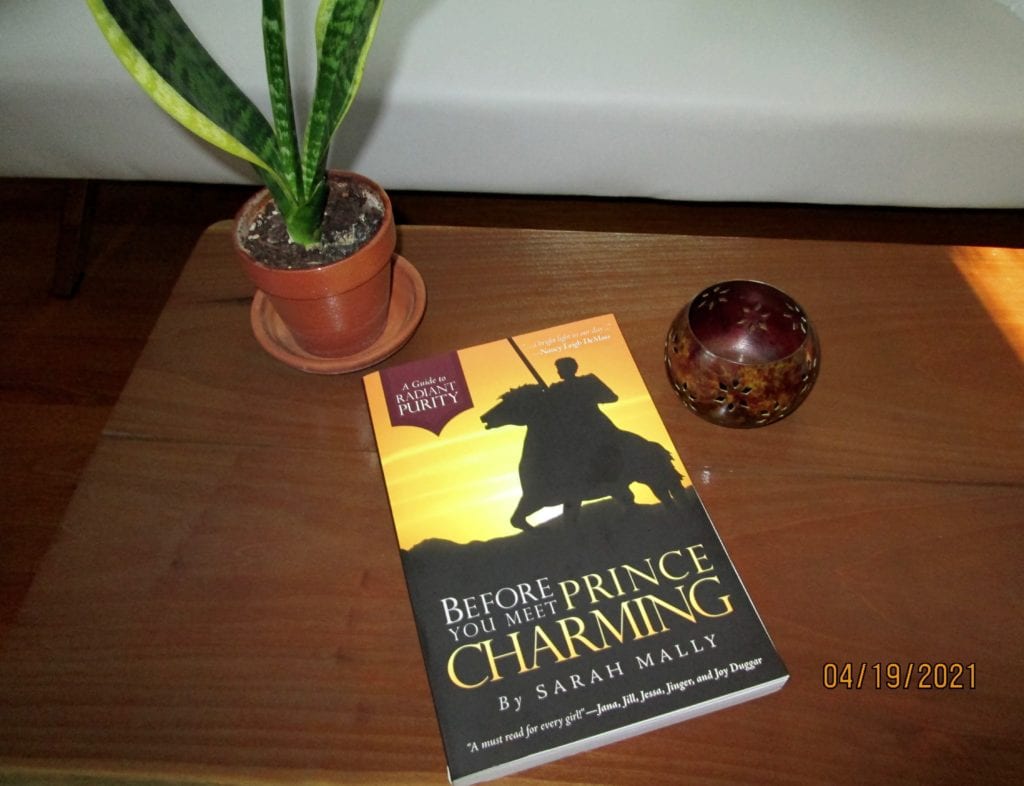 Last week I promised a review of Sarah Mally's book, Before You Meet Prince Charming A Guide to Radiant Purity. This book was first copyrighted in 2006.
The book is uniquely set up with a continuing fairy-tale-like story at the beginning of each chapter that teaches valuable lessons about dealing with the world, Satan, and earthly relationships with your father and mother. With character's named Maiden Flirtelia, Miss Peacock, Sir Eloquence, and a Merchants' Feast being held at Carnalville, you will enjoy looking for double meanings interwoven into the stories. The rest of each chapter focuses on Biblical information and how to apply it to interactions with boys, working with your parents and respecting their wisdom, dealing with friendships in a godly way, while serving others and disciplining yourself to follow God's will for your life. Sarah's book will help you establish a life of purity before God, help you understand past mistakes, and move forward with a new kind of purity once sin is confessed and repented of.
Most people would see this book as only relevant to young girls before they are married. I'm sure that was Sarah's intent, but I see how God can use it to teach parents how to protect and mentor their daughter's, to teach married women how to get their lives in right relationship to God when they did not have this wisdom shared with them as teenagers, and to change yesterday's mistakes into being submitted to God's will for you today. It teaches so much on how to walk out a disciplined life based on scriptures.
Because the book is so full of information, I want to concentrate on three main areas: your relationship with God and what it should look like as a Christian, guarding your heart, and waiting.
Sarah points out that we have a system set up in the world where in our early teen years we begin the process of "dating." The world makes us feel left out and rejected if we don't have a boyfriend and by the age of twenty, we may have been through several guys in this system. Girls are encouraged to follow this system and made to feel like they are weird if they don't. The world doesn't encourage a development of the most important relationship in your life and that is your relationship with God.
Sarah speaks of putting safeguards in our lives and one she speaks of often is… to make the decision "to put Jesus first in every area of life, to stand alone for what [is] right and to patiently follow God's way even when the road [is] uphill or difficult. The decisions we make in our youth play a huge role in determining our future…. It requires courage to do things God's way, to wait for His timing, and to trust that He will bring you and your husband together according to His perfect plan. It takes courage to obey when you do not understand." (p. 22)
Sarah goes on to say, "It is your heart—your own internal commitments before the Lord—that will make the difference…. Since marriage is a picture of our relationship with Christ, God created marriage to be the most beautiful, joyful, and fulfilling earthly relationship we will ever experience." (pp. 22-23)
One of my favorite chapters in the book is titled, "Guard Your Heart". In the continuing saga at the beginning of each chapter, an alligator lives in a moat surrounding the castle where the Princess lives. He is a representative of Satan and the advice we get from him through a worldly system. He tells the Princess that because there is evil in the world, she needs to be involved in many areas and get used to the evil, or she will end up "dreadfully shocked". The Princess replies with wisdom worth repeating here: "I can think of no more dangerous position than to learn to tolerate evil in order to become accustomed to reality,' the princess said boldly. 'The one who becomes comfortable with that which is corrupt is quick to accept it, and what one accepts, he will soon embrace. I pray that I will always be shocked by the evil of the 'real world.'" (pp. 46-47)
Sarah says, "What the heart desires is the most powerful force in our lives. 'Out of it are the issues of life' (Prov. 4:23)." (p. 49) She encourages young women to keep friendships casual, avoid emotional bonds, don't be attention seekers, consult parents for wisdom, guard your words around friends, and avoid polluting influences such as TV, movies, internet, music, books and magazines. (pp. 52-59)
Sarah warns, "When we're headed in a wrong direction, the Lord will use many different forms of cautions to get our attention. The Holy Spirit will convict us, our consciences will prick us, our parents or friends may point out blind spots or concerns. Much distress will be avoided if we learn to listen to caution and to act as soon as we realize our error or danger (II Tim. 2:22)." (p. 62)
On page 63 Sarah continues with these important words, "A heart that is truly guarded must have no vacancies—no empty spaces that need to be filled, no voids that leave open places and room for the enemy to get in. When God asks for our heart, He asks for all of it. He wants to fill every part with Himself. He completes us. Only when we are satisfied in Him will we be able to selflessly give our lives for others." (p. 63)
My other favorite chapter is titled: "When God Says Wait." How important is understanding this concept in every area of our lives to keep us from rushing into something we later have to extract ourselves from.
The Bible verse Sarah uses at the beginning of the chapter is from Psalm 84:11-12. My favorite part of the verse is… "no good thing will He withhold from them that walk uprightly." On that same page (103) Sarah makes a statement full of wisdom, "…the way to find a mate is not to look—but to prepare." Many times as we are called to wait, Sarah points out that a seed of discontent can be sown in our hearts, but the Princess of her story declares a strong truth, "There is a trouble far worse than never being married…. Being married to the wrong person. I much prefer to be happy and single than unhappily married. Marriage is not a right, but a gift." (p. 107)
On pages 110-111, Sarah shares more wisdom on waiting. She says:
"…waiting is one of the very hardest things God asks us to do….Most people do not want to wait for anything…. we will never escape seasons of waiting, because God knows how essential it is that we learn this quality…. God's plan for you includes stoplights. Think of the waiting that was required in the lives of Abraham, Sarah, Jacob, Joseph, Moses, David, Elizabeth, and others. In every one of their lives, waiting played an essential role in bringing about God's perfect plan. In fact, our entire life on earth is one of waiting—for God's promises, Christ's return, and our home in heaven."
On page 111 Sarah lists the consequence that occur when we fail to wait:
We Miss God's Lessons.
We Miss God's best. [Sarah says, "Many people have no idea what they missed, because they were not willing to wait to find out what the Lord had in store (Jer. 29:11)."]
We Miss God's Help. [Sarah says, "There are dangers that occur when we take matters into our own hands. The world still suffers today because of Abraham and Sarah's attempt to figure out their own solution to their problem of not having a son (Gal. 4:29)"]
We Miss God's Opportunities. [Sarah says, "We miss the opportunity to show the world the power of God.}
I truly hope that I have shared enough with you to give you a desire to buy this book and use it for a personal Bible study. There are chapters in it on "How Parents Can Help", "Have A Life Purpose Bigger Than Marriage", "Desire The Very Best Marriage", "Dangers Of The Dating System" and many more that are helpful to daughters, young ladies, older ladies who did not get this type of counsel when they were "dating", and father's who want to impact their daughter's life and safeguard them.
You may have made mistakes in the past, but this is a new day. God tells us, "The steadfast love of the Lord never ceases; His mercies never come to an end; they are new every morning; great is your faithfulness." (Lamentations 3:22-23 ESV) Start over. Begin again, fresh, with a new heart centered on God. You may have to live with the consequences of some mistakes, but God will be there to help you through each day.