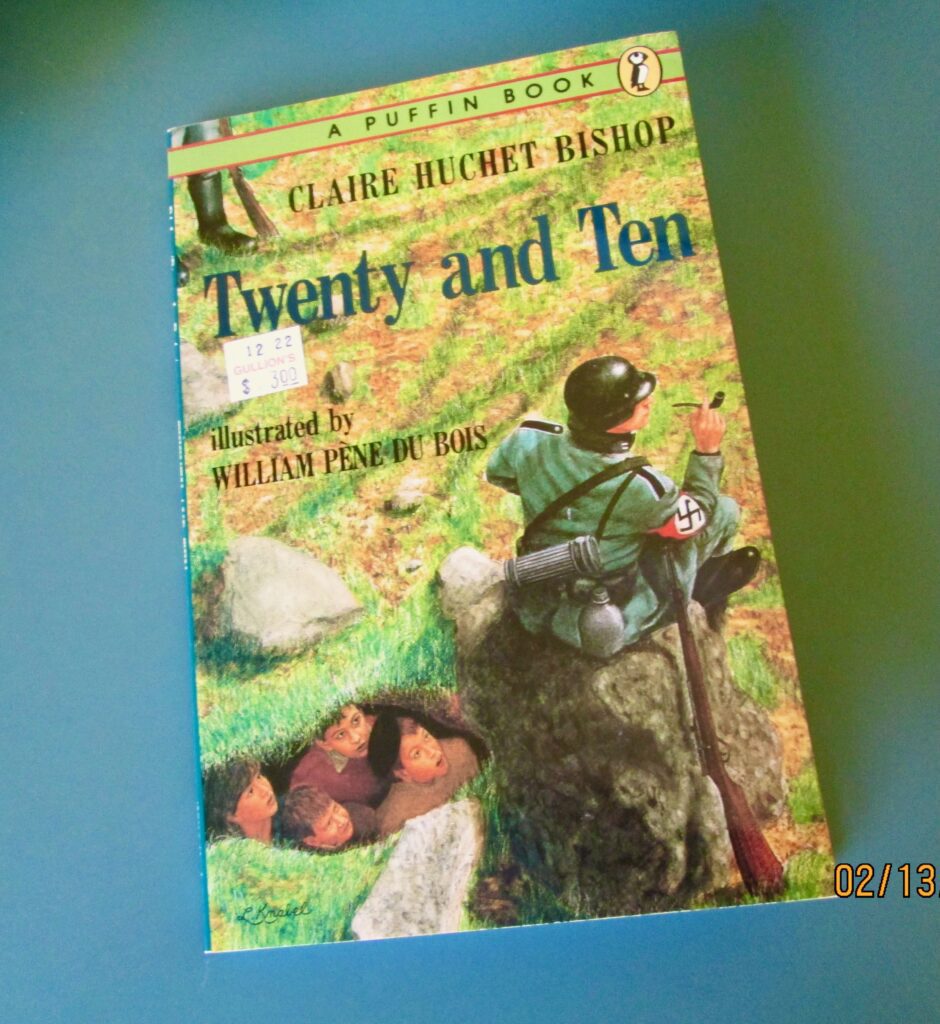 Don't you just love used book stores? There is a book store in Statesville, NC, Gullion's, that serves homeschoolers and churches. The store is divided and has an area similar to a Christian book store with gifts, cards, music, and Biblical study tools. Another section has games, toys, and puzzles. They have a section for pastors and a section for homeschoolers with lots of fictional books, non-fiction books, devotions, and Bibles.
My favorite areas are the Bibles, study tools, gifts, and used books.
My daughter found the used book I am reviewing today and bought it for $3.00. You can also find it on Thrift Books for $4.19 listed as "good" condition.
It was first published in 1952 and is based on a true story with the time period and setting of 1944 in France.
The author, "Claire Huchet Bishop grew up in Le Havre, France. Her grandfather was the village storyteller…. Her mother, too, was a dramatic storyteller…. Claire finished her studies at the Sorbonne and began working at the first French Children's Library in Paris." That is where her storytelling began. She later moved to American and began to write down her stories. (See "About the Author" at the end of the book.) I find this an appealing beginning for an Author.
The book begins with Janet, a thirteen year old, recording the story of herself, along with nineteen other children sent to the country to escape the main areas of war in France. At the time of this occurrence Janet was eleven. The children were under the care of a young nun, Sister Gabriel, who is described this way. "We were all up there, the fifth-graders and Louis (a four-year-old that came with his sister), and Sister Gabriel was with us, and we were very happy because we just loved her. She was young and gay and quick. She never walked, she flew."
Their playtime consisted of replicating Biblical stories. As the story begins they were playing out the story of Joseph, Mary, and baby Jesus, fleeing to Egypt to escape Herod who was killing all the babies under two. As the story progresses you begin to see more characters and future heroes, George, Henry, Denise, Arthur, and Suzanne.
When ten Jewish children are added to the group, Sister Gabriel teaches the original children that they must protect these Jewish children, and hide them if necessary. No one must ever know that there are ten Jewish children there.
When Sister Gabriel has to leave the children alone to go for mail and food packages in the village, a three and one-half hour round trip, two Nazis show up looking for the Jewish children. Although it is not mentioned you can see God's hand playing out in the hiding of ten and keeping the secret by the twenty. No one gives any information to the Germans, even when threatened— until they bring out oranges. The children have all been hungry for a long time from sharing their meager sources of food with the new children and four-year-old Louis goes for an orange. He thinks its a ball and wants one badly. He tells the guards that they do have Jews there. But, it is not what you think. I won't tell you this part, because the surprise of what happens next is too good for me to ruin if you get a chance to read the story.
The rest of the story is amazing and again shows God's care for these children. I think you could call Sister Gabriel and every child there a hero in the end, as they work together to keep each other safe and alive. I was also impressed with how giving all the children were, when they had so little.
I recommend this book for any age for the historical information it supplies. It is a very short book, only 76 pages long. An adult could read it in an hour or less. Children that are beginning to read chapter books would love it. Mrs. Bishop tells an amazing story.
Now to another subject. If you recall from last week, I was working on a Valentine Basket for each of my children's family.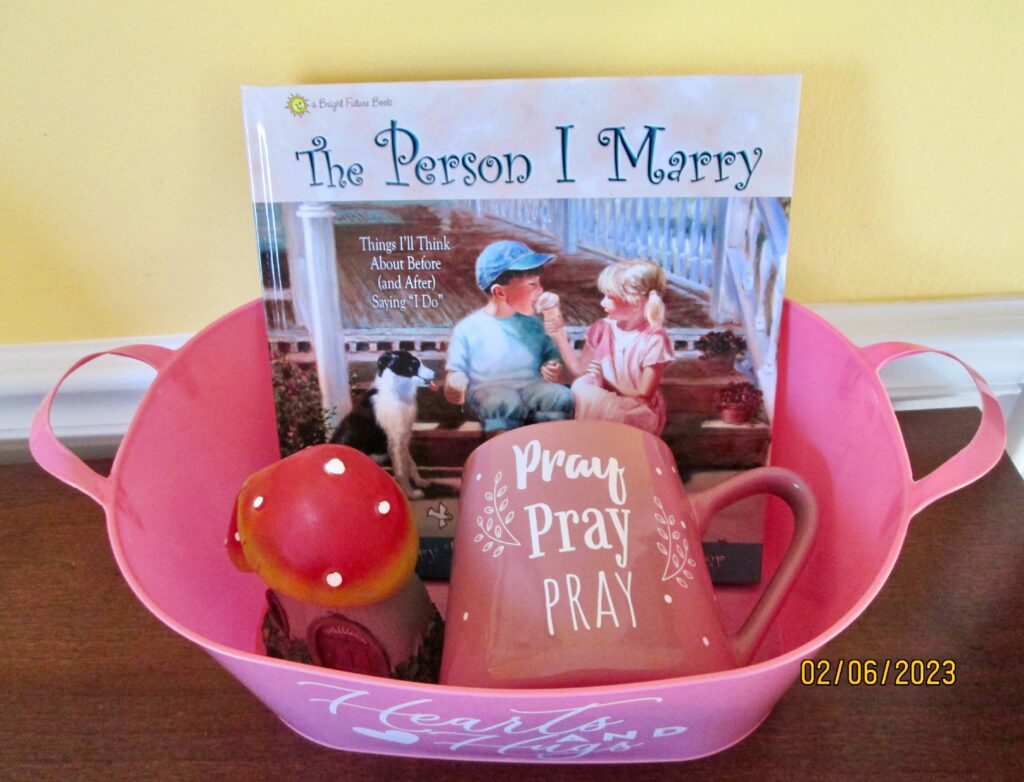 I was waiting to add candy and The Daily Grace Prayer Calendar. I received the calendar and would like to also recommend it to everyone.
If you go online to The Daily Grace Co. at this time, you can order this 2023 Prayer calendar, normally $20.00 but on sale right now for $7.00.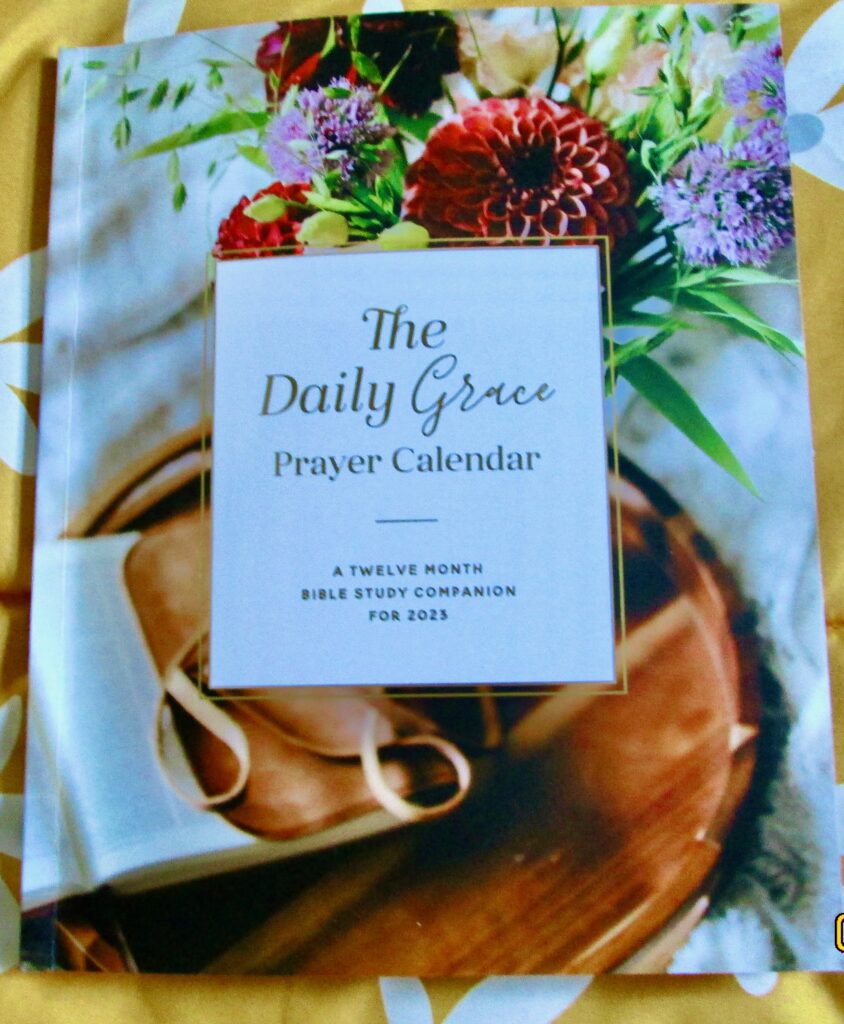 Here is a look at February's calendar: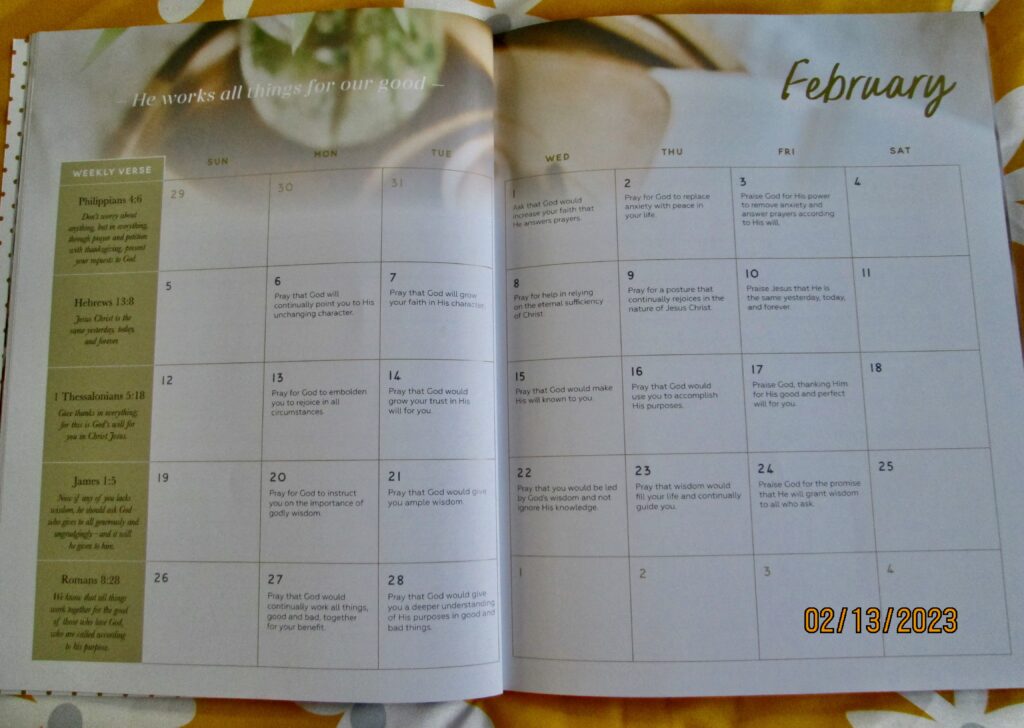 I love that it gives a verse for each week (in the gold section) and then the daily prayers are based off that verse. So many times we don't know what to pray for ourselves or others, but it breaks it all down in small bites for each day. The February 1st prayer was, "Ask that God would increase your faith that He answers prayers." Today's prayer was, "Pray for God to embolden you to rejoice in all circumstances." Such simple prayers and yet packed with wisdom and great messages.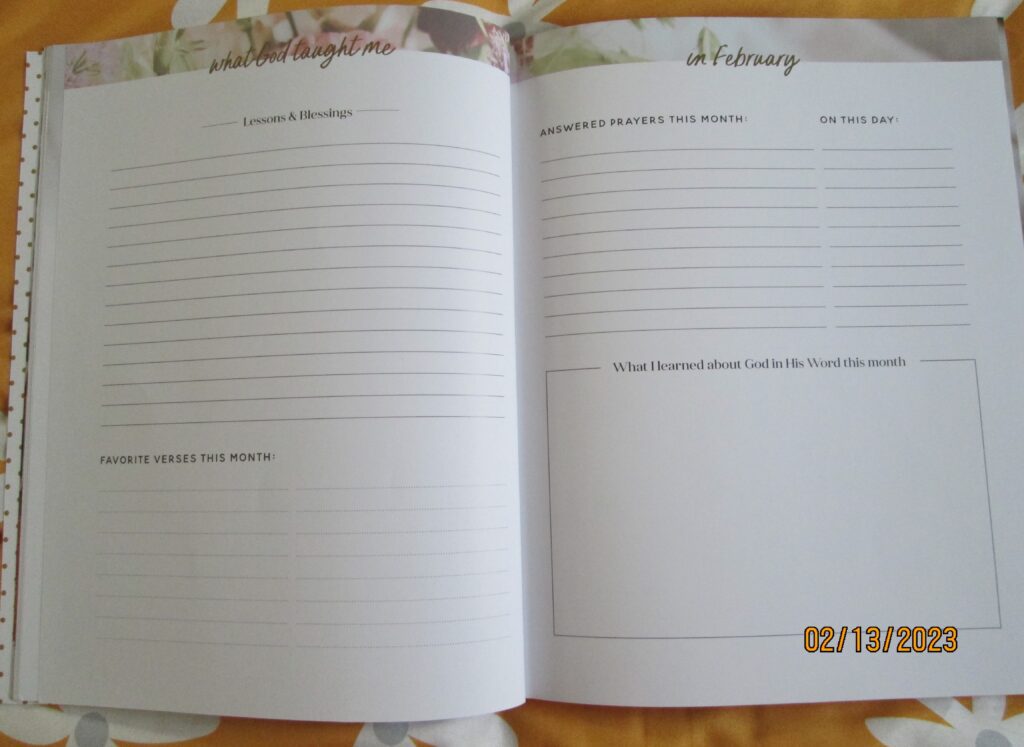 The calendar gives you pages to record blessings, answered prayers, and favorite verses.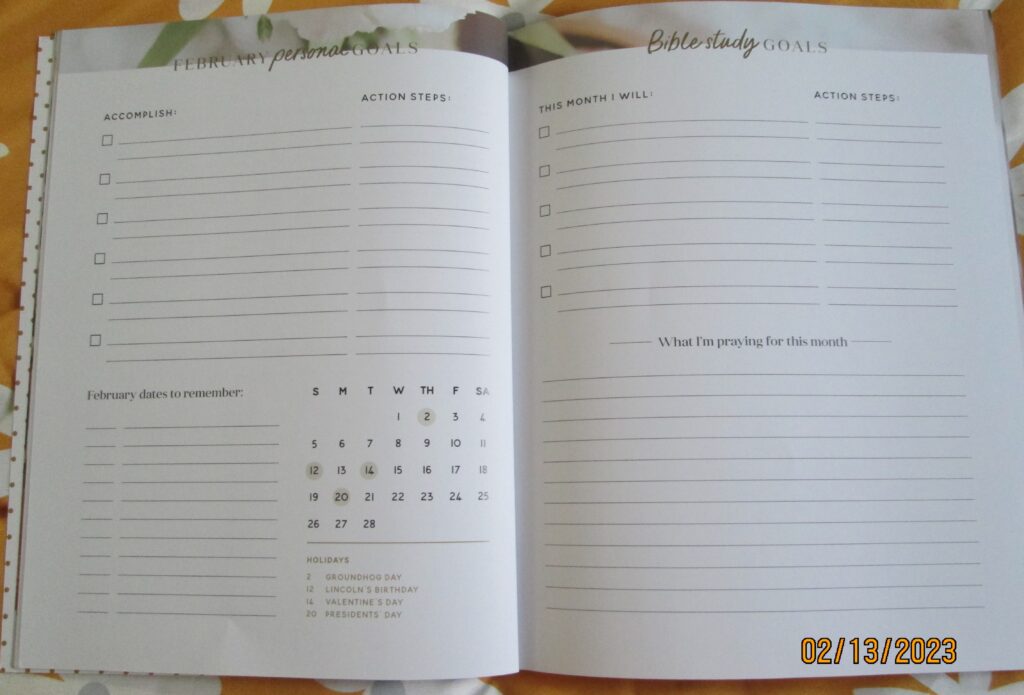 And another page for each month to record action steps, what you are praying for, and dates to remember.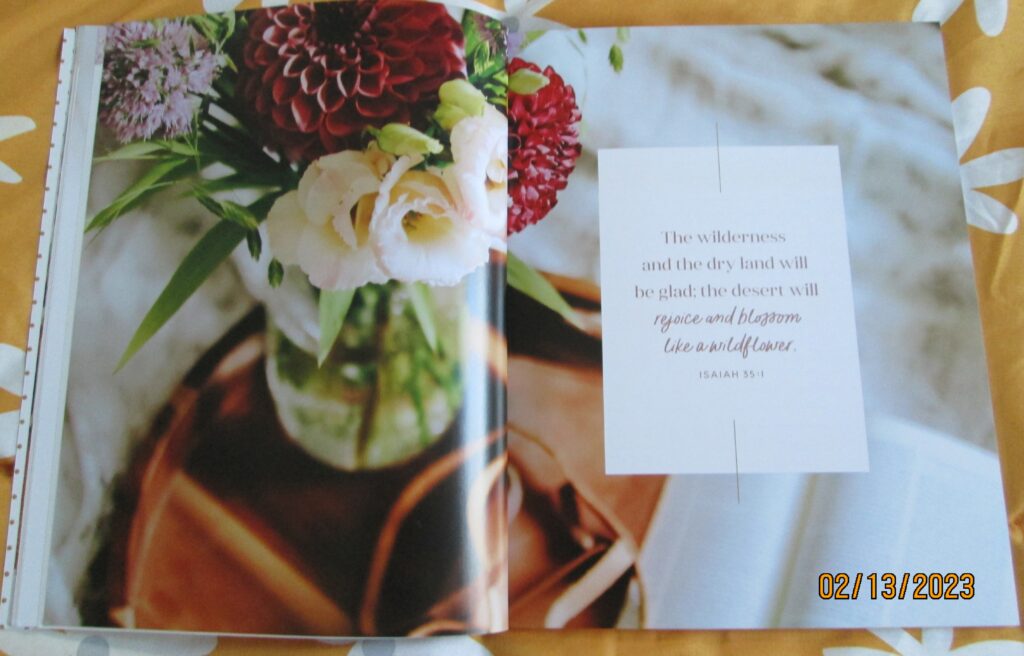 Interspersed are pages with beautiful, calming pictures, and great Bible verses.
I highly, highly, recommend the prayer calendar and for what you get, you can't beat the price.
These calendars completed my family gift baskets and here is the finished project.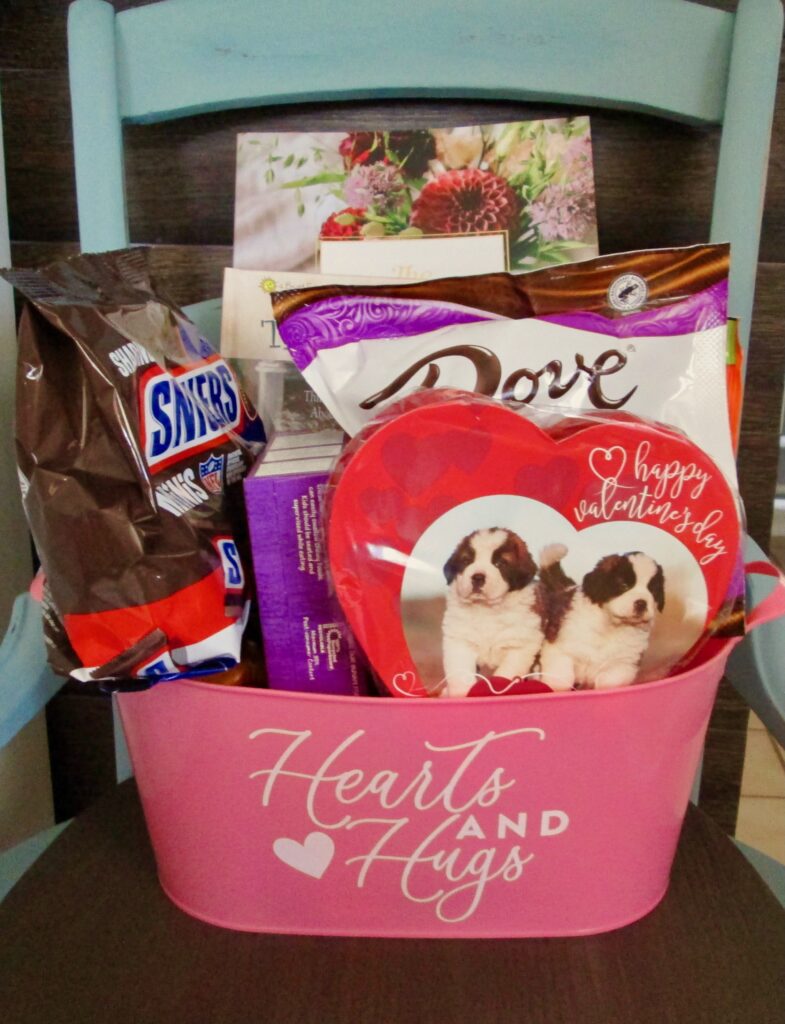 I hope everyone has a wonderful Valentine's day tomorrow as you share God's love and blessings with someone else.
Have a great week! Let me know if you purchase the calendar or the book:)