It's August. The last month of summer. A lot of plants are drying up and dying in the garden at this time of year. It's time to think of fall crops, cooler weather, apple and pumpkin treats, and trips to the mountains to see the leaves. Yet, summer lingers on. Hot and tiring to the soul.
We are in the land of a hot, tiring summer that never ends, but not everything is dying. If you look, there is always that one little hope in places you would not think. The garden.
Early in the spring, I saw a volunteer cucumber plant come back from the seed of a cucumber left in the garden at the end of last summer. It looked pitiful, but I didn't have the heart to pull it out. I really just wanted to see what it would do. I planted other cucumber seeds in other beds, they're dying back now, but the volunteer plant stayed all summer. One day, I realized that it had suddenly taken off and this is what it looks like today.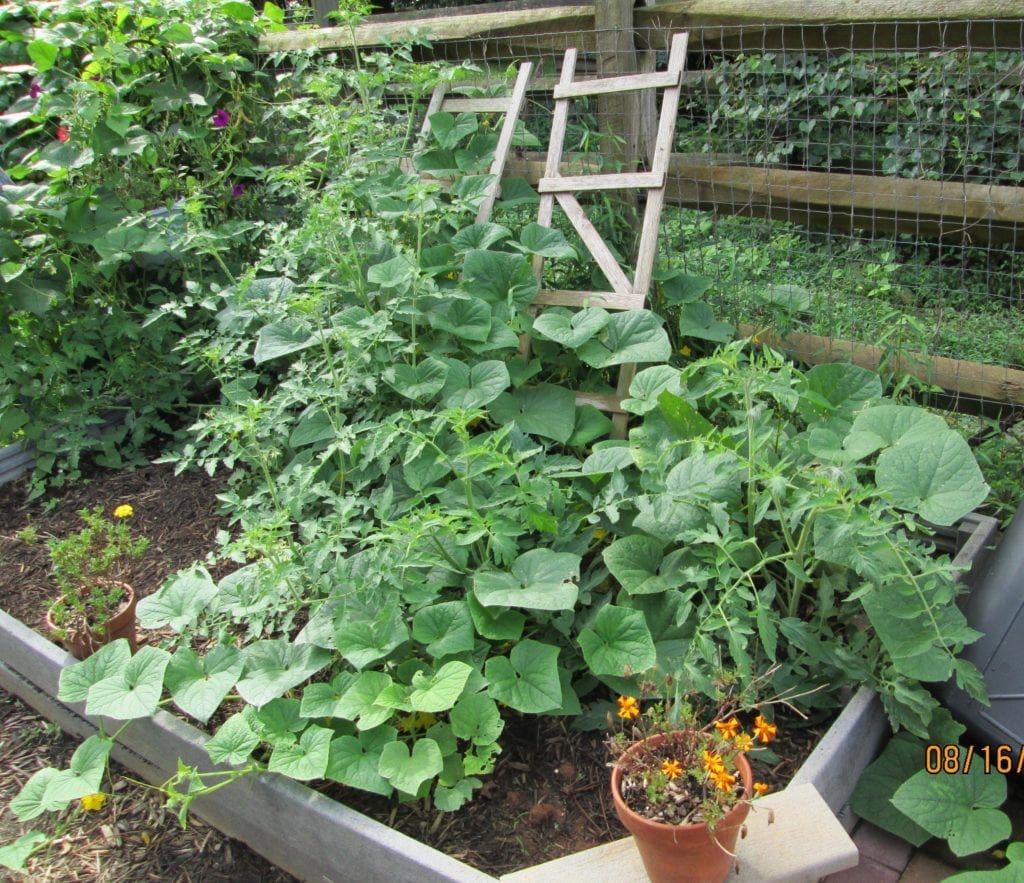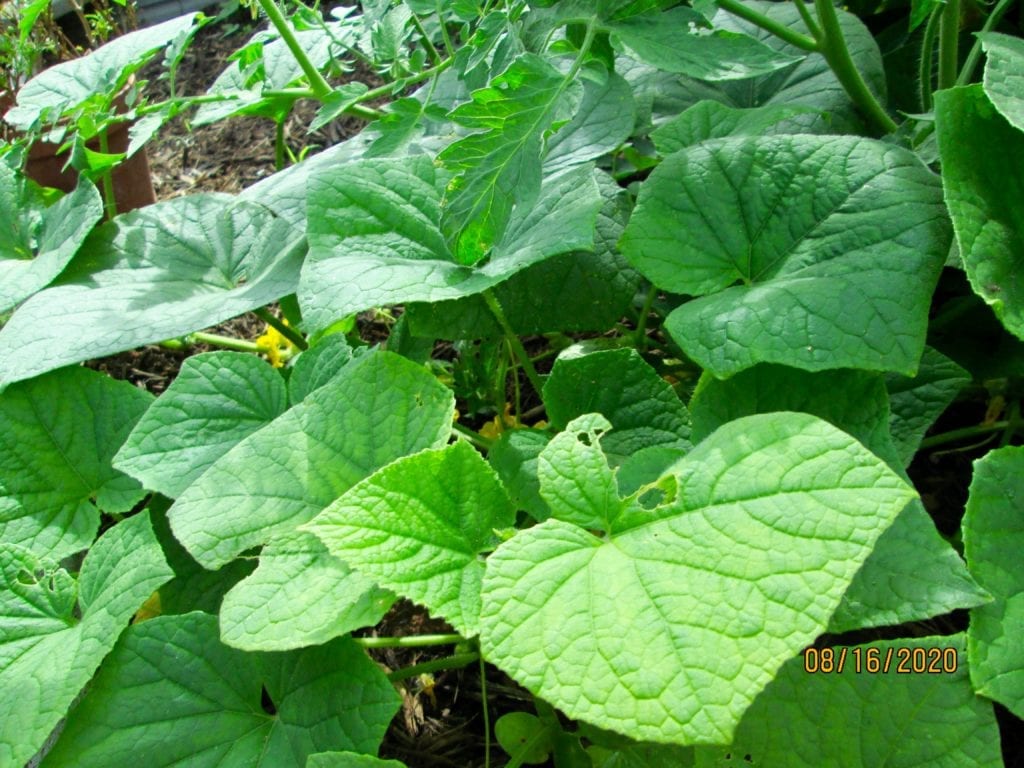 This makes me think of Joshua 24:13 (ESV) "I gave you a land on which you had not labored and cities that you had not built, and you dwell in them. You eat the fruit of vineyards and olive orchards that you did not plant."
And so, if everything goes well, we will eat from the cucumber plant we did not plant.
I planted Zinnias around a small greenhouse last year. I didn't plant any this year, and yet, they re-seeded themselves and this is how they look today.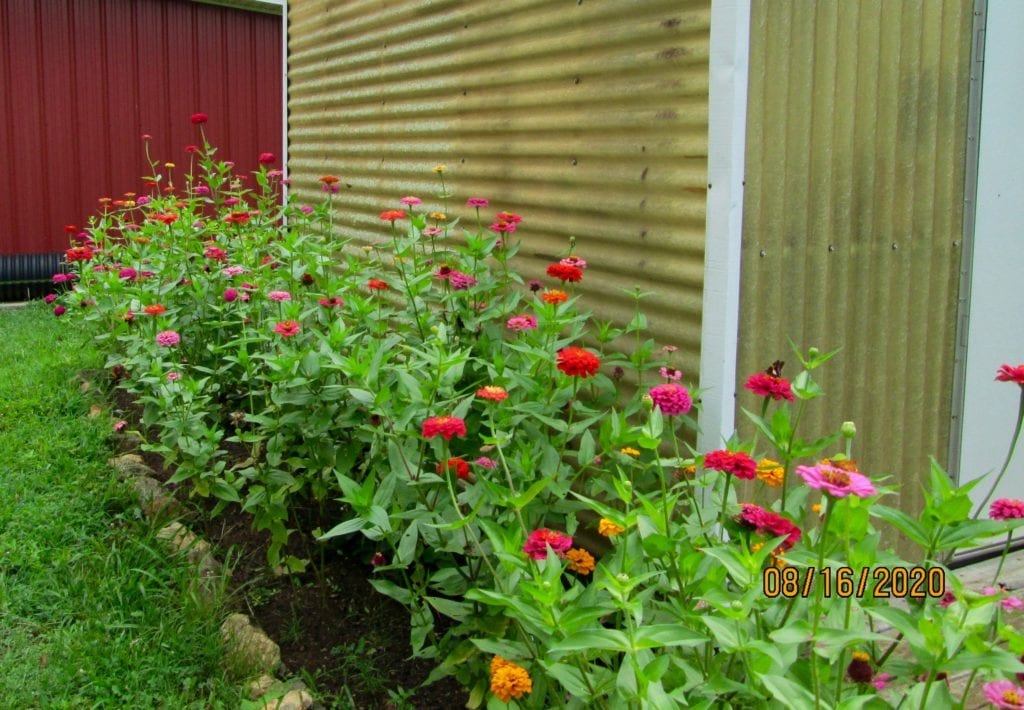 And their beautiful flowers attract butterflies by the scores.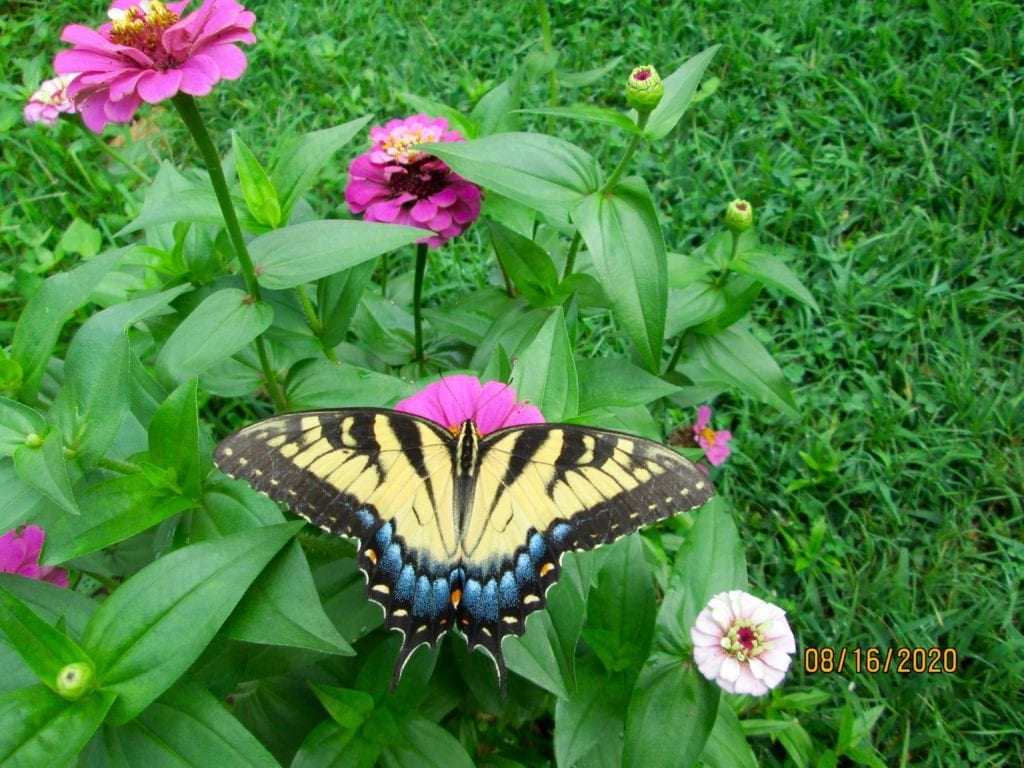 As I struggle with this season we are living in, just like everyone else, I am finding hope, not only in the plants that I did not plant, but also from a chicken. Yes, a chicken.
We have chickens in a big fenced area where they are allowed to free range. After years of being there with no problems, we suddenly started to lose them, one right after the other. My husband set traps, but the food would be taken from the trap without catching anything. It had to be a raccoon. My husband changed to a different kind of trap and began to catch one raccoon after another, until he had caught four raccoons. By that time we only had one chicken left.
How did this one chicken make it through a raccoon pandemic? She stayed away from the other chickens because they picked on her. A loner. And yet, I would hear her walking around and singing. She had hope.
She would fly over the garden fence and spend time in that sanctuary, by herself, in peace.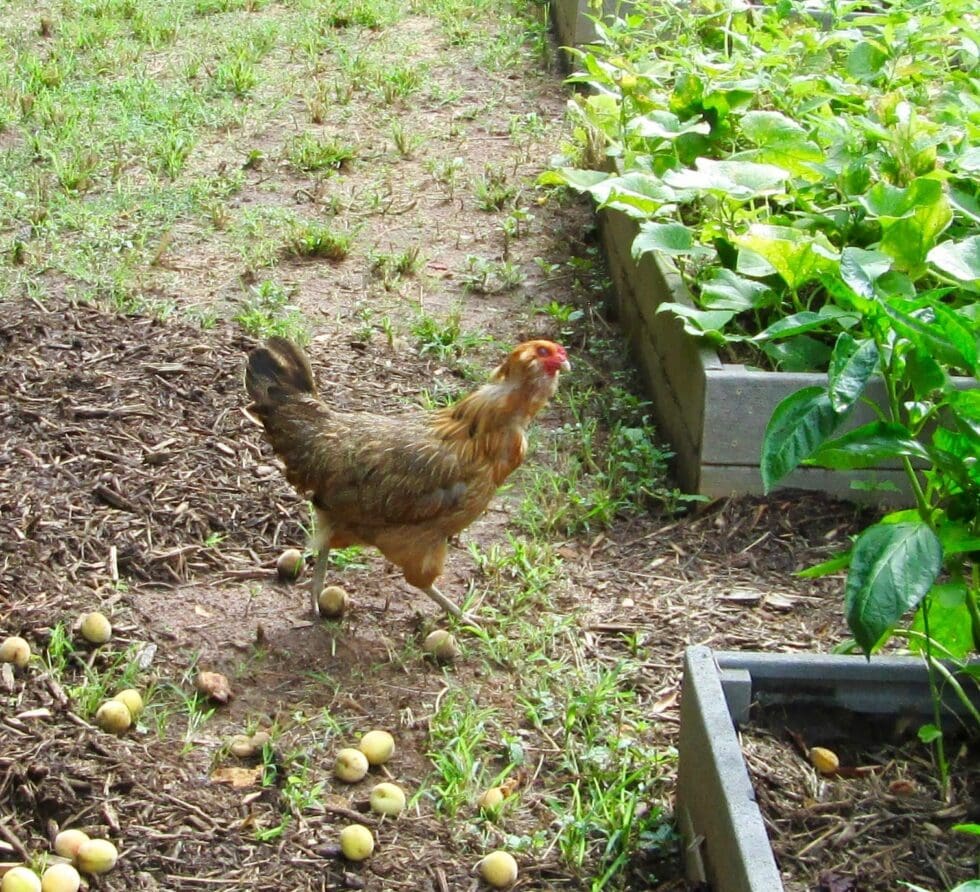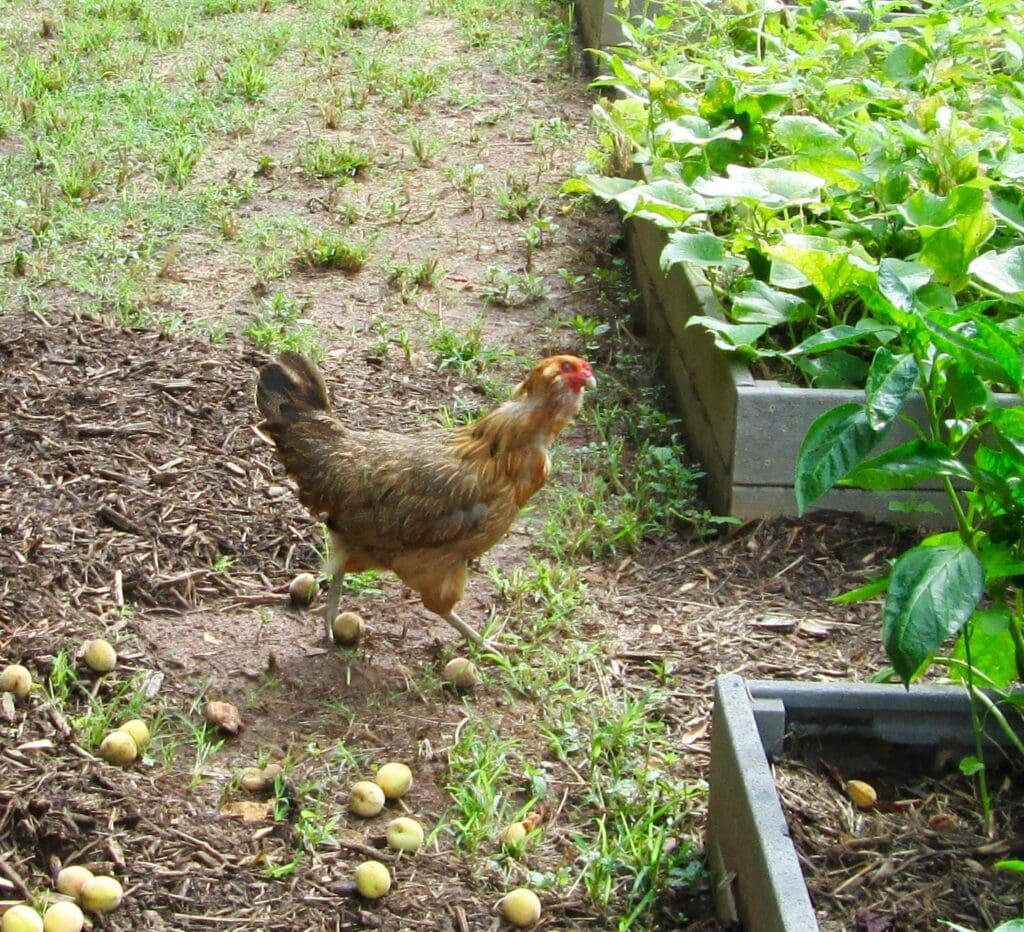 And she would roost under the branches of a heavy laden peach tree where it was impossible to see her.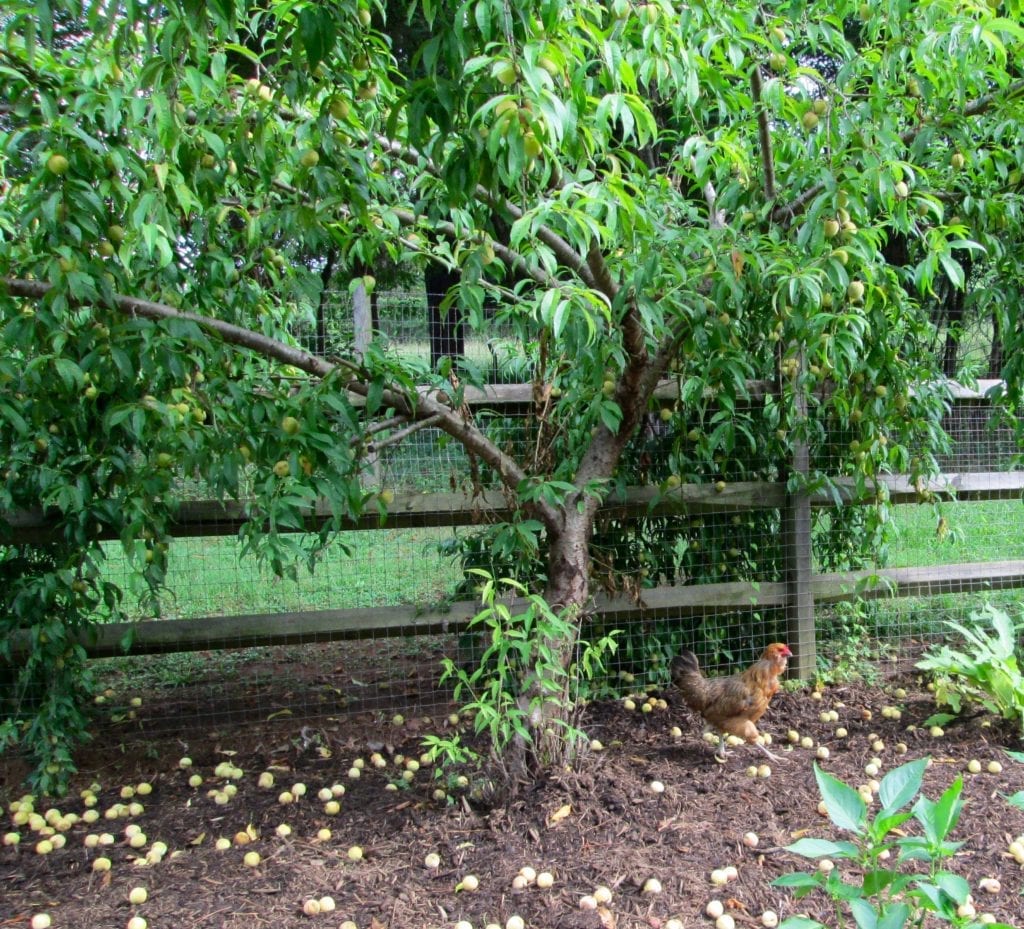 I think part of her ability to live came from never giving up hope and being grateful for what she did have. She sang when she walked around the garden free from the torment of the other chickens. She found a hiding place to roost where the raccoons would not find her. And now that the rooster was also taken out by the raccoons, she crows. Hens do that if there is no rooster. One will take over the responsibility.
I heard her crowing yesterday morning at 5:30 a.m. At first I was alarmed. It sounded like an animal being strangled or choking on something, and then I realized what it was, and I laughed. She sings, she crows, and she is alive. We think we have caught all the raccoons now. We have baby chicks to come out to the fence area soon, and we are predator proofing a run for them. Since this little hen is also a gentle soul, we feel we will soon be able to put her with the younger chicks and she will take the place of a rooster for them, to guide them to food and crow warnings.
What do we learn from all of this?
Sometimes, we are in situations we have no control over and can do nothing about.
All we can do is rest (Psalm 37:7) and be still (Psalm 46:10) and wait (Psalm 27:14).
We rest, and the Lord feeds us, not only food for our body (cucumbers), but food for our soul (Zinnias). (See Matthew 6:25-34)
We find hiding places from the cruelty that surrounds us. (See Psalm 32:7)
God protects us, and we sing, or maybe crow:) (See Deuteronomy 31:6)
Where do you find hope and encouragement? If you love God and follow Him, it is usually not far away.