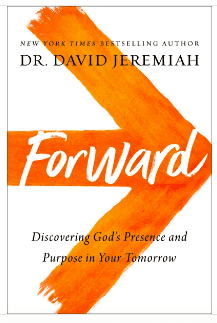 I started reading Dr. David Jeremiah's book, Forward Discovering God's Presence and Purpose in Your Tomorrow, this week. It is a very motivational book about how to stop spinning your wheels and move forward. You begin with a dream that God has placed in your heart. Dr. Jeremiah says, "big dreams are expensive….The cost comes in money, energy, criticism, unbelief, unplanned obstructions, unfaithful helpers, and a multitude of other discouraging things (p.13)."
Prayer is a big part of realizing the dream. "God's desires flourish in prepared hearts, just like seeds in furrowed ground (p. 23)." Dr. Jeremiah answers the question: "How can you be sure the dream in your heart is God's will, not yours? You must humbly and specifically ask God to place His ideas for your life into your heart and mind. Psalm 25:4 says, 'Show me Your ways, O Lord; teach me Your paths'….It's never too soon or too late to ask God for the next chapter in your life (p. 25)."
Dr. Jeremiah encourages you to pray about these dreams "day and night" (p. 26) and to "pray for strength in overwhelming moments (p.34)."
When moving forward, you have to choose your priorities. Not everything is the most important thing to do. God has already set our priorities straight in His word in Mark 12:29-31. We are to love God first, then love our neighbor as ourself. (see pages 46-47) Dr. Jeremiah clarifies loving others and yourself on pages 50-51…
"…Jesus stated this command: 'You shall love your neighbor as yourself' (Mark 12:31, emphasis added). That means it's okay to love ourselves. In fact, we are commanded to love ourselves!…we have to be careful at this point, because the devil always attempts to turn self-love into selfishness, ego, low and high self-esteem, conceit, haughtiness, self-importance, and all the other elements that make up sinful narcissism… Paul said, 'Therefore take heed to yourselves and to all the flock' (Acts 20:28)….If you don't take care of yourself, you can't take care of others. If you become fatigued and irritable, you can't uplift others….You have a God-given responsibility to take care of yourself. Your body is the temple of the Holy Spirit… 'Our lives need to be organized so that God and our families can always come before everything else."
Dr. David Jeremiah goes on to say, "It takes zero courage to stay in a rut. It takes grit and spunk to rouse yourself enough to climb out and move forward….Don't let your life be a rerun. Have the courage to do something new (p. 52)."
"In her book Learning How to Say No When You Usually Say Yes, Maritza Manresa advises her readers that it's all right to say no to lesser things to have room for the best things (p.55)."
Chapter 4 of Forward, deals with focus. You have to commit to one thing, to God's will for your life. Dr. Jeremiah offers a prayer you can pray… "Lord, help me to focus on Your will for my life so I won't be distracted, destroyed, discouraged, disappointed, or defeated (p. 63)."
In Philippians chapter 3, Paul "spoke of 'forgetting' the things that are behind us, using the word forget in the sense of minimizing the negative impact of our past….Paul shook things off (p. 67)."
Dr. Jeremiah says, "The other way of taking God's perspective regarding your past is to simply make up your mind to forget those things that haunt you. As Ruth Bell Graham quipped, 'Every cat knows some things need to be buried.'…guilt is remembering a sin that's already been buried by the blood of Christ….You can override your brain by giving the past to God and then 'forgetting' the things that would pull you back and down….The blood of Christ frees you from beating yourself up with regrets (p.68)."
The last chapter I will cover in this post is about taking risks, chapter 5. "…risk is a part of life, and it's a big part of faith (p.80)." "You can't play it safe…if you want to seize tomorrow and accomplish the dreams God places in your heart (p.81)."
Dr. Jeremiah quotes Jean Hanson who said, "I learned a long time ago that being timid and conservative will get you nowhere (p.83)."
Dr. Jeremiah ends chapter 5 with encouragement to be a Caleb. He gives a list of scriptures that show how Caleb became so successful that at age 85 he still had the same energy and ability to fight as he had at age 40. Here are the scriptures:
"- 'But My servant Caleb…has a different spirit in him and has followed Me fully' (Num. 14:24). – 'They have not wholly followed Me, except Caleb the son of Jephunneh, the Kenizzite, and Joshua the son of Nun, for they have wholly followed the Lord' (Num. 32:11-12). – 'Caleb the son of Jephunneth; he shall see it, and to him and his children I am giving the land on which he walked, because he wholly followed the LORD' (Deut. 1:36). – 'I wholly followed the LORD my God. So Moses swore on that day, saying, 'Surely the land where your foot has trodden shall be your inheritance and your children's forever, because you have wholly followed the LORD my God' (Josh. 14:8-9). – 'Hebron therefore became the inheritance of Caleb the son of Jephunneh the Kenizzite to this day, because he wholly followed the Lord God of Israel' (Josh. 14:14)" (see pages 92-93)
I think the picture is made clear. We are to WHOLLY follow the Lord to move forward and succeed in life.
… TO BE CONTINUED…
Next week I will finish the book, so come back for a review of the last five chapters, or add Dr. David Jeremiah's book to your library. It is worth every penny by providing practical application of God's word to your life. I recommend the book for late teens through adults for maturity and growth in your Christian walk.
Have a great week… moving forward!