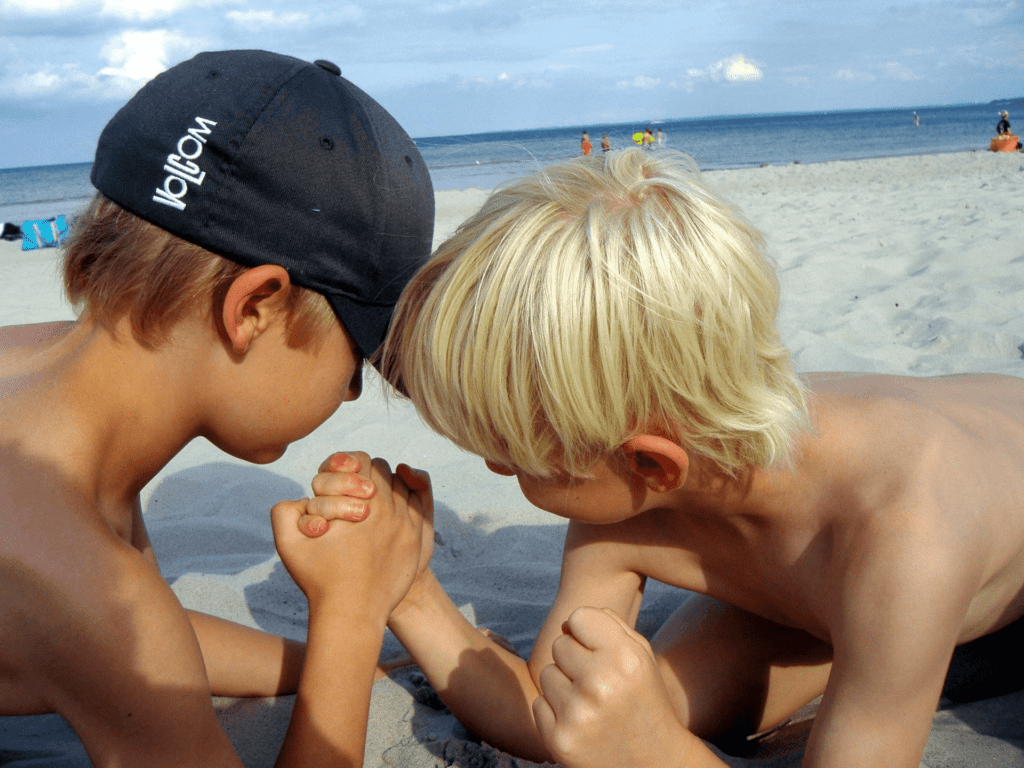 Some days I feel like I am in a wrestling match with God. I see others using His power in them to accomplish great things, but for me, I wrestle for just one tiny drop of His power to work in me. So I investigated and found a blog post that provided me with answers to this question— How can I unleash His power in me to accomplish great things for Him?
I would like to share some of it here. To read the original blogpost go to: https://gracechurchsw.com/blog/2019/1/15/10-things-you-should-know-about-gods-power-in-you
*Note: (Originally from Sam Storms at Enjoying God (https://www.samstorms.com/enjoying-god-blog/post/10-things-you-should-know-about-god-s-power–in-you-)
Here is what I learned from this post:
God's power "dwells within every born-again believer and energizes his/her life and ministry." "It is the supernatural energy that emanates from God's being."
God desires that we cry out to Him and request more of His power to be demonstrated in our lives in tangible ways.
Philippians 3:10 says, "That I may know Him, and the power of His resurrection, and the fellowship of His sufferings, being made conformable unto His death;" Sam Storms says… about Philippians 3:10… Paul— "is asking God that he might personally experience the very supernatural power that was exerted by the Holy Spirit that prevented the decomposition of the body of Jesus." But the rest of the verse shows that possibly to have this power we have to suffer with Christ even to being conformed to His death. As in dying to self.
AND… Ephesians 1:19-20 says, "And what is the exceeding greatness of His power to us-ward who believe, according to the working of His mighty power, Which He wrought in Christ, when He raised Him from the dead, and set Him at His own right hand in the heavenly places,"— Sam says, "The power that indwells every born-again believer is the same power that raised Jesus from the dead…" Paul gave us the example of how to pray for this power in Ephesians 3:16 — "That He would grant you, according to the riches of His glory, to be strengthened with might by His Spirit in the inner man;" Sam says, "It is in 'your inner being' that the Spirit operates in this powerful manner." Paul finishes his prayer with these words, "Now to Him that is able to do exceeding abundantly above all that we ask or think, according to the power that worketh in us, Unto Him be glory in the church by Christ Jesus throughout all ages, world without end. Amen" (Ephesians 3:20-21) This power works in us "throughout all ages" forever ("without end"). If we let Him.
Sam says, "Whatever deficiency you may experience in your Christian 'life' and your pursuit of 'godliness' can be overcome and richly and abundantly supplied to you through God's power." "His divine power has granted to us all things that pertain to life and godliness, through the knowledge of him who called us to his own glory and excellence." (2 Peter 1:3 ESV)
Sam says, "The power of God is essential for every facet of Christian living…. Experiencing the power of God the Holy Spirit is not an exceptional, rare, or sporadic phenomenon but is intended by God to be the routine, ordinary, daily reality in the life of every believer, regardless of their education, social standing, financial status, or role in the church…. God intends for you to live in it and draw from it every moment of every day." (To deepen your understanding you can look up and read the following verses: Colossians 1:29, Romans 15:13, Colossians 1:ll, 2 Thessalonians1:11, Romans 1:16, 1 Corinthians 1:18, 1 Corinthians 1:24, 1 Corinthians 4:20. Use them for your Bible time. I used Sam's whole blogpost and the scriptures as a type of Bible Study.)
Sam says, "We often mistakenly think that the only individuals in the church who are recipients of God's power are Apostles or Elders or Pastors, or those with a seminary degree who can read Greek and Hebrew. But consider Stephen." He was assigned "to serve tables" (Acts 6:2) But Acts 6:8 says, "And Stephen, full of faith and power, did great wonders and miracles among the people." Sam says, "The 'power' that filled Stephen was precisely the same power that filled Paul, the same power that is available to work through you and me today."
This power from God is given to us "generously" and "abundantly". In Luke 9:1-2 He gave power to His disciples. In Luke 24:49, Jesus tells them to wait in Jerusalem and they would receive power after His ascension to heaven. The Holy Spirit Power worked through Jesus, see Luke 5:17, and Acts 10:38.
Sams says, "a consistent theme in Scripture is that the power of God is most clearly in evidence when it is seen in contrast with our weakness, indeed, when it is displayed and manifested precisely through and in the full light of our weakness." (See how Paul demonstrated this in 1 Corinthians 2:3-5)
Acts 1:8, "But ye shall receive power, after that the Holy Ghost is come upon you: and ye shall be witnesses unto Me both in Jerusalem, and in all Judaea, and in Samaria, and unto the uttermost part of the earth."
After doing a study on this blogpost and the scriptures referenced here, I came to the conclusion, that the power of God is available to me and can work in me, but I have to be humble, surrendered, and purposing in my heart (see Daniel 1:8) to live out the fruits of the Spirit (see Galatians 5:22-23). In trying to live these out daily, while doing life with others that might draw out my worse self, I can see how much Power from God I have to purpose within myself to draw on to be able to do it.
I would like to encourage you to take the time to look up the scripture references and study them. That might take some Holy Spirit Power if you are in a season of busyness.
I'm providing pictures below to show an example of how I used this for my Bible study to encourage you. It is so worth your time.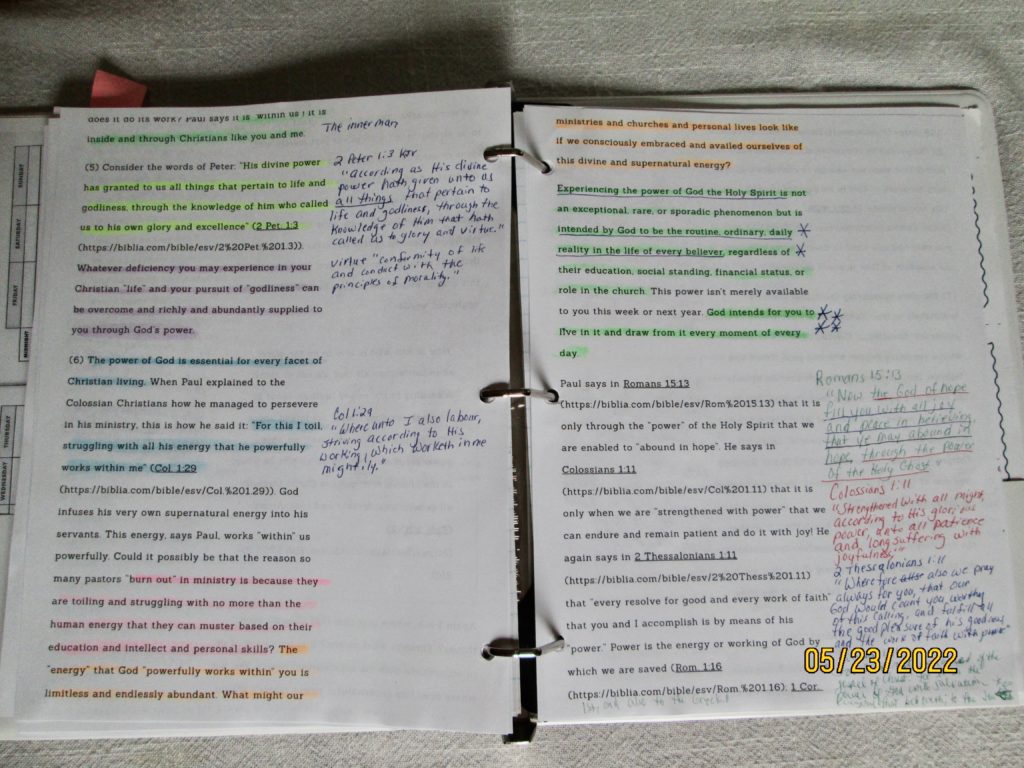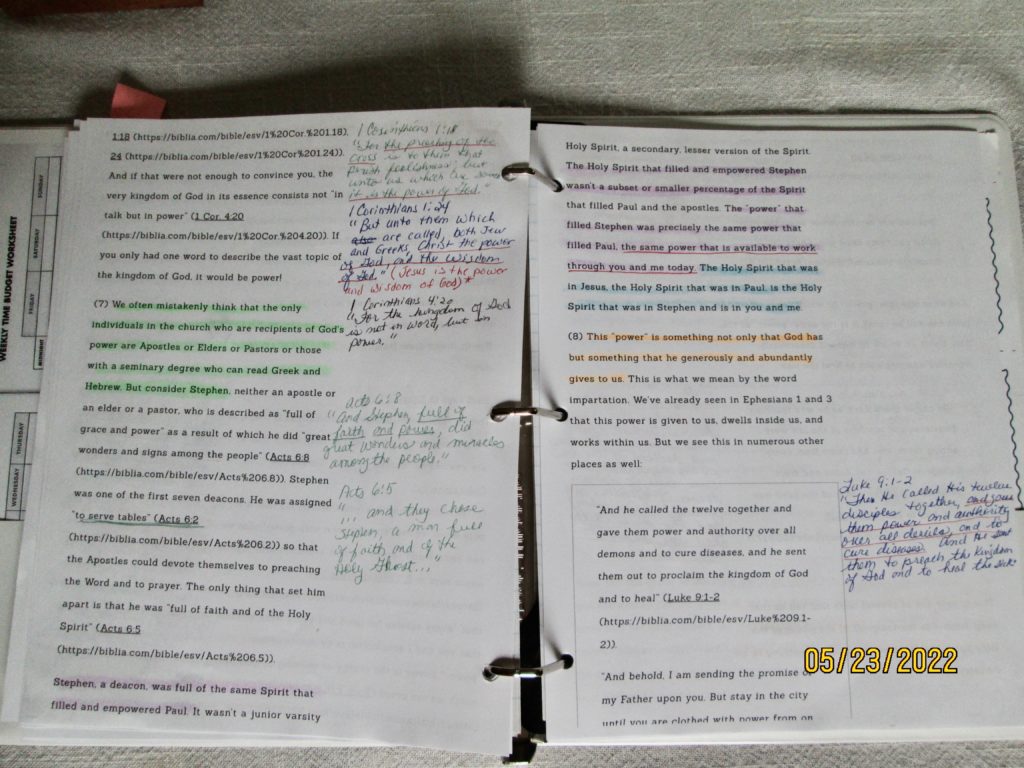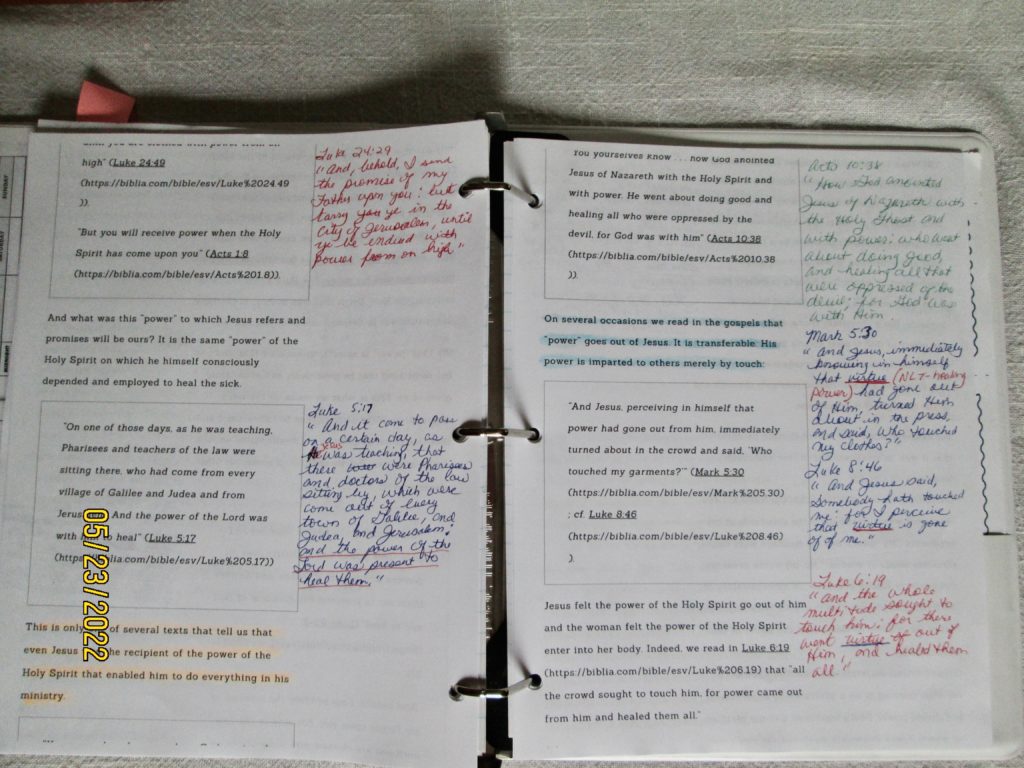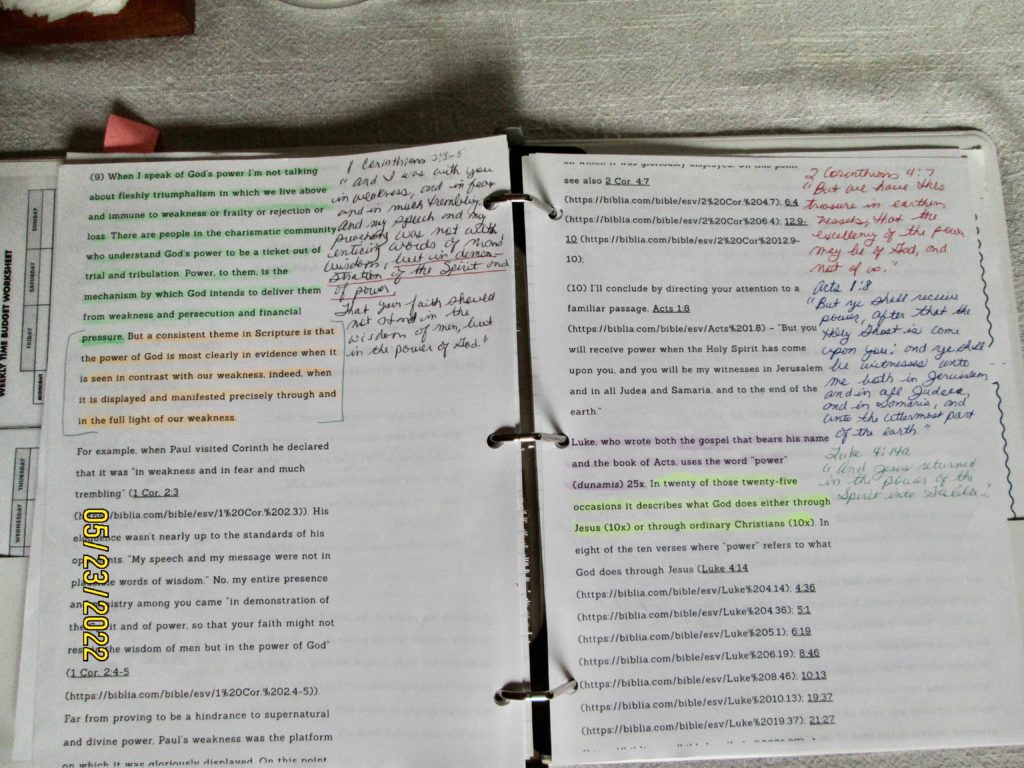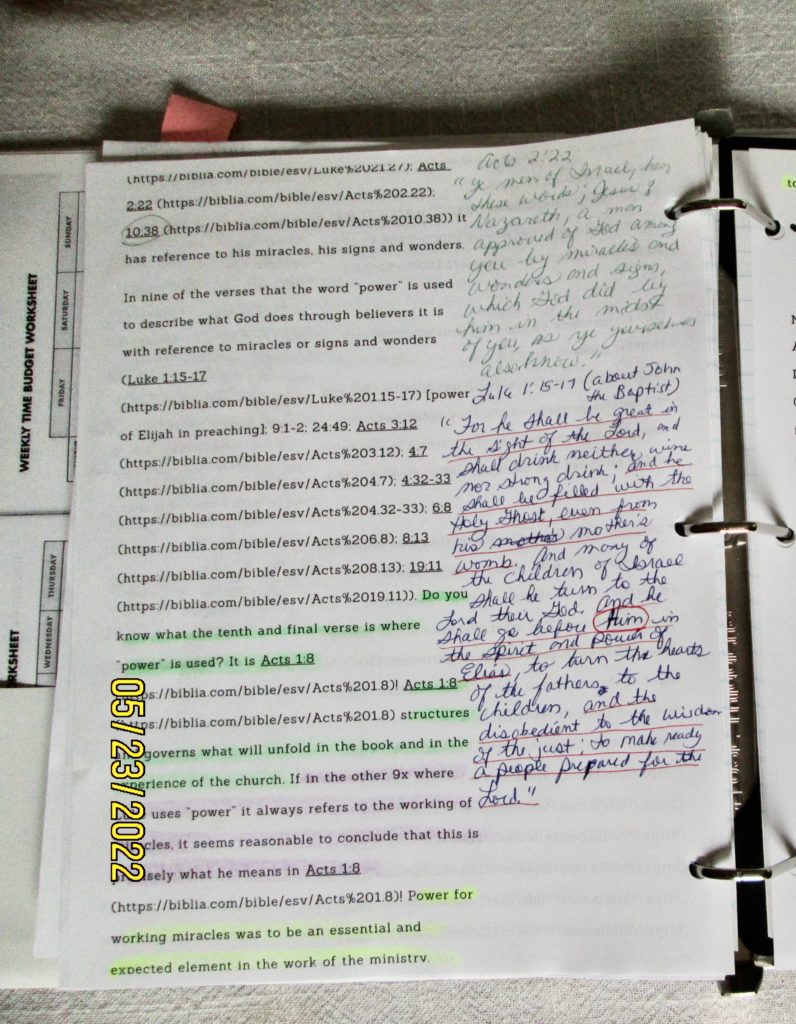 The nine fruits of the Spirit are: love, joy, peace, patience, kindness, goodness, faithfulness, gentleness, self-control. Which do you struggle with the most and have to rest on the Power of the Holy Spirit to help you live it out?
I hope you will be encouraged to comment below. Especially when I tell you, I struggle with every one of them. So I especially need that POWER.
*All scripture quoted is from KJV unless otherwise noted.