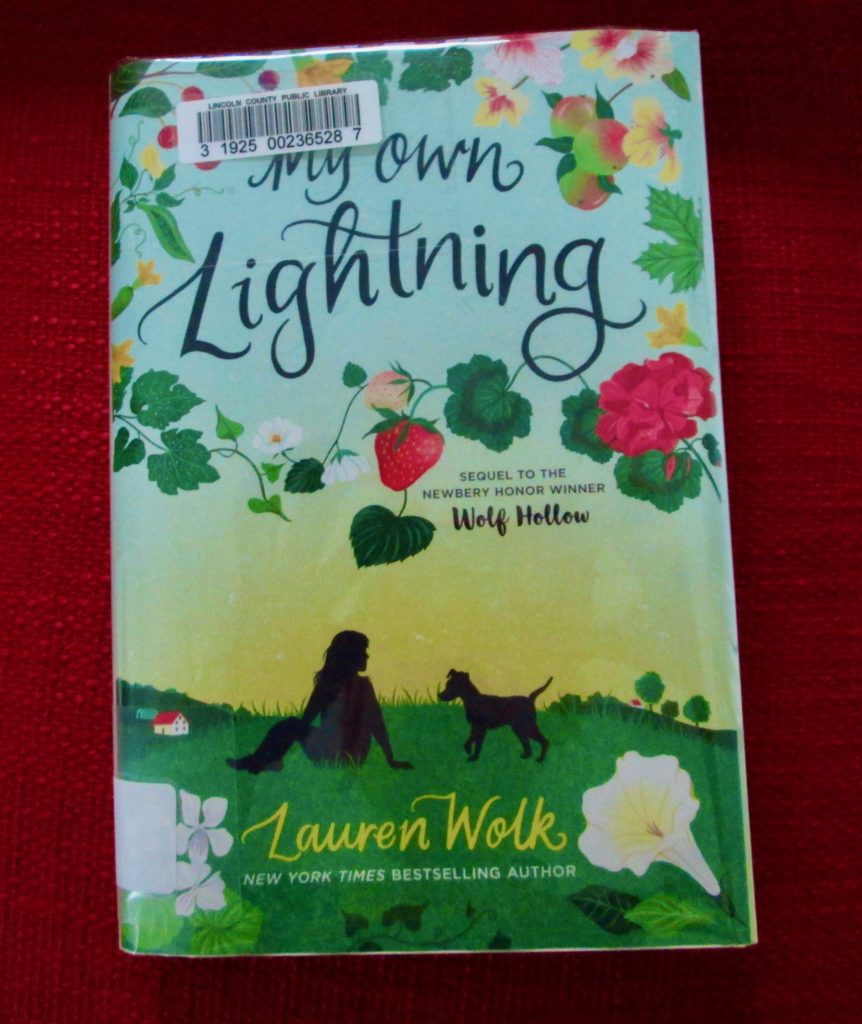 Lauren Wolk is a great, modern day storyteller for middle graders. This book is a sequel to her Newbery Honor Winner, Wolf Hollow. Although I absolutely loved Wolf Hollow, I would be cautious to recommend it due to the brutality of the bully in that book. I would encourage parents to read the book first, before allowing your children to read it. It may be a book that you could still read to your 8-12 year olds while editing the graphic parts. I used to do that with some of the books that I read to my children as they were growing up. They still get to hear a great story, without the parts that might cause trauma depending on their developmental age, that only a parent will fully know.
In the book, My Own Lightning, there is only one brutal part that involves a dog attack toward the end of the book. As a nurse, it wasn't too harsh for me, but might be for tender hearts that can't see or think about blood.
Now… to the great parts of the book. This is a coming of age book, set in 1944 in Western Pennsylvania. It is about a girl named Annabelle. In the first book Annabelle is eleven-years-old. This book is the next part of her story.
Annabelle is struck by lightening on her way home from helping her teacher clean up the school in June, after everyone has left to spend the summer working on their farms. The strike almost kills her but once she recovers she realizes it has increased her perception of noises, smells, and thoughts of animals, especially dogs.
A character from Wolf Hollow shows back up in this book, Andy Woodberry. The author does a fantastic job of weaving his story back in and leaving Annabelle and the reader wondering if there is good in him or not. The extra perception that follows the initial lightening strike wears off and Annabelle begins to follow her own discernment as to whether her new neighbors, Mr. Edelman and his daughter, Nora— Mr. Graf, a very handsome man, who is looking for his lost dog Zeus—and Andy— are who they seem to be.
Annabelle's discernment comes from living on a farm with her grandparents, parents, an aunt, and her two younger brothers. Her grandparents and parents have taught her to be kind, moral, good, and give others the benefit of the doubt.
As the family works together to figure out a solution to what should be told and what should be kept a secret, the author weaves in a great picture of the characters:
"'Even so, we can't tell anyone else about Nora,' I (Annabelle) insisted, 'or the dogs.'
'Why are you looking at me?' Aunt Lilly protested. 'I am not now, nor have I ever been, a gossip, young lady.'
Which was true. Whatever else she was, Aunt Lily was no tattletale.
'Do you all promise?' I looked at James.
'Scout's honor.' He sketched an X across his chest with one finger.
'And if Mr. Graf comes back again?' my mother asked. 'Looking for his dog?'
'It's not a lie to say nothing,' Henry said.
'Well, but it is,' my grandpap replied. 'It's a lie of omission.'
My father held up his hands. 'All right.' He looked hard at me. 'You've learned a few things about doing the wrong thing for the right reason, and how that doesn't always work out the way you hope it will." (pp. 247-248)
Just from that small snippet you see an aunt that doesn't gossip, a grandfather that teaches his children and grandchildren to be honest and tell the truth, a mother looking out for her children, a father trying to hammer home that doing the wrong thing for the right reason doesn't always work and two brothers supporting their sister. I think anyone would love to live in a family like this. A family who loves and supports each other through the trials of life and helps as many others outside their family as they can.
The author, Lauren Wolk, has a unique writing voice that you won't find in most new fiction today. The book was published this year, 2022, but the feeling when you read is a cozy understanding of the characters, innuendos, and descriptions that take you to a deeper level of the story. You feel like you are there, living all of it out with Annabelle.
I highly recommend this book for all adults who love a story where you have to look for the meaning behind each description of what is happening. I would encourage parents to read it with their children so that you can explain some of the deeper issues that give a wonderful look into developing discernment for identifying the good and bad people in their world.
Our library has these books, and of course you can find them on Amazon or other book retailers.
Comment below if you have read any of Lauren Wolk's books. Happy Reading!