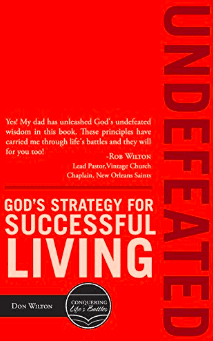 I love that title. Don't we all need to feel undefeated and know how to live successfully? The author of this book was Dr. Billy Graham's pastor. Dr. Don Wilton is the senior pastor of First Baptist Church in Spartanburg, South Carolina. He dedicated the book to Dr. Billy Graham who he says, "…has taught me so much about what it really means to be undefeated through the power of the Holy Spirit."
Dr. Wilton shares a strategy that Dr. Billy Graham developed in his ministry in 1948. He met with members of his evangelistic team and they set up guidelines to help them maintain integrity in relation to money and financial issues, purity, accountability, and humility. (see pages 25-30)
The book is a very quick read. It is laid out in a format that outlines the strategies for successful living very clearly . Each chapter ends with study questions to take you a little deeper.
Beginning with chapter five, the title of each chapter gives a strategy and the author expands on the meaning in the content of the chapter. Examples are:
Chapter Five – Recognize The Enemy
Chapter Six – Listen To Alarms
Chapter Seven – Resolve To Fast and Pray
Chapter Eight – Assemble A Team
Chapter Nine – Know Your Role
Chapter Ten – Listen to Godly Counsel
Chapter Eleven – Attack From The Front
Chapter Twelve – Take Up Your Position
Chapter Thirteen – Let Worship Lead
Chapter Fourteen – Be At Peace
These strategies are steps outlined in 2 Chronicles 20 when King Jehoshaphat had three nations declare war on Judah. (See page 29) The first step is to "Recognize the Enemy". Dr. Wilton says we should watch out for pawns. "A pawn is a person whom the devil uses to do his dirty work and to accomplish his goal. A pawn can also be an object or activity the devil uses to do his dirty work…. He will also use a friend, an enemy, or family member who will tempt you emotionally or physically to accomplish his goal. And the church is no exception." (43) The author recommends, "Live as far away from sin as you possibly can by living as close in obedience to Christ as you can." (45)
The book encourages you to listen to the alarms in your life that can come from God's Word, spouses, Godly friends, circumstances, and the quiet voice of the Holy Spirit. We need to take note. (47)
The author points out that although prayer is listed as the third step, it is actually the most important. Without prayer we are "rendered helpless." (53) Fasting should be added to prayer when you are facing major issues. "Fasting prepares your heart and mind for prayer."(54)
When forming a team, the fourth step, "God's plan for His children is that they be surrounded by like-minded people." (61) Wilton equates this strategy with getting the right people on a bus. First, "you must get the right people on the bus". Choose people that lead you to Christ, but be careful not to become dependent on any person, but "to only be dependent on Christ". Secondly, you must get the people in the right seats. Don't put a friend in a family member's seat, and no one but Christ should be in the driver's seat. Third, you must get the wrong people off your bus. If someone influences you the wrong way, they need to be let off the bus. These analogies create strong pictures that help you make right decisions about people. (62-66)
When addressing knowing our roles, it is pointed out that sometimes we have to lead and other times we have to follow. In the story of Jehoshaphat, he showed that "leading by example is the best way to lead". (69) "Jehoshaphat was faithful to God and had no other gods before Him." (70) It is important to get the idols out of our lives for our own benefit and to be effective in leading others. Putting God first opens the door to making our prayer life stronger. Also, "the greatest leaders in the world are the greatest servants in the world." (74) Most Biblical truths like these are hard to grasp by our fleshly minds, but Jesus came to serve and his example is the one we are to follow.
When dealing with others that hurt you, the writer encourages an "attack from the front". He says, "…It is best to deal with them directly, but with respect and kindness. Stand up courageously and deal with it. Make your decisions based on God's Word." (80)
As we take up our positions, many times we find that we don't fight the battle, God does. The story of Jehoshaphat points this out. We need to ask God to show us our position and responsibilities in each situation we face. (84)
Jehoshaphat was instructed to let the choir lead his army. Wilton says, "…When you let worship lead you can feel the power and presence of the Lord."(88) "When you let worship lead you, God's Holy Spirit will take control of your heart and life." (90). "When you let worship lead, God will fight the battles for you."(91)
When we trust and obey God as Jehoshaphat did, then we can rest in complete peace. Philippians 4:6-7 says, "Be anxious for nothing, but in everything by prayer and supplication, with thanksgiving, let your requests be made known to God; and the peace of God, which surpasses all understanding, will guard our hearts and minds through Christ Jesus." (KJV) (94)
I choose peace. How about you?
I recommend this book, especially for men. Men are busy, but it is such a quick read it is easy to fit in. It is also more directly aimed at men as leaders. It is written in an easy to read format that teen guys would also enjoy and benefit from. However, I gained knowledge to deal with situations in my own life as well.