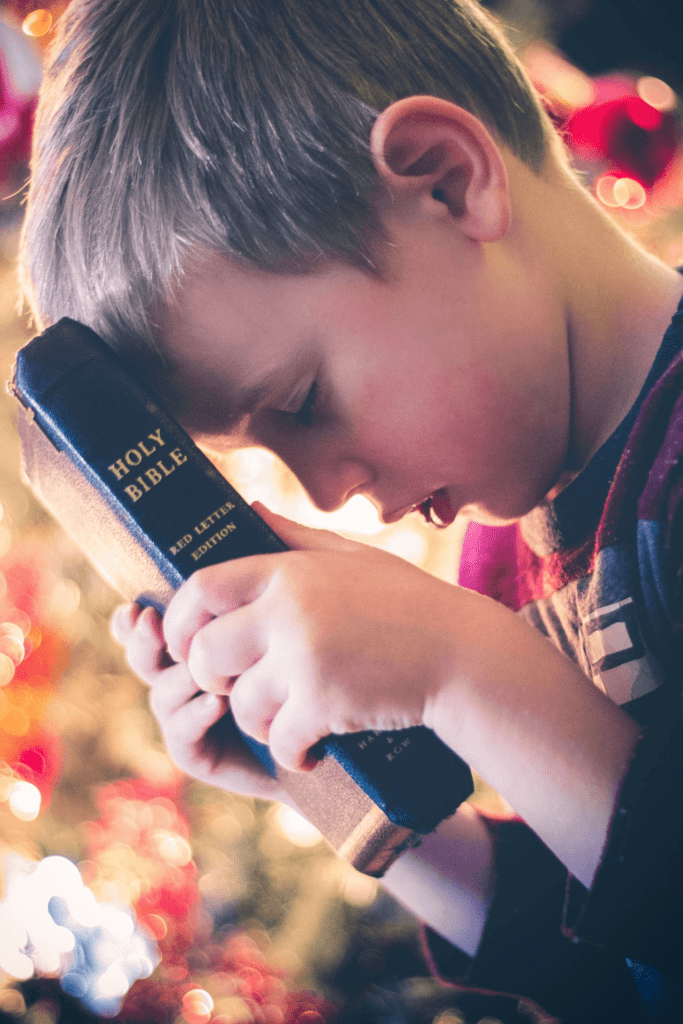 We had a birthday party on Saturday for three of our grandchildren whose birthdays fall in late January and early February. Two are eight-years-old, and one turned six.
While they were here the six year old confessed that his eight-year-old cousin led him to Christ and prayed with him to be saved. Both of the eight year olds confess salvation and once they were saved, they became very vocal about evangelism and leading others to Christ.
God has made salvation so simple that even a child can understand.
Colossians 1:26-27 says, "Even the mystery which hath been hid from ages and from generations, but now is made manifest to His saints: To whom God would make known what is the riches of the glory of this mystery among the Gentiles; which is Christ in you, the hope of glory:" The mystery that was alluded to over and over in the Old Testament was finally revealed in the death of Jesus on the cross and the result is our ability to now come to a Savior, submit, and receive him— "Christ in you".
Even when you are saved—there remains a mystery to salvation that I feel Sarah Mally Hancock addressed very well in her book, Speak Truth In Your Heart. [I have been reading her book again and learning so much from it. You may remember that I quoted from it last week.] For each one of us, our conversion stories may be different and here is why.
Sarah says:
"Have you ever noticed that Scripture has many different ways of 'wording' the process of salvation? Romans 10 says, 'Believe in your heart and confess with your mouth.' John 1 says, 'Receive Him.' John 3 says, 'Be born again.' John 5 says, 'He who has the Son has life.' Acts 16 says, 'Believe on the Lord Jesus Christ.' Acts 2 says, 'Repent and be baptized.' Revelation says, 'Come.' Isn't that a little confusing? If God wanted it to be really clear, wouldn't He have used the same 'wording' every time? Actually, I think the opposite is true! We as humans like to make everything a formula. 'Pray this prayer and you will be saved.' But coming to God for salvation is not a formula! It is an act of submission. It is belief in the heart. By wording it so many different ways in Scripture, the Lord makes it clear that this is not a 'formula' we are talking about—this is a relationship. This is a personal thing between us and God. The gospel is the same for everyone. On the other hand, a conversion story is different for everyone!" (p. 77)
Here is a list of more Scriptures that Sarah references for salvation:
John 1:12
Acts 3:19
Acts 10:43
Acts 11:18
Acts 18:27
Romans 10:13
Colossians 1:6
Revelation 22:17 (see pp. 77-78)
Our salvation stories may be a little different because God is so about relationship, He makes it very personal for each one of us. The most important thing is for us to be able to recognize our sin. Seeing our sin is the only way to recognize our need for a Savior.
Here is a list of sins that Sarah lists on page 85 of her book that I many times fail to recognize in myself:
complaining
worrying
gossiping
dishonoring parents
speaking rudely
entertaining prideful thoughts
coveting
loving other things more than God
putting ourselves before others
failing to do things we know we should do (see James 4:17)
The children are getting it right!
Matthew 18:3-4 says, "…Verily I say unto you, Except ye be converted, and become as little children, ye shall not enter into the kingdom of heaven. Whosoever therefore shall humble himself as this little child, the same is greatest in the kingdom of heaven."
Romans 8:16 shows how we can know for certain that we are saved once we make that decision. "The Spirit itself beareth witness with our spirit, that we are the children of God:"
It's so important to nail this down because John 3:36 says, "He that believeth on the Son hath everlasting life: and he that believeth not the Son shall not see life; but the wrath of God abideth on him."
Do you have a conversion story that you would like to share? Please comment below.