Do you ever feel like life is moving backward? You get up, make your to do list and as you start on the first item, something else comes up. You stop and do that thing, then…try to go back to finish your first item. You can't… something else comes up that has to be done first. Then… it's time to stop and fix lunch.
The day continues in the same way until you finally reach evening and nothing on your list is finished. You got minor things done. They had to be done… but it is like you were working backward. Like the reel was being wound up and you were moving in reverse.
There are days I feel like I'm moving so far backward, I'm into last week.
On February 28th, I broke my foot. That has really taken me back as I've had to stay off of it and prop it up due to swelling. So I feel my project list is piling up.
I can't garden.
Housework is hard.
Laundry is hard.
Even doing dishes is hard.
Everything seems so hard…
But today, I did get one project finished. And, I am excited to move forward on at least one thing.
On February 14th I started working on a cabinet that our son-in-law passed on to my husband. It came out of our son-in-law's garage and then set in our garage for several months. It was an unusual handmade cabinet made by the previous owner of our daughter's home that was built in 1955. You could tell the person who built it used some finished material and then a lot of scraps to come up with the construction. My daughter feels the doors look like the paneling in their kitchen.
When someone has worked so hard on something, you hate to see it go to waste.
Here are some pictures of the original cabinet the day I started sanding it.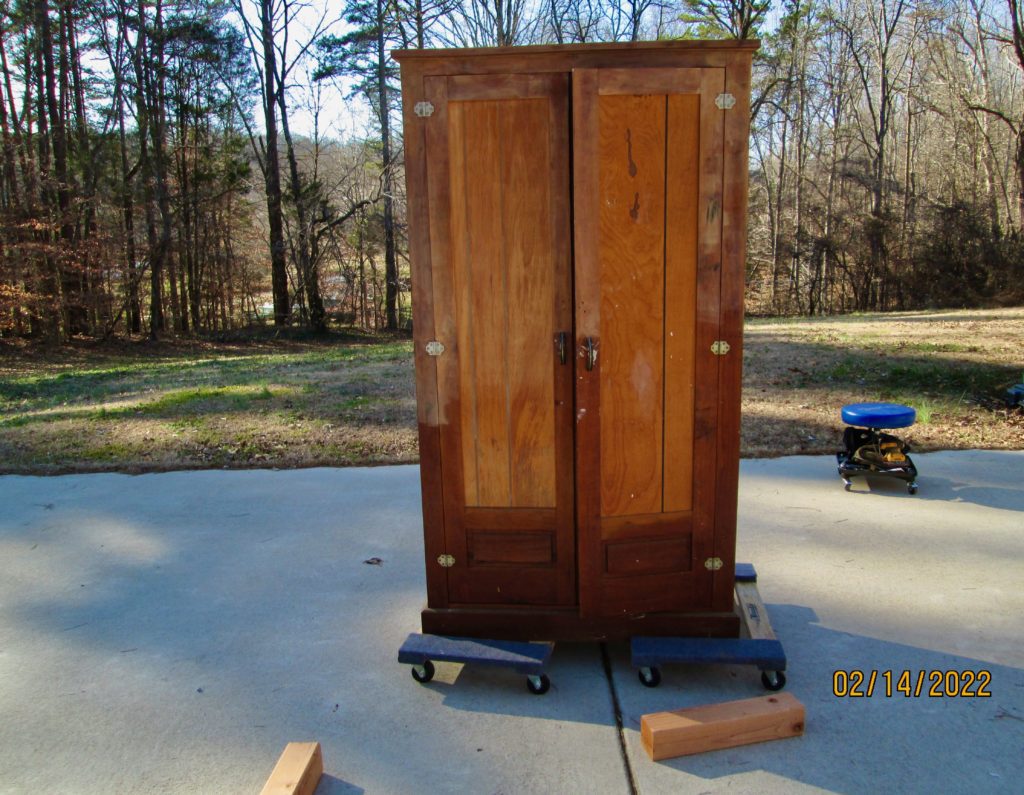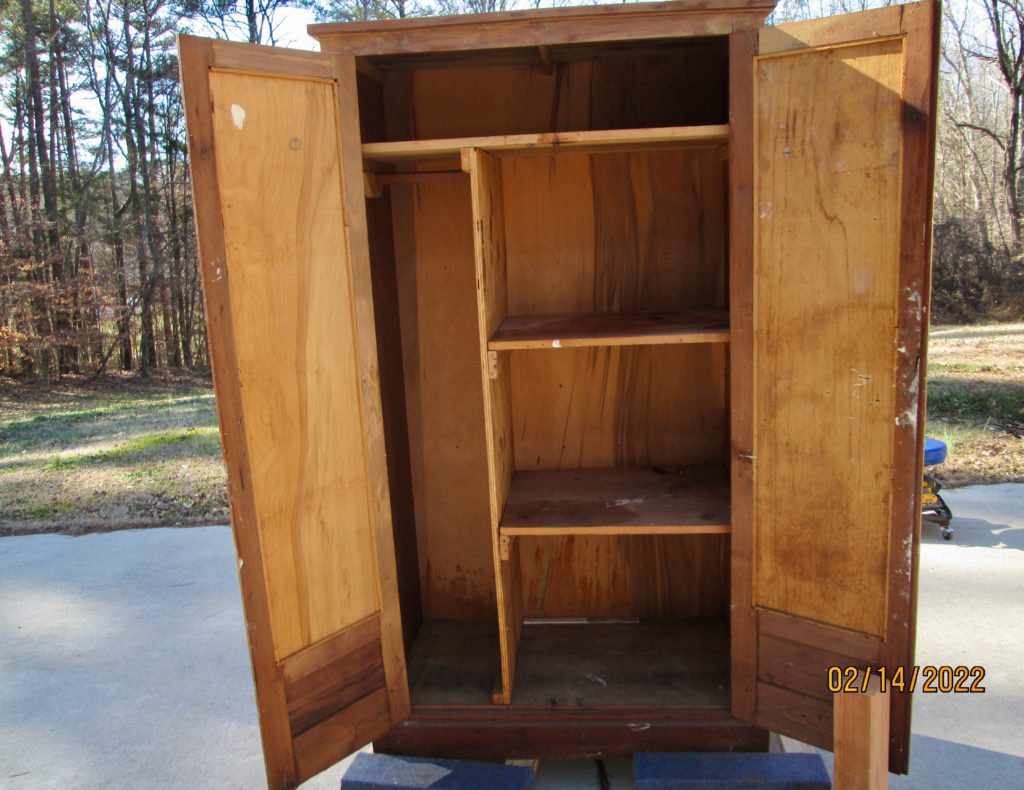 I put several coats of white paint I had on hand, but it did not cover very well. I switched to Dixie Bell Chalk paint in the color, Dropcloth. I have loved using it. The paint went on very creamy and covered everything. It gave the cabinet the country/farmhouse, wardrobe look, I was going for.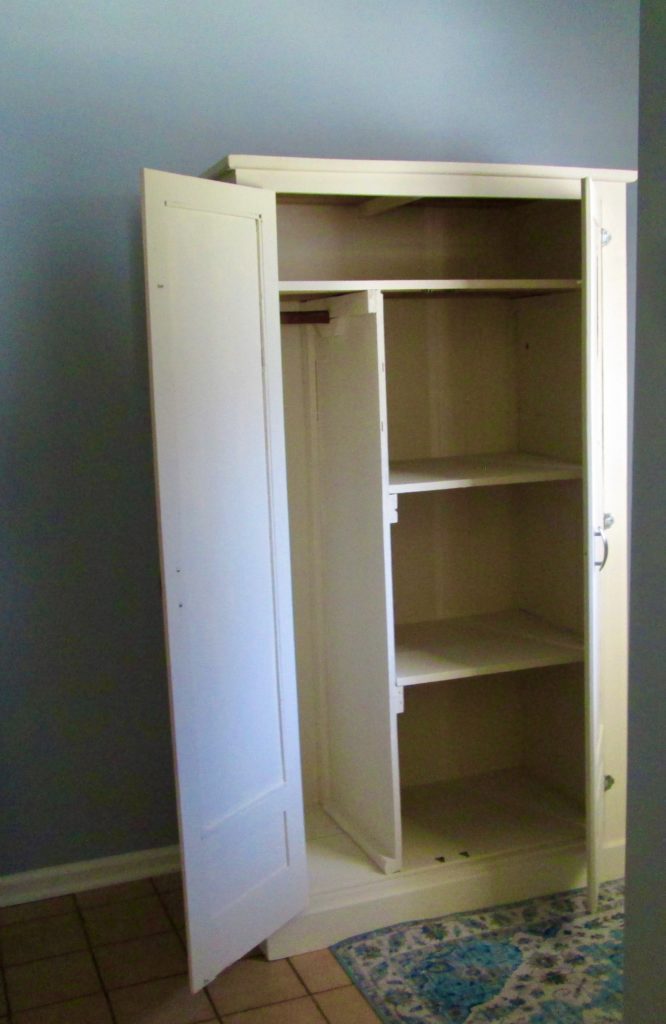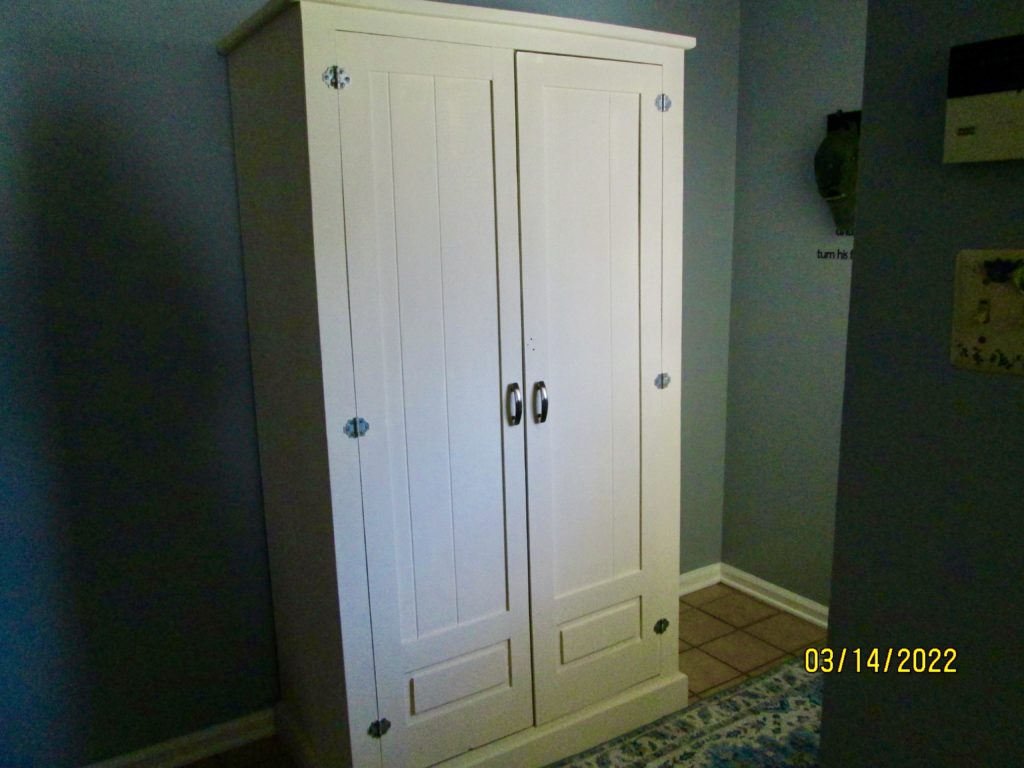 My husband was able to get it moved to our entryway on March 14th. I was able to finish the final chalk painting although my foot swelled up pretty bad and I was wondering if I needed to go back to the doctor. After staying off my foot for a few days, at the advice of friends and family, today… I was finally able to complete the finishing touches I had been longing to do.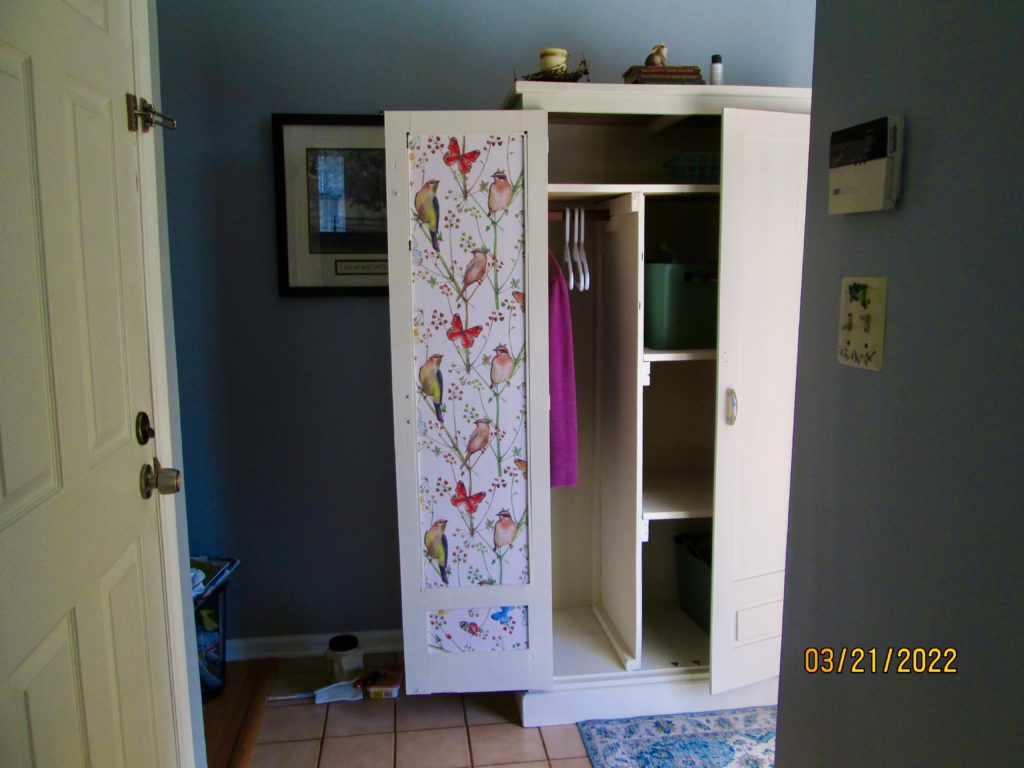 I found a new hobby while spending so much time in the recliner with my foot elevated. I have binge watched YouTube thrift and antique shoppers. It's almost like you are shopping yourself as their cameras pan over the interesting finds.
I began to notice that people from a long time ago went above and beyond and not only finished the outside of furniture, but would add wallpaper or newspaper to the inside. So I ordered a peel and stick old-fashioned wallpaper from Amazon and applied it to the inside front doors.
Now when family and guests open the cabinet to hang their coats, they get to enjoy birds and butterflies. I have kept one shelf empty for storing handbags. The bottom cubby has a plastic tub for storing our grandchildren's shoes when they come stay with us.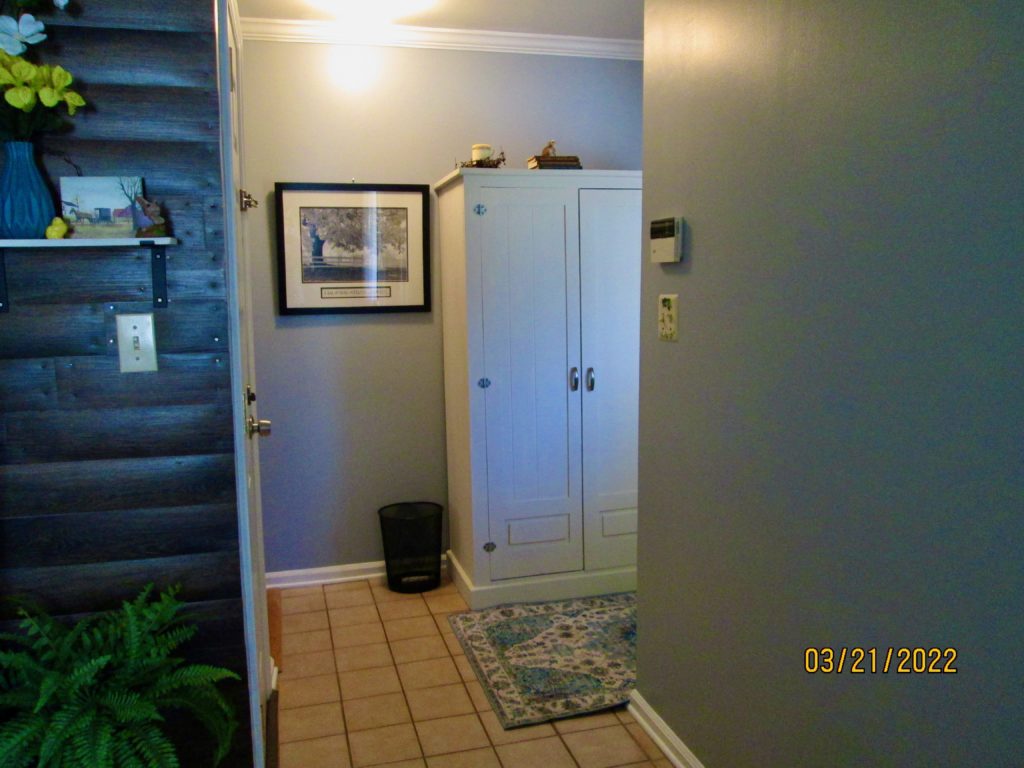 Here is the final entryway look.
When you feel you are not getting ahead with anything… I have found… pick one thing and finish it.
Is there anything you are working on and hope to finish soon, please share in the comments below. I would be excited to hear about it and to know… someone else is moving forward:)